CESI Research Project 03-1
Fishery Resource Habitat Use Modeling in Florida Bay: Development and Application to Everglades Restoration Implementation (Phase 1)
Jerald S. Ault, Steven G. Smith & William B. Perry

The estuarine waters along the south Florida coast provide important habitat for a suite of commercially and recreationally important species. The continued health and productivity of these areas depends upon seasonal infusions of freshwater flow from the mainland. Reengineering south Florida's current water control system to better mimic the natural quantity, quality, timing, and distribution of water remains a principal goal of Everglades restoration.
This CESI-funded investigation developed a methodology to quantitatively assess the potential effects of proposed Everglades restoration projects on marine fishery resources in Florida Bay. Researchers developed a method for predicting fish habitat suitability, which allowed for the creation of species-specific habitat use maps. Insights gained from this study can be applied to assess a full suite of indicator species as restoration efforts move forward.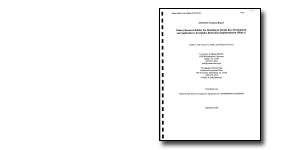 Final Report
(PDF, 2 MB)
Contact the principal investigator directly with questions about this study.
Fishery, Habitat Use, Modeling, Florida Bay, Everglades, National Park, Restoration, Implementation, CESI, Critical Ecosystem Studies Initiative
Last updated: October 3, 2018