CESI Research Project 01-1
Determining Nursery Areas for Red Drum, Sciaenops ocellatus, in Floriday Bay
Allyn B. Powell, Michael Lacroix & Robin Chesire
The red drum is one of the most important recreational fish species in Everglades National Park. These fish are known to spawn in the Gulf of Mexico, and utilize near-shore environments as nurseries for their young. Anecdotal evidence seemed to suggest that Florida Bay, given its close proximity to the Gulf and abundance of seagrasses, might prove a similarly important nursery ground for this species.
The CESI program funded this project to learn more about whether or not the waters of Florida Bay served as a productive red drum nursery. Investigators repeatedly sampled a variety of sites for juveniles between November 2000 and February 2001. Results indicated that, while the species may utilize areas along the southwest Florida coast for this purpose, they did not seem to utilize the bay as a nursery habitat.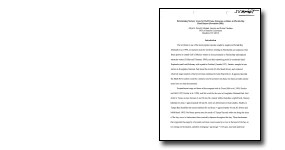 Final Report
(PDF, 600 KB)
Contact the principal investigator directly with questions about this study.
Determining, Nursery, Areas, Red Drum, Sciaenops ocellatus, Florida Bay, Allyn Powell, Michael Lacroix, Robin Cheshire, CESI, Critical Ecosystem Studies Initiative, Everglades, National Park
Last updated: October 3, 2018