CESI Research Project 02-7
Physiological Performance Measures and Tolerance Limits of Estuarine
Indicator Species in South Florida
Gary M. Rand & Pamela M. Bachman
A variety of restoration projects envisioned under the Comprehensive Everglades Restoration Plan (CERP) is expected to improve the quantity, quality, timing, and distribution of freshwater flows into Florida Bay. By more closely mirroring the historic flows of water to such estuaries, it is expected that the health of ecological communities along the coast will show a relative positive response.
Fish are a vitally important component of the food web in coastal ecosystems. This CESI-funded investigation sheds new light on the physiological implications of altered salinity on the life cycle of four native, estuarine fish: the Eastern mosquito fish, gold-spotted killifish, sailfin molly, and sheepshead minnow. Researchers examined a suite of biological performance measures (survival, growth, development, etc.) for each species, providing important insight into potential risks and uncertainties that must be considered in evaluating restoration projects.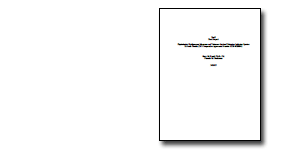 Final Report
Coming Soon!
Bachman, P. M., Rand, G.M. (2008). Effects of salinity on native estuarine fish species in south Florida. Ecotoxicology, 17: 591-597
Contact the principal investigator directly with questions about this study.
Last updated: April 14, 2015