CESI Research Project 00-1
Recovering Cape Sable Seaside Sparrow Subpopulations:
Breeding and Dispersal of Sparrows in Everglades
Thomas Viriz, Julie L. Lockwood, Rebecca L. Boulton & Michelle J. Davis

The Cape Sable seaside sparrow (Ammodramus maritimus mirabilis) is an endangered subspecies endemic to the marl prairies of the southern Everglades ecosystem. Its current range lies mostly within the federally protected lands of Everglades National Park and Big Cypress National Preserve. Despite this level of protection, this subspecies faces threats from alterations in regional fire and flood regimes that have rendered reaches of habitat unsuitable for sparrow breeding. The population is currently broken down into six distinct sub-populations, some of which are already very small and declining drastically thus raising major concern. As populations decline to low levels, there is concern that continued habitat perturbations (e.g. fires or floods) could lead to the extinction of the species.
Understanding basic aspects of the sparrow's breeding biology, and how demographic characters vary across sub-populations, are necessary for effective long-term management. Data gathered from this CESI-funded project continue to support an established long-term field research program begun in 1994. Several recent peer-reviewed publications derived from these data have documented various aspects of the sparrow's breeding biology and demographic rates including the effects of fire and water management on nest survival and adult and juvenile survival.
In 2009 a conspecific attraction experiment was initiated examining sparrow response to artificial vocal cues, which involves field-testing a song playback system designed specifically to broadcast sparrow song in the Everglades. The playback system broadcasts sparrow song over a large area in the hope that nearby breeding-age sparrows will disperse into currently unoccupied habitat to breed. This experiment has major management implications because, if it works, it might be possible to encourage the establishment of new breeding populations in restored areas, thus spreading out environmental risks over a greater area.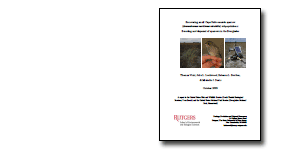 Final Report
(PDF, 1.6 MB)
Baiser, B., Boulton, R. L. & Lockwood, J. L. (2008). Influence of water depth on nest success of the endangered Cape Sable seaside sparrow in the Florida Everglades. Animal Conservation, 11: 190-197.
Boulton, R. L., Lockwood, J. L., Davis, M. J., Pedziwilk, A., Boadway, K. A., Boadway, J. J. T., Okines, D., Pimm, S. L. (2009). Endangered Cape Sable Seaside Sparrow Survival. Journal of Wildlife Management, 73(4): 530-537.
Cassey, P., Lockwood, J. L. & Fenn, K. H. (2007). Using long-term occupancy information to inform the management of Cape Sable seaside sparrows in the Everglades. Biological Conservation, 139: 139-149.
La Puma, D. A., Darby, J. L., Lockwood, M. J. Davis (2007). Endangered species management requires a new look at the benefit of fire: The Cape Sable seaside sparrow in the Everglades Ecosystem. Biological Conservation, 136: 398-407.
Contact the principal investigator directly with questions about this study or to receive copies of related publications.
Recovery, Cape Sable, Seaside Sparrow, Subpopulations, Breeding, Dispersal, Everglades, National Park, CESI, Critical Ecosystem Studies Initiative
Last updated: October 15, 2015