CESI Research Project 99-5
Geochemical Determinations of Groundwater Flow
in Everglades National Park
Peter K. Swart & René M. Price

Water flow is an important component of the Everglades and, although surface water has been extensively monitored, little is known about the subsurface groundwater flow component. A direct connection between surface water and groundwater has always been assumed, with surface water levels equating to groundwater levels. However, the flux of groundwater flow within the Everglades has never been quantified.
In light of the ongoing Everglades restoration effort, interactions between groundwater and surface water should be known in order to evaluate the overall effects of the project. the aim of this CESI-funded investigation was to use chemical and isotopic data to constrain the estimates of groundwater flow within Everglades National Park.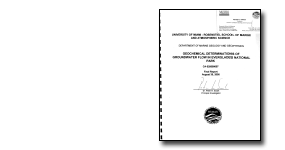 Final Report
(PDF, 1.8 MB)

Contact
Peter Swart
or
René Price
Contact the principal investigator directly with questions about this study.
GEOCHEMICAL, DETERMINATIONS, GROUNDWATER, FLOW, EVERGLADES NATIONAL PARK, CESI, Critical Ecosystem Studies Initiative, Peter Swart
Last updated: October 3, 2018