CESI Research Project 01-7
The Influence of Hydrology and Associated Habitat Structure on Spatial and Temporal Patterns of Apple Snail Abundance and Recruitment
Philip C. Darby, Laksiri B. Karunaratne, & Robert E. Bennetts

The Florida apple snail, Pomacea paludosa, is a common resident of the freshwater Everglades, and forms an important link in the food web of the marsh. In particular, P. paludosa is nearly the exclusive prey of the federally endangered Everglades Snail Kite.
Prior to this investigation, little was known regarding the abundance and distribution of this snail relative to hydrology and habitat structure. Among other findings, the project demonstrates that this snail prefers wetlands that support emergent vegetation over areas dominated by fragrant waterlily, Nymphaea odorata. This finding is further corroborated through observations made of foraging Snail Kites.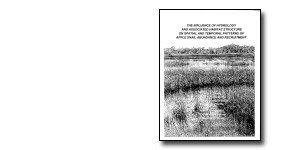 Full Report

(PDF, 1.2 MB)
Bennetts, R. E., Darby, P. C., Karunaratne, L. B. (2006). Foraging patch selection by snail kites in response to vegetation structure and prey abundance and availability. Waterbirds, 29(1): 88-94
Darby, P. C., Bennetts, R. E. & Karunartne, L. B. (2006). Apple snail densities in habitats used By foraging Snail Kites. Florida Field Naturalist, 34(2): 37-47.
Karunaratne, L. B., Darby, P.C. & Bennetts, R. E. (2006). The effects of wetlands habitat structure on Florida apple snail density. Wetlands, 26(4): 1143-1150.


Contact the principal investigator directly with questions about this study,
or to receive copies of related publications.
Last updated: October 3, 2018