Park Shuttle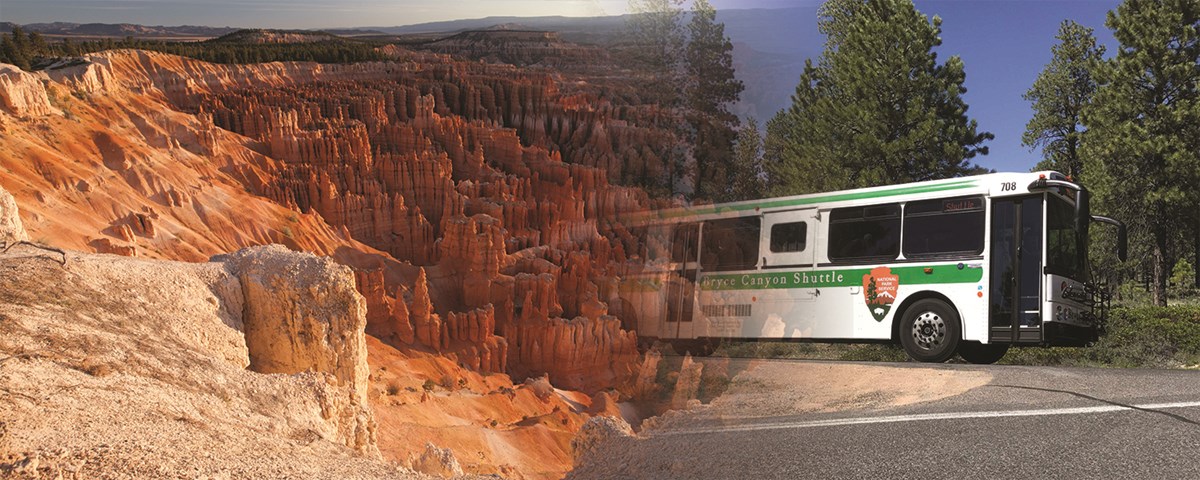 Ride With Us!
Bryce Canyon is one of many busy national parks that has a mass transit system to minimize vehicle congestion and the resulting impacts that jeopardize the very things we all treasure about national parks. With the exception of vehicles measuring 20 feet/6 meters or longer, which are restricted from the Bryce Amphitheater during shuttle hours, riding the shuttle is not mandatory. However, by riding our buses you will support our efforts to keep our parking lots from growing any larger, to keep our pure air as clean as possible, and to provide enough room in our little park for everyone to experience the magic of Bryce Canyon.

The shuttle brings visitors to areas of interest, viewpoints, and trailheads within the Bryce Amphitheater area of the park. The Rainbow Bus tour (cancelled for 2021) provides a shuttle-based exploration of the park's southern areas, which can also be accessed by private vehicle.

If you are not staying overnight inside the park at either the Bryce Canyon Lodge or North or Sunset Campground, we strongly encourage you to leave your vehicle outside the park. Please park and board the shuttle at the Shuttle Station (near Ruby's Inn, on the left side of the road before entering the park) or at Ruby's Campground.

Bryce Canyon Shuttle Service 2021
| | |
| --- | --- |
| April 2 - May 20 | 8:00 A.M. to 6:00 P.M. |
| May 21 - September 26 | 8:00 A.M. to 8:00 P.M. |
| September 27 - October 17 | 8:00 A.M. to 6:00 P.M. |
Now You Can Track the Shuttle!
Buses typically come every 15 minutes, but with the new Bryce Canyon Shuttle Tracker you can time your next ride to the minute.

Bryce Canyon Shuttle Stops
The shuttle begins its route at the Shuttle Station north of the park, but can be boarded at any stop with proof of park admission. At the Shuttle Station you can easily park and pay your entrance fee before boarding. The Shuttle brings visitors to the four most iconic viewpoints of Bryce Canyon National Park (Bryce, Inspiration, Sunset, and Sunrise Points) as well as other areas of interest in the park. Route duration is about 50 minutes, not including stops at facilities and overlooks. Shuttle bus schedule are subject to change.

Shuttle Station (recommended parking)
Old Bryce Town
Best Western+ Grand Hotel
Best Western+ Ruby's Inn
Ruby's Campground
Bryce Canyon Visitor Center
Sunset Campground (Southbound, does not enter campground)
Bryce Point
Inspiration Point
Sunset Campground (Northbound, does not enter campground)
Sunset Point
Bryce Canyon Lodge
Sunrise Point (General Store & High Plateau Inst. are nearby)
Bryce Canyon Visitor Center
Ruby's Campground (Northbound, does not enter campground)
Oversize Vehicle Restrictions
Parking Restrictions apply during shuttle hours to vehicles 20 feet (6 m) or longer. These vehicles are restricted from parking in the following areas:
Visitor Center 1-hour Parking Lot
Sunrise Point
Bryce Lodge
Sunset Point
Inspiration Point
Bryce Point
Paria View (all hours, due to parking lot size)
Where to Park?
Vehicles 20 feet (6 m) or longer can be parked at the Additional Parking Lot across from the Visitor Center, the Shuttle Station Parking Lot in Bryce Canyon City, or a park or Ruby's Inn campsite.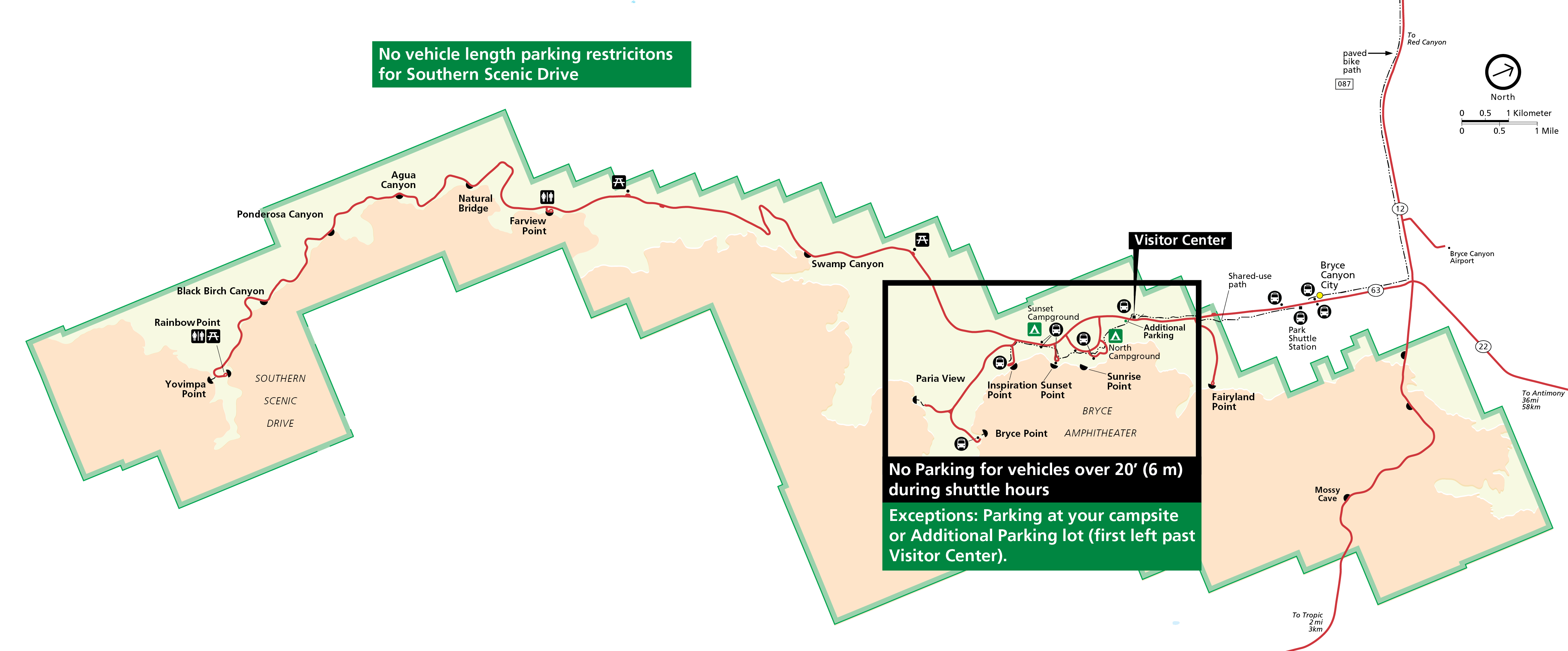 Areas where oversize vehicles are restricted during shuttle hours.
Fee Information
There is no extra fee to use the shuttle system. Paying your $35 entrance fee to Bryce Canyon entitles you and your vehicle occupants to unlimited use of the Bryce Canyon Shuttle buses.
Annual Passes waive the entrance fee to not only this park but all other National Park Service Areas and other Federal lands that may have fees, across the entire country. If you do not already have one of these annual passes they can be purchased at the entrance to the park.
Rainbow Point Shuttle Tour
Cancelled until further notice due to COVID precautions
These details left in-place for future-year planning: During shuttle season Bryce Canyon National Park offers a daily guided tour to Rainbow Point, free of charge, twice daily (at 9:00 AM and 1:30 PM).
Operated by the Bryce Canyon Shuttle, this 3.5 hour round-trip tour covers 40 miles with stops along many of the park's scenic viewpoints.
Reservations are required and can be made in person at the shuttle offices at Ruby's Inn, Ruby's Campground, the Shuttle Parking and Boarding Area, or by calling 435-834-5290. Reservations can be made up to 7 days in advance. Buses will hold up to 40 passengers. Unclaimed spaces will be filled on a first-come, first-served basis.
Passengers can board at any of six shuttle boarding areas: Ruby's Inn, Ruby's Campground, Shuttle Parking and Boarding Area (across the road from Ruby's Inn), Bryce Canyon Lodge, North Campground and Sunset Campground. Visitors are advised to dress appropriately for the weather and bring lunch, snacks, water, etc.
This tour is also ideal for backpackers wanting to be dropped off at any of the park's backcountry trailheads. If backpackers wish to be picked up following a backcountry hike, it is important that they adhere to the scheduled pickup times and locations.
Commonly Asked Questions
Is a shuttle really needed?
During the summer, much of the magic of Bryce Canyon is lost when visitors spend time waiting in lines to enter parking lots, circling parking lots looking for empty spaces, or fighting traffic in congested areas. There is one parking space for every four cars entering the park. Other alternatives considered, such as enlarging parking areas or limiting the number of visitors in the park, have their own negative consequences.
Can I get on and off the shuttle at different stops?
Yes, but only at designated stops. Visitors boarding outside the park (Shuttle Station, hotels, and Ruby's Campground) will need to show proof of park admission.
What if I want to drive my personal vehicle into the park?
If visitors elect to drive their personal vehicles into the park, they will be charged a $35 fee at the entrance station (free for pass holders). Once inside the park, all visitors will have the option of using the shuttle throughout their stay. We ask that visitors who drive into the park leave their car at the Additional Parking Lot across from the Visitor Center when riding the shuttle.
What if I want to camp, or have lodging arrangements within the park?
You will have to pay the $35 fee in order to drive your vehicle to the Bryce Canyon Lodge or campgrounds, and you will have the option of using the shuttle throughout your stay in the park. You will pay camping fees at the campground locations.
What if I'm on a commercial bus? Is it necessary for bus passengers to disembark and ride the shuttle?
No, it's not necessary for commercial buses to unload their passengers to ride our shuttle. Commercial buses are allowed at the same viewpoints as shuttle buses, and we appreciate the fact that commercial buses are already doing their part to provide mass transit to park visitors. When appropriate, parking permits are given to buses by entrance station rangers.
Last updated: May 27, 2021