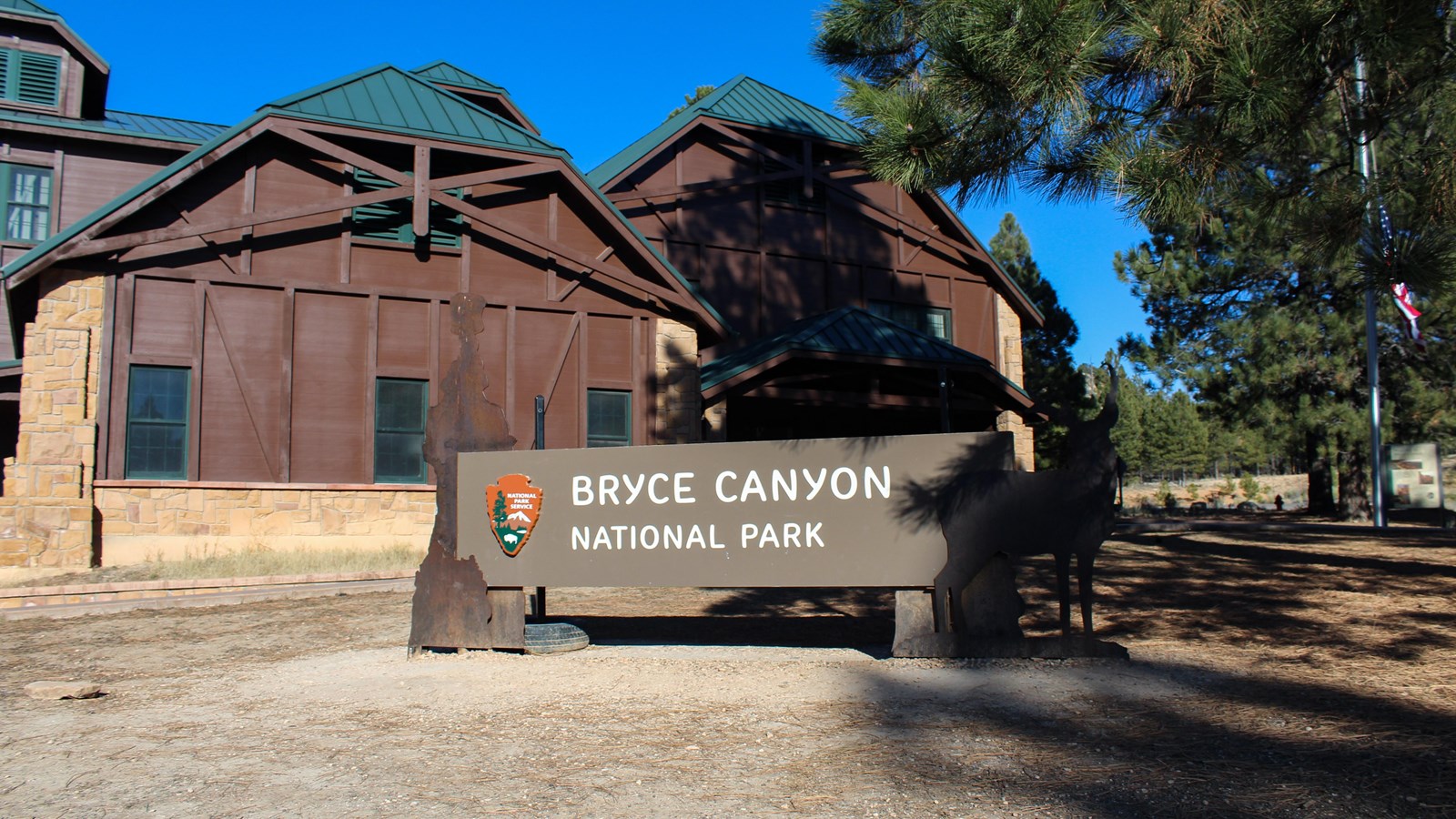 Location:
Adjacent to the Entrance Fee Booths at the north end of the park
Significance:
Provides Visitor Services, Exhibits, a park Film and Bookstore
Assistive Listening Systems, Audio Description, Benches/Seating, Bicycle - Rack, Bus/Shuttle Stop, Captioned Media, Fire Extinguisher, First Aid/Medical Care Available, Food/Drink - Snacks, Gifts/Souvenirs/Books, Historical/Interpretive Information/Exhibits, Information - Maps Available, Information - Ranger/Staff Member Present, Internet/WiFi Available, Parking - Auto, Permits Issued, Recycling, Restroom, Restroom - Accessible, Supplies - General, Tactile Exhibit, Telephone, Theater/Auditorium, Trash/Litter Receptacles, Water - Drinking/Potable, Wheelchair Accessible, Wheelchairs Available
Your purchases through the Bryce Canyon Natural History Association bookstore directly support this park.
Visit the Bryce Canyon Natural History Association Online 

The Bryce Canyon Visitor Center might be one of your first stops when visiting Bryce Canyon National Park. Here you can obtain driving and hiking directions beyond those available on this website, weather forecasts, a current schedule of Park Ranger guided programs, Junior Ranger booklets, and information on area services including lodging, dining and other attractions.
While at the Visitor Center you will want to see our new awarding winning film, "A Song of Seasons." The film is approximately 24-minutes long and plays on the hour and half hour throughout the day. Also take the time to explore our museum exhibits and our bookstore.
The Bryce Canyon Visitor Center is open every day. During the summer our hours are 8 a.m. to 8 p.m. with reduced hours of 8 a.m. to 6 p.m. in fall and spring and 8 a.m. to 4:30 p.m. during the winter.

Note: Parking at the Visitor Center is limited to 1 hour. Please park across the road (taking the next left turn as you travel further into the park) in the Additional Parking lot, which allows for all-day parking.

Shop Online at the Park Bookstore
Last updated: October 3, 2022