Thing to Do
See the Bryce Amphitheater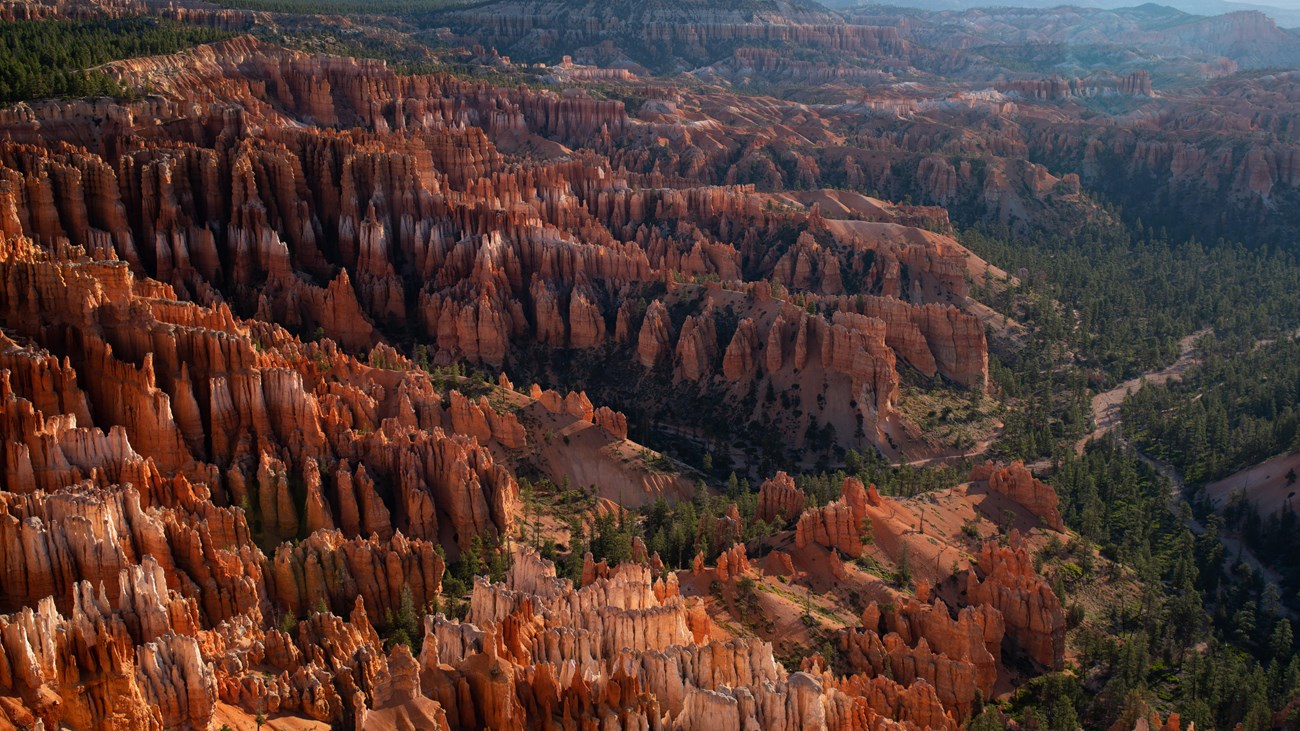 Check out the Park App's "Tours" section for a guided walkthrough of this "Must See" area.

By far the most iconic section of the park, the Bryce Amphitheater is home to the greatest concentration of irregular rock spires (called "hoodoos") found anywhere on Earth. Viewpoints along the first 3 miles (4.8 km) of the main road provide access to this area. This area is referred to as an "amphitheater" as it is a bowl-shaped area shaped by the drainage of seasonal rains and melting snow (not truly a canyon, as those are shaped by flowing rivers). 

Views of the Bryce Amphitheater include Bryce Point, Inspiration Point, Sunset Point, and Sunrise Point. These views are accessible year-round, and also serve as trailheads for the variety of hikes that descend below and travel along the rim of the Paunsaugunt plateau.

Especially if you're only here for a couple hours, these viewpoints should be your highest priority when seeing the park.
Pets Allowed
Yes with Restrictions
Pets are permitted on all paved surfaces in the park: campgrounds, parking lots, paved roads, paved viewpoint areas, on the paved trail between Sunset Point and Sunrise Point, and on the paved Shared Use Path between the park entrance and Inspiration Point.
Pets are not permitted on unpaved trails or viewpoints, in public buildings or on public transportation vehicles. These regulations also apply to pets that are carried.
Pets must be on a leash at all times; the leash must be no longer than 6 feet.
Pet owners may not leave pet(s) unattended or tied to an object. Pets may not be left in vehicles while their owners hike. Be aware that idling and generator use is not permitted in park parking lots.
Pets may not make unreasonable noise.
Pet owners are required to pick-up after their pets (excrement and other solid waste).
Park admission provides access to this activity.
Accessibility Information
All viewpoints in the Bryce Amphitheater are paved and provide relatively flat access to the views. Visit our Accessibility page for more information.
How to see the Views
As this is the most popular area of the park, it's also the first to experience congestion on busy days. Please keep this in mind, especially if you're visiting in the warmer months, and consider 
riding the free shuttle
. If you are driving you can check when
parking lots are busiest
. 
Another great way to see the amphitheater area is by biking the
Shared-Use Path
. It provides 5 miles (8 km) of vehicle-free two-lane path connecting the shuttle station north of the park with the Visitor Center, Sunrise Point, Sunset Point, and Inspiration Point. If you want to enjoy a bicycle ride but didn't bring one, you can rent an Ebike or Standard bike at the 
Historic Service Station
.
Whether you're riding the shuttle or driving yourself, we recommend beginning at Bryce Point--the southernmost and perhaps most famous view into the Bryce Amphitheater.
Riding the Free Shuttle (mid-April to mid-October)
With the exception of vehicles measuring 20 feet/6 meters or longer, which are restricted from the Bryce Amphitheater during shuttle hours, riding the shuttle is not mandatory. However, by riding our buses you will support our efforts to keep our parking lots from growing any larger, to keep our pure air as clean as possible, and to provide enough room in our little park for everyone to experience the magic of Bryce Canyon.

The Bryce Amphitheater Shuttle runs regularly on 15 minute intervals from 8 a.m. to 6 p.m. with extended hours to 8 p.m. in summer, and brings visitors to areas of interest, viewpoints, and trailheads within the Bryce Amphitheater area of the park. The shuttle is free with park admission.

There is no extra fee to use the shuttle system. Paying your $35 entrance fee to Bryce Canyon entitles you and your vehicle's occupants to unlimited use of the Bryce Canyon Shuttle buses. Read more about the Shuttle

Last updated: August 21, 2023