Pets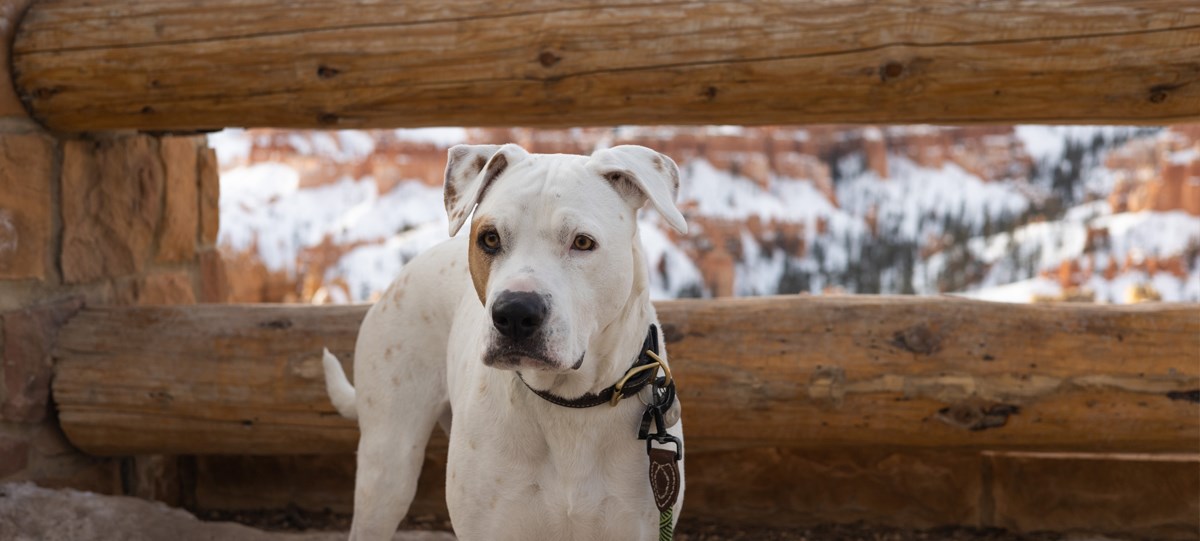 Pets are wonderful animals that give comfort and companionship. However, a national park is not the best place for them. They may chase, scare, or transmit diseases to wild animals. Many pets leave behind a "predator" scent that can linger in the area for long periods of time and can disrupt or alter the behavior of the native animals this park has been set aside to protect. Dog owners looking for hoodoos and dog-friendly trails should also consider visiting nearby
Red Canyon
, which is managed by the U.S. Forest Service.
If you choose to bring a pet to the park, please observe the following regulations:
Pets are only permitted
on paved surfaces in the park; this includes:
Pets are not permitted
 on trails or unpaved viewpoints (Piracy Point), in public buildings or on public transportation vehicles (shuttle bus). These regulations also apply to pets that are carried.
Pets must be on a leash at all times
; the leash must be no longer than 6 feet.
Pet owners may not leave pet(s) unattended
 or tied to an object. Pets may not be left in vehicles while their owners hike. Be aware that idling and generator use is not permitted in park parking lots.
Pets may not make unreasonable noise.
Pet owners are required to pick-up after their pets
 (excrement and other solid waste).
Pet owners not adhering to regulations may be cited (minimum fine is $75).

36-CFR 2.15 provides more details concerning pets within National Park Service areas.
Kennels near Bryce Canyon are located in Panguitch (30 mi, 48 km), Richfield (100 mi, 160 km), Cedar City (85 mi, 136 km), and Kanab (74 mi, 119 km).
Service Animals
Only Service Animals recognized by the ADA are permitted to accompany their owners off pavement. Service animals are permitted to go anywhere visitors are permitted to go. NPS policy defines a service animal as a dog that has been individually trained to do work or perform tasks for the benefit of an individual with a disability, including a physical, sensory, psychiatric, intellectual, or other mental disability. The tasks performed by the animal must be directly related to the person's disability. Read more about Accessibilty at Bryce Canyon.
Is my Emotional Support Animal considered a service animal?
No. Provision of emotional support, well-being, comfort, or companionship does not constitute work or tasks for the purposes of what is defined as a service animal in the NPS policy. Emotional support, therapy, comfort, or companion animals can be any animal, not just a dog. The presence of these animals provides a calming effect for many people, but they do not qualify as service animals because they have not been trained to perform a specific job or task. Therefore, a park can treat an emotional support animal as a pet in accordance with its pet policy.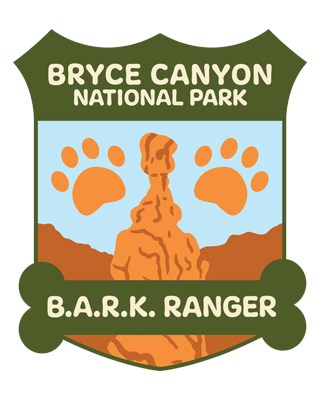 B.A.R.K. Ranger Program
We are happy to introduce a special program just for our furry friends! Sign up for the park's Bark Ranger program to properly enjoy Bryce Canyon National Park with your pet. Treats are given to four-footed participants!
Sign up for the Bark Ranger program by following these steps:
Ask about the Bark Ranger program at the Visitor Center front desk;2) Read and agree to the rules on the official Bark Ranger card;3) Get a pet treat as our way of thanking you and your new Bark Ranger;Bark Ranger pet tags and patches are also for sale in the Visitor Center's Bryce Canyon Natural History Association Bookstore.
When you visit, remember to B.A.R.K.:
Bag your pet's waste:
Help keep your national park clean by collecting and disposing of all pet waste. Garbage containers are located throughout the park.
Always keep your pet on a leash:
For the safety and comfort of all the park's visitors, keep your pet dogs on a leash six feet or less in length.
Respect wildlife:
Bryce Canyon can be home to migrating birds, rabbits, lizards, snakes, and other wildlife. Please keep your dog at a respectful distance from any animals you may encounter.
Know where you can go:
Pets are only allowed on paved surfaces, including park roads and campgrounds, the Shared-use Path, paved viewpoints (all viewpoints except Piracy Point), and the 1/2 mile (0.8 km) section of Rim Trail between Sunset and Sunrise Points.Thank you for not leaving your pets unattended in your vehicle as heat poses a serious threat to pets.


Last updated: October 28, 2023