Hat Shop

The Hat Shop Trail is a down and back trail that begins at Bryce Point. It is not a loop.
This strenuous hike offers long views overlooking the colorful cliffs of the Grand Staircase to the south and a quiet solitude in which to enjoy them. Hikers descend nearly 1500 feet (457 meters) as they travel the first 2 miles (3.2 km) of the much longer 23 mile (37 km) Under-the-Rim backcountry Trail before turning around to climb 2 miles (3.2 km) back. At the turnaround point, balanced-rock hoodoos cluster along the trail's edge. These narrow, orange pinnacles wear "hats" of large grey boulders, giving them a distinct appearance compared to hoodoos seen in the Bryce Amphitheater to the north.

With a steep descent, visitors with "bad knees" should be extra careful. The hike back to the top is considered an accomplishment in itself. During winter, the Hat Shop Trail is not advised unless you are very well prepared for ice, deep snow, and other winter conditions.

Visitors interested in backcountry camping experiences along the Under-the-Rim Trail should first obtain a permit at the Visitor Center.
Hiking Safety
Bring plenty of water and salted snacks (a sports drink is recommended also)
Sunscreen and head gear is advised for UV protection.

Insect repellent is strongly advised in summer.

Foot traction devices are strongly recommended during winter.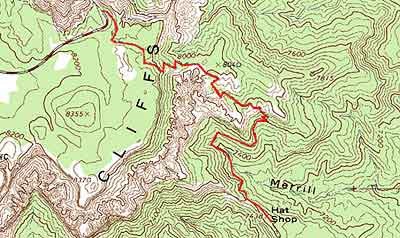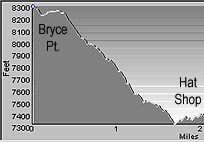 Total Distance:

4.0 miles
6.46 km

Climbing:

1436 ft
438 m

Descending:

1436 ft
438 m

Min/Max:

7332/8309 ft
2235/2533 m
Last updated: September 21, 2021