Backcountry Information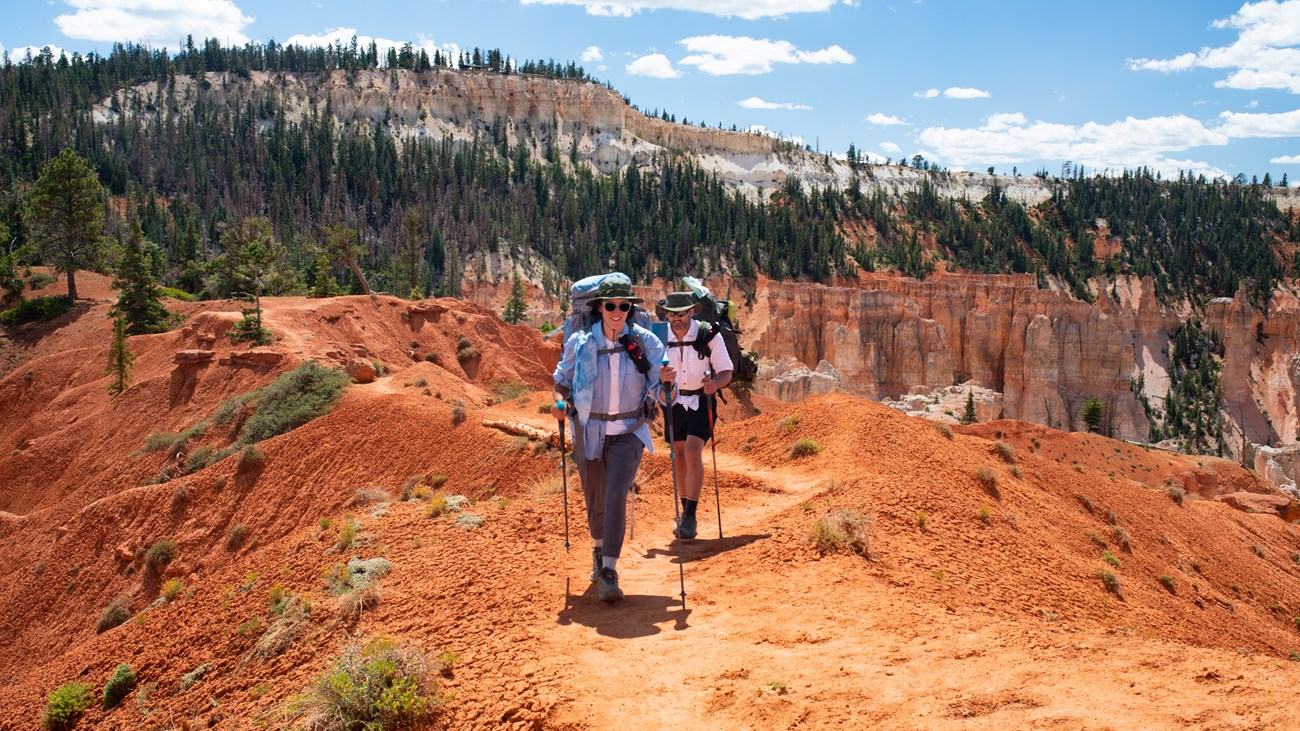 Overview
Experience the solitude of Bryce's forested backcountry and wilderness areas! To preserve this experience, backcountry camping is permitted only in designated campsites and a backcountry permit must be obtained prior to any overnight trips.
There are 7 campsites on the 22.9 mile (36.9 km) Under-the-Rim Trail (UTTR). The UTTR connects Rainbow Point in the south with Bryce Point in the north, following the forested base of the plateau's eastern edge. Hikers typically spend 1 to 2 nights along this route.
There are 3 campsites on the 8.8 mile (14.2 km) Riggs Spring Loop Trail. The Riggs Spring Loop Trail starts and ends at Yovimpa Point, at the southern end of the park. Hikers typically spend 1 night along this route.
Both trails are strenuous, with multiple changes in elevation ranging from 6,800 feet (2,073 m) to 9,115 feet (2778 m)
First time visiting?
Please note that most first-time visitors are seeking the iconic scenery of the park's Bryce Amphitheater area. There are only day hikes located in this area, and no overnight camping below the rim. By contrast, Bryce Canyon's backcountry areas are defined more by forest punctuated with views of distant cliffs and features. While also beautiful, we suggest those looking to experience the park's most iconic scenery consider a combination of frontcountry camping and day hikes for their first visit.
Permits and Fees: New Process
Beginning December 1st 2022, overnight visitors to Bryce Canyon's backcountry areas will be able to reserve permits for peak season trips up to three months in advance using the website Recreation.gov.

Permits for peak season trips occurring March through November will be available online up to three months in advance, as well as on a walk-in basis at the Visitor Center. Online permit holders will still be required to check in at the Visitor Center before departing on their overnight trip to review backcountry regulations, rent a free bear canister, or have theirs inspected.

Permits for winter trips occurring December through February will remain on a walk-in basis, issued up to 48 hours in advance.
Permit pick-up and walk-in permits are available at the Visitor Center from 8 a.m. until one hour before the Visitor Center closes. All site reservations are subject to availability.
Online permits must be picked up in person by 2:00 p.m. MT the day of your trip or your reservation will be cancelled.
Overnight stays are limited to a maximum of 14 nights.
Cost is $10/permit + $5/person to obtain a permit. Cash and card accepted.
Permits are required for all overnight backcountry stays.
Trip Planning Information
Please review the information below to help you prepare for your backcountry experience.
Campsites - Camping is permitted in designated sites only; campers must use the established tent pads to set up tents
Bear canisters - Bear canisters on overnight backcountry hikes are required. See more information below.
Pets - Pets are not allowed on any trails or in backcountry areas. You may not bring pets on day hikes or backcountry trips. Pets are restricted to paved walkways and roads in the developed areas of the park.
Hammocks - Hammocks are not permitted. Attaching items to trees (hanging, nailing, anchoring, etc.) is not permitted.
Water - Carry plenty of water and check water availability with a ranger at the Visitor Center before you leave. Backcountry water must be purified.
Hygiene - Wash dishes and bathe at least 100 feet (30 m) from water sources, trails and campsites.
Waste - Dig "catholes" 6 to 8 inches (15 cm) deep at least 200 feet (60 m) away from water, trails and campsites to bury human waste.
Fires - No open fires in the backcountry. Use only pressurized gas stoves for cooking. "Alternative fuel" stoves are not permitted. Please ask the backcountry ranger if you are unsure about your stove. Report any campfire violations to a park ranger.
Safety - Carry a detailed topographic map, compass, extra clothing, food and water, rain gear, hat and sunscreen. Check the weather forecast prior to departure. Always let a friend or family member know your plans.
Travel - Stay on designated trails. Shortcutting trail switchbacks is illegal, dangerous and causes erosion!
Leave No Trace - Pack out all trash and any you find that has been left by others. Pack out toilet paper. and food scraps!
Groups - Backcountry campsites are limited to 6 people per regular site, and 15 people per group site. Three tent pads are available at each backcountry site. Permits are issued for each individual tent pad. The maximum for each tent pad/permit is two people (Six people total per site).
The Under-the-Rim Trail is approximately 22.9 miles (36.9 km) from Bryce Point to Rainbow Point. Connecting trails offer access from the park's Scenic Drive and intersect the Under-the-Rim Trail at Swamp Canyon, Whiteman Bench and Ponderosa Canyon trailheads. Agua Canyon Connector Trail at Ponderosa Point is closed until further notice due to storm damage.

The Riggs Spring Loop is 8.8-mile (14.2 km) beginning and ending at the Rainbow/Yovimpa Point parking lot at the south end of the Scenic Drive. Either the Yovimpa or Rainbow Point trailhead may be used to access this loop.
The Under-the-Rim Trail May Be Broken into Sections as Follows:
Trail Sections
Distance
(one-way)
Elevation Change
Agua Canyon T.H. to Rainbow Point
(Trail conditions are challenging to navigate here)
7.9 mi /
12.7 km
1365 ft /
416 m
Whiteman Bench T.H. to Agua Canyon T.H.
(Trail conditions are challenging to navigate here)
7.0 mi /
11.3 km
1460 ft/
445 m
Swamp Canyon T.H. to Whiteman Bench T.H.
3.6 mi /
5.8 km
848 ft /
259 m
Bryce Point to Swamp Canyon T.H.
11.6 mi /
18.7 km
1294 ft /
394 m
TH = Trailhead
Note: Hitchhiking is not allowed in Bryce Canyon National Park.
Backcountry Brochure
(The DATUM provided for each site was derived from a handheld GPS unit and does not represent NPS approved information.)
We recommend you carry at least one gallon (4 liters) of water per person per day.
Water sources are unreliable.
Water from backcountry sources must be purified.
Purify water by boiling (10 minutes), filtering, or iodine treatment.
Please check at the Visitor Center for the most current information on water availability.
Depending on seasonal variations you find water at the following backcountry locations:
Yellow Creek (near all campsites)
Sheep Creek (near campsite; campsite is closed to campers)
Iron Spring (trail near campsite)*
Riggs Spring (inside log fence area)
Yovimpa Spring (below Yovimpa Pass campsite)
* Note: Water in Iron Spring has substantial sediment and metallic taste

Water Caching
Water caching is permitted. Water must be labeled with your name and the date. Caches are typically placed at the junction of the Under-the-Rim trail and Swamp Canyon Connector.
The Bryce Canyon Shuttle provides optional transportation to and from Sunrise, Sunset, Inspiration, and Bryce Points April - October. It does not serve the southern end of the park. For transportation to the southern end of the park, contact one of our approved Commercial Shuttle providers.

Private vehicles can also be parked at trailheads during your trip. A parking pass will be provided to you when you pick up your permit at the Visitor Center.
Bryce Canyon is home to many animals including mountain lions, coyotes and black bears. Squirrels, snakes and other small animals may also be present near your campsite.
Bear-resistant canisters are required, and available for loan, free of charge, at the Visitor Center

If you have your own bear-resistant canister, you must present it to the backcountry ranger to make sure it meets park requirements (hard-sided and lockable)

Feeding or harassing wildlife in the park is a violation of Federal law (36 CFR 1002.2) and such behavior is subject to fines or other penalties
Due to the presence of black bears within Bryce Canyon National Park, the following regulations and recommendations are also in place:
All food must be prepared and stored in the designated Food Prep Area
Store all food and scented personal items in the bear canister
Do not eat or use scented items in your tent
Do not sleep in the clothes you were wearing when you cooked
Keep bear canisters locked when not tending to them
Hanging food from trees is prohibited
In the summer of 2010, a Black Bear had to be killed because it was conditioned to associate food with humans and began to exhibit aggressive behavior. Feeding wild animals is a form of animal cruelty. Please take your food storage practices seriously.
Before your trip, we recommend you take a moment to review information on how to respond to bear encounters. Information about other animals that may be encountered in Bryce Canyon can be viewed at the park's wildlife page.
Bear-resistant canisters are required, and available for loan, free of charge, at the Visitor Center
If you have your own bear-resistant canister, you must present it to the backcountry ranger to make sure it meets park requirements (hard-sided and lockable)
 
Thru-hikers (Hayduke Trail) traveling and/or staying overnight in Bryce Canyon are still subject to park regulations. If you intend to stay overnight within the park, you will need to stop into the Visitor Center and obtain a permit. Plan ahead and make sure you have the proper bear-resistant canister and camp stove. Campsites fill up during the summer, so do not expect to arrive at any site at your leisure and start setting up camp without first checking in with a backcountry ranger and obtaining a permit.

You may want to consider camping outside the park boundaries if obtaining a permit and complying with park regulations is difficult. The Dixie National Forest has different regulations on dispersed camping. Check their website or call the local USFS Ranger Station for more information.
Last updated: August 7, 2023