Backcountry Information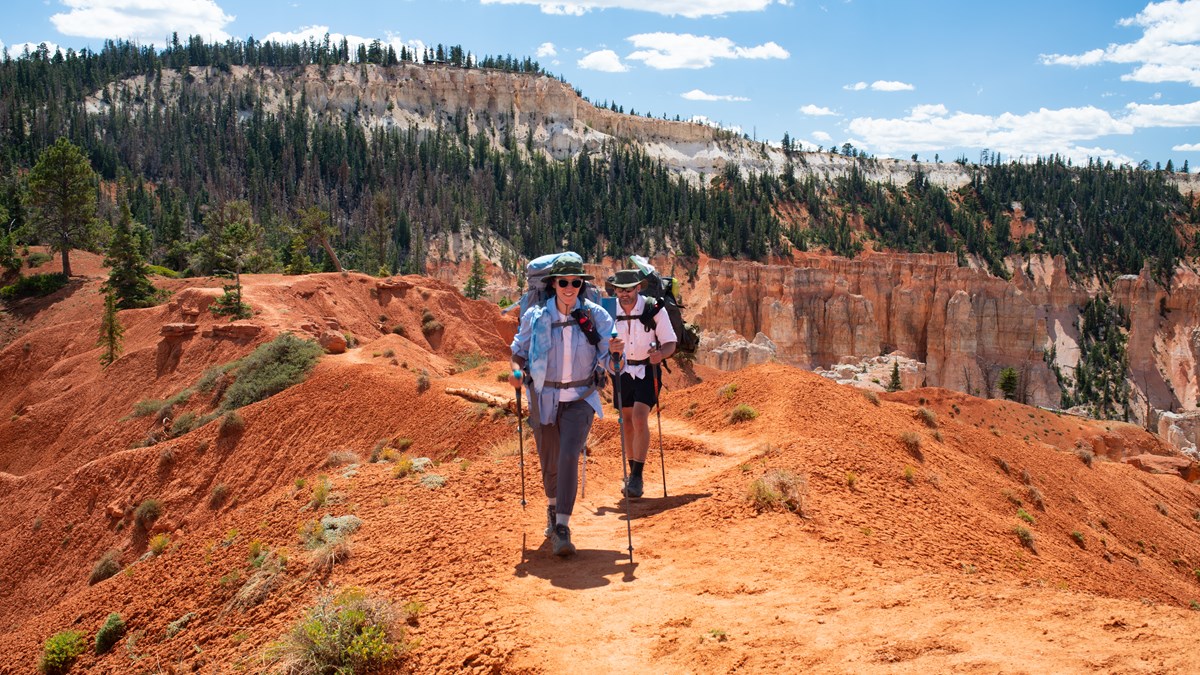 Overview
Experience the solitude of Bryce's forested backcountry on the Under the Rim Trail. Descending from the rim, this 22.9 mile trail meanders through forests & meadows, offering stunning views of rainbow-hued cliffs in the distance. The Under the Rim Trail follows the base of the Paunsaugant Plateau and is largely forested. The hoodoos are part of the distant vistas to the west as you hike the valley floor. To preserve this experience, backcountry camping is permitted only in designated campsites. A backcountry permit must be obtained at the Visitor Center prior to any overnight trips.
There are 7 campsites on the 22.9 mile (36.9 km) Under-the-Rim Trail (Sheep Creek is closed)
There are 3 campsites on the 8.8 mile (14.2 km) Riggs Spring Loop Trail (Corral Hollow is closed)
The trails are strenuous, with multiple changes in elevation ranging from 6,800 feet (2,073 m) to 9,115 feet (2778 m)
Fees and Permits
$5/person, cash only, ages 16+ to obtain a permit
Permits are available at the Visitor Center from 9 am to one hour before the visitor center closes and are required for all overnight stays
Camping is permitted in designated sites only
Overnight stays are limited to a maximum of 14 nights
You must be physically present at the Visitor Center to obtain a permit. Permits will not be issued by phone, email, etc.
Reservations may be made up to 48 hours in advance, and only at the Visitor Center from 9 am to one hour before closing. All site reservations are subject to availability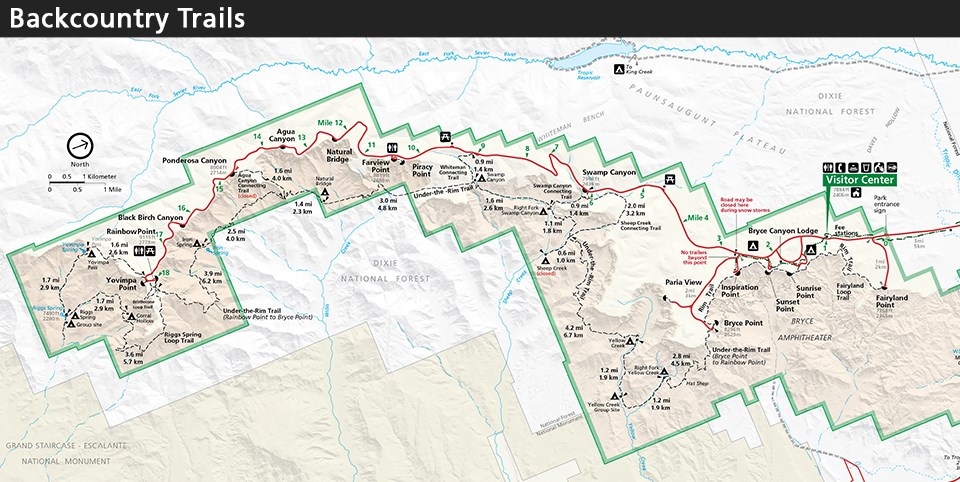 Backcountry Map and Brochure
Backcountry Brochure
(The DATUM provided for each site was derived from a handheld GPS unit and does not represent NPS approved information.)
Backcountry Trails
The Under-the-Rim Trail is approximately 22.9 miles (36.9 km) from Bryce Point to Rainbow Point. Connecting trails offer access from the park's Scenic Drive and intersect the Under-the-Rim Trail at Swamp Canyon, Whiteman Bench and Ponderosa Canyon trailheads. Agua Canyon Connector Trail at Ponderosa Point is closed until further notice due to storm damage.
The Riggs Spring Loop is 8.8-mile (14.2 km) beginning and ending at the Rainbow/Yovimpa Point parking lot at the south end of the Scenic Drive. Either the Yovimpa or Rainbow Point trailhead may be used to access this loop.
The Under-the-Rim Trail May Be Broken into Sections as Follows:
Trail Sections
Distance
(one-way)
Elevation Change
Agua Canyon T.H. to Rainbow Point
(Trail conditions are challenging to navigate here)
7.9 mi /
12.7 km
1365 ft /
416 m
Whiteman Bench T.H. to Agua Canyon T.H.
(Trail conditions are challenging to navigate here)
7.0 mi /
11.3 km
1460 ft/
445 m
Swamp Canyon T.H. to Whiteman Bench T.H.
3.6 mi /
5.8 km
848 ft /
259 m
Bryce Point to Swamp Canyon T.H.
11.6 mi /
18.7 km
1294 ft /
394 m
TH = Trailhead
Note: Hitchhiking is not allowed in Bryce Canyon National Park.
Transportation
The Bryce Canyon Shuttle provides optional transportation to and from Sunrise, Sunset, Inspiration, and Bryce Points April - October. It does not serve the southern end of the park.
When available, hikers may reserve seats on the Rainbow Point Tour bus for transportation to Rainbow/Yovimpa Point.
Reservations and detailed information may be obtained by calling (435) 834-5290.
Note this tour is not available in 2020
Water in the Backcountry
We recommend you carry at least one gallon (4 liters) of water per person per day.
Water sources are unreliable.
Water from backcountry sources must be purified.
Purify water by boiling (10 minutes), filtering, or iodine treatment.
Please check at the Visitor Center for the most current information on water availability.
Depending on seasonal variations you find water at the following backcountry locations:
Yellow Creek (near all campsites)
Sheep Creek (near campsite; campsite is closed to campers)
Iron Spring (trail near campsite)*
Riggs Spring (inside log fence area)
Yovimpa Spring (below Yovimpa Pass campsite)
* Note: Water in Iron Spring has substantial sediment and metallic taste

Developed area water filling station locations:
Visitor Center
Bryce Canyon Lodge
General Store
Sunset Point parking area

Bears and Other Wildlife
Bryce Canyon is home to many animals including mountain lions, coyotes and black bears. Squirrels, snakes and other small animals may also be present near your campsite.
Follow proper storage techniques for food and other scented items. Bear-resistant canisters are required and available for loan, free of charge, at the Visitor Center.
Feeding or harassing wildlife in the park is a violation of Federal law (36 CFR 1002.2) and such behavior is subject to fines or other penalties.
Due to the presence of black bears within Bryce Canyon National Park, the use of bear-resistant food canisters on overnight backcountry hikes are required.
Store all food and scented personal items in the bear canister.
Never cook, store food and food scraps, or keep scented items in your tent.
Do not sleep in the clothes you were wearing when you cooked.
Hanging food is insufficient!
In the summer of 2010, a Black Bear had to be killed because it repeatedly exhibited aggressive behavior towards backcountry campers. Unfortunately, bears often lose their natural wariness towards humans when they become habituated to human food.

Brochure information about Black Bears and what you should and shouldn't do if you encounter one.
Information about other animals that may be encountered in Bryce Canyon can be viewed at the park's wildlife page.

Backcountry Guidelines Recap
Permits - A Backcountry Permit is required for all overnight stays in the backcountry. Permits may be purchased at the Visitor Center from 8 am to 6 pm
Water - Carry plenty of water and check water availability with a ranger at the Visitor Center before you leave. Backcountry water must be purified.
Hygiene - Wash dishes and bathe at least 100 feet (30 m) from water sources, trails and campsites.
Waste - Dig "catholes" 6 to 8 inches (15 cm) deep at least 200 feet (60 m) away from water, trails and campsites to bury human waste.
Fires - No open fires in the backcountry. Camp stoves are permitted.
Safety - Carry a detailed topographic map, compass, extra clothing, food and water, rain gear, hat and sunscreen. Check the weather forecast prior to departure. Always let a friend or family member know your plans.
Travel - Stay on designated trails. Shortcutting trail switchbacks is illegal, dangerous and causes erosion!
Leave No Trace - Pack out all trash and any you find that has been left by others. Pack out toilet paper. and food scraps!
Groups - Backcountry campsites are limited to 6 people per regular site, and 15 people per group site.

Last updated: March 23, 2021