Sunset Campground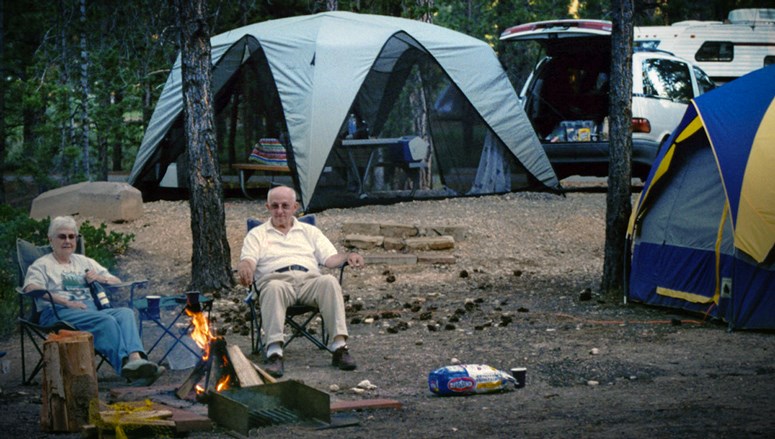 Sunset Campground is closed for the winter season.

Sunset Campground is located west of Sunset Point, approximately 1.5 miles south of the Bryce Canyon Visitor Center, and is comprised of 100 sites in 3 loops; A, B, and C.
Loop A is for RV campers. Loops B and C are for tent campers.

Placement of tents must be on pads where provided. Any additional tents must be placed in the impacted/developed area of the campsite AND no further than 20 feet from the fire ring.
This campground is closest to the best hiking trails which begin and end at Sunset Point.
Sunset Campground has...
20 tent-only sites
One Group Site
80 RV & tent sites
Restrooms with flush toilets
Picnic tables
Fire grates
Drinking water
Quick access to the Shared-Use Path

Hammocks and other items are not permitted to be hung from trees anywhere in the park. Hammocks must only be used with free-standing supports.

Campsite Fees
All sites are limited to 10 people with no more than six adults (adults = ages 16 and up), three tents. Loop A permits two vehicles per site. Loops B & C permit one vehicle per site.
Per Tent Site / Per Night = $20
Per RV Site / Per Night = $30

There are two wheelchair-accessible sites located in Loop A, one of which is reservable during the reservation season. To reserve that site, you must contact the park directly.
You may send your request to: Bryce Canyon National Park, PO Box 640201, Bryce, UT 84764, Attention: Campground Supervisor. Or, you may leave a message on the Campground phone: 435-834-4765. Be sure to include your name, contact information (phone # and/or email address) and the dates you wish to reserve.

Reservations
All sites are first-come-first-serve for 2019.
There are no sewer, water or electrical hook-ups available. A dump station is available in summer months at the south end of North campground for a $5 use fee. Potable water is available near the dump station.
Last updated: November 18, 2019