Hiking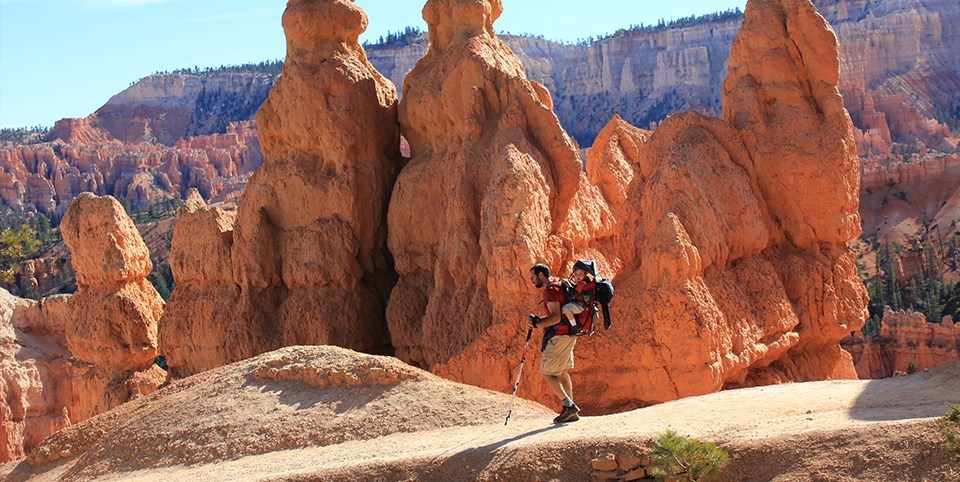 Hiking at Bryce Canyon
Bryce Canyon offers several day-hiking trails. Because many of these are interconnected, our most popular hikes are combinations of two or more of these basic trails. Most day hikes and their trailheads are found in the Bryce Amphitheater area.

Which trail is right for you? All trails offer a unique view of the beauty of this park, but the park's high elevation means that length and elevation change should be the first variables you consider when choosing a hike.
Know Before You Go
Pets are only allowed on paved trails and viewpoints, roads, campsites, and picnic areas. The 0.5 mi (0.8 km) section of Rim Trail between Sunset and Sunrise Points and the Shared-Use Bike Path are the only paved trails within this park. Pets must be leashed at all times and you are required to clean up after your pet. Dog owners looking for hoodoos and dog-friendly trails should consider visiting nearby Red Canyon, which is managed by the U.S. Forest Service.
Emotional Support Animals must follow the same regulations as pets. Only Service Animals recognized by the ADA are permitted to accompany hikers off pavement.
Stay on maintained trails and do not climb hoodoos. Do not use "social" trails. These social trails contribute to plant death, aggressive erosion, and visitor/wildlife confrontations including those with rattlesnakes.
Bicycles are only permitted on paved surfaces.
Wear hiking boots with good "lug" traction and ankle support. Along with altitude-related illnesses, ankle injuries are the park's number one injury.
Carry plenty of water; 1 quart (liter) per 2-3 hours of hiking for each person
Park elevations reach over 9,000 feet (2774 meters). Even mild exertion may leave you feeling light-headed and nauseated. Remember, most hikes here begin with a descent and end with a climb. Leave yourself enough energy for your return trip.
Be respectful of others; keep noise levels down.
Lightning is a year-round danger – especially during summer storms! If you can hear thunder, lightning is within 10 miles (16 km) and you need to seek the shelter of a building or your vehicle immediately.
In winter, Crampons and ski poles are advised for extra grip and support.
Remember, ultimately, you are responsible for your own safety.
Leave No Trace principles are always a best practice.
Easy Hikes

TRAIL NAME

DISTANCE

ELEV CHANGE

DESCRIPTION

Sunset to Sunrise
Sunset Point
1.0 mi
1.6 km
1 hr
40 ft/
12 m
Paved portion of Rim Trail; easiest hike with views of the scenic Bryce Amphitheater. Pets are allowed on this easy walk.
Rim Trail
Walk the rim of
the scenic Bryce
Amphitheater
(not a loop)
1.0-11.0 mi
1.6-17.7km
1-7.5 hrs
719 ft/
219 m
One-way Bryce to Fairyland
View the hoodoos from above. Trail paved between Sunrise and Sunset Points.
Bristlecone Loop
Rainbow Point or
Yovimpa Point
1.0 mi
1.6 km
1 hr
200 ft/
61 m
Hike through spruce-fir forests with bristlecone pines and expansive vistas.
Mossy Cave
North end of park, 4 mi East on Hwy 12
0.8 mi
1.3 km
1 hr
150 ft/
46 m
Streamside walk up to a mossy grotto that fills with spectacular icicles in winter, and dripping mosses in summer.
Note: This small trail has become extremely crowded; visitation is not recommended between 10 a.m. and 6 p.m.
Vehicles parking outside of the provided parking lot are subject to being ticketed or towed.

Moderate Hikes

TRAIL NAME

DISTANCE

ELEV CHANGE

DESCRIPTION

Queen's Garden
Sunrise Point
(not a loop)
1.8 mi
2.9 km
1-2 hrs
450 ft/
137 m
The least difficult trail that descends into the canyon. See Queen Victoria at the end of a short spur trail.
Navajo Loop
Sunset Point
*Not a loop in winter
1.3 mi
2.2 km
1-2 hrs
515 ft/
157 m
See Thor's Hammer, Two Bridges, and the bottom of Wall Street on this short but steep trail.
Queen's/Navajo Combination Loop
Sunset / Sunrise Point


Most Popular Trail!

2.9 mi
4.6 km
2-3 hrs
625 ft/
191 m
Combine Queen's Garden & Navajo Loop to form a 2.9-mile loop. Clockwise direction recommended; use Two Bridges in winter.
Tower Bridge
North of Sunrise Point
(Portion of the
Fairyland Loop)
3.0 mi
4.8 km
2-3 hrs
760 ft/
232 m
See Bristlecone pines and the Chinese Wall. A shady 1/4-mile spur trail leads to the bridge.
Sheep Creek/ Swamp Canyon
Swamp Canyon
4.0 mi
6.4 km
3-4 hrs
800 ft/
244 m
A beautiful hike through a section of the park's quiet backcountry.

Strenuous Hikes

TRAIL NAME

DISTANCE

ELEV CHANGE

DESCRIPTION

Hat Shop
Bryce Point
(not a loop)
4.0 mi
6.4 km
3-4 hrs
1380 ft/
421 m
Descend the Under-the-Rim Trail to see a cluster of balanced-rock hoodoos.
Fairyland Loop
Fairyland Point or
north of Sunrise Point
8.0 mi
12.9 km
4-5 hrs
1900 ft/
579 m
See the Chinese Wall, Tower Bridge, and tall hoodoos on a picturesque, less crowded trail.
Peekaboo Loop
Bryce Point
5.5 mi
8.8 km
3-4 hrs
1560 ft/
474 m
Steep, spectacular hike through the heart of the park. See the Wall of Windows.

Clockwise direction required.

Navajo / Peekaboo
Combination Loop
Sunset Point
4.9 mi
7.8 km
3-4 hrs
1475 ft/
450 m
Combine Navajo and Peekaboo Loop Trails into a mini figure-8.

Clockwise direction required on Peekaboo Loop.

The Figure 8
Combination
Sunrise /
Sunset Point
6.4 mi
10.2 km
4-5 hrs
1575 ft/
480 m
Combine Queen's Garden, Peekaboo Loop, and Navajo Loop into one ultimate hike!

Clockwise direction required on Peekaboo Loop.

Bryce Amphitheater
Traverse
Bryce Point
4.7 mi
7.5 km
3-4 hrs
1145 ft/
349 m
Descend From Bryce Point. turn left (clockwise) on Peekaboo Loop, connect to Queen's Garden and Ascend to Sunrise Point. Use shuttle or 3.2 mi Rim return.
Activities to Pair with a Day Hike
Last updated: April 27, 2022