Navajo Trail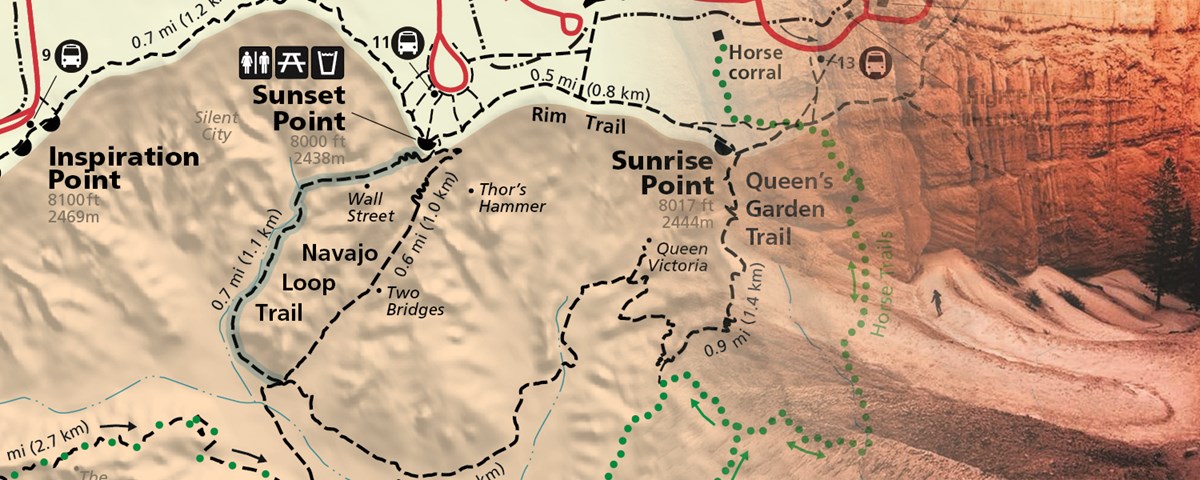 Click for a Larger Map of this Area
Trailhead Location: Sunset Point
Difficulty: Moderate
Total Distance: 1.3 miles (2.2 km)
Elevation change: 550 feet (168 m)
Average time: 1-2 hours

The iconic Navajo Loop Trail begins and ends at Sunset Point, travelling by switchbacks down between narrow walls of colorful limestone with views of towering Douglas-fir trees and the park's most famous hoodoo: Thor's hammer. The loop has two sides, the Two Bridges side and the Wall Street side. The Two Bridges side is open year-round, however the Wall Street side is closed in months when precipitation combines with freezing overnight temperatures. When both sides are open, we generally recommend this as a counter-clockwise loop.
Combination Loops
One side of the Navajo Loop (Two Bridges when Wall Street is closed) is often combined with the Queen's Garden Trail to form the 2.9 mile (4.6 km) Queen's / Navajo Combination Loop.
The Navajo Loop can also be combined with the Peekaboo Loop to form the 4.9 mile (7.8 km) Navajo / Peekaboo Combination or combine the Queen's / Navajo Combination Loop with the Peekaboo Loop to get the 6.4 mile (10.2 km) Figure-8 Combination.

Elevation Profile for the Navajo Loop Trail depicting a counter-clockwise hike (down the Wall Street side and up the Two Bridges side). When the Wall Street side closes in winter this becomes a down-and-back hike on the Two Bridges side.
Last updated: March 2, 2021