Current Conditions
Latest COVID-19 Update
Garfield County, which includes Bryce Canyon National Park, is in LOW community level transmission. Therefore, wearing a mask in federal buildings at Bryce Canyon National Park is optional.

In areas CDC identifies as high COVID-19 community level, masks are required for everyone in all NPS buildings, regardless of vaccination status. In most low and medium COVID-19 community level areas, masks are optional, but visitors should follow signs and instructions from park staff and volunteers. Visitors and employees are always welcome to wear a mask if it makes them more comfortable.

Mask requirements vary by park based on CDC's COVID-19 Community Level tool. Additional details are available at www.nps.gov/coronavirus.
Current Weather Conditions
NOAA provides a current weather forecast for Bryce Canyon and surrounding areas. Our weather page can provide a good idea of what the weather might be like at various times of year.
When Thunder Roars, Go Indoors!
Lightning is a year-round possibility, but it's most common (and most dangerous!) during summer thunderstorms in July and August.
Current watches, warnings, and forecasts.
Loading weather forecast...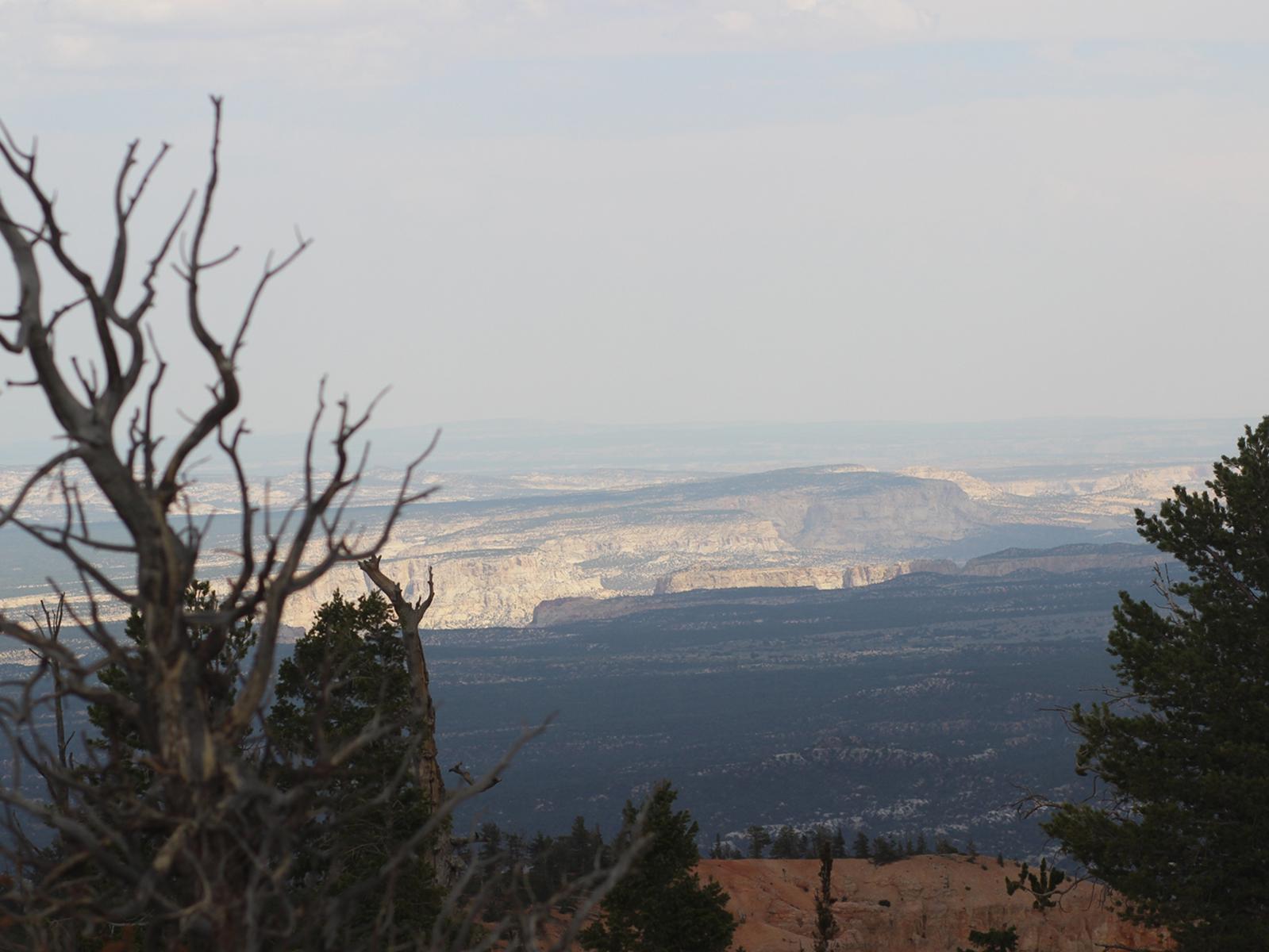 Webcam
View from Yovimpa Point, Bryce Canyon National Park, Utah (looking east).
View Webcam
Road Conditions
Check the Alerts above for current road conditions and closure messages. For road conditions outside the park, visit https://www.udottraffic.utah.gov/

Following snowstorms, the main park road closes temporarily at mile marker 3 to allow snow plow crews to clear snow from the higher elevations of the park's scenic southern drive. Closures typically last a day or more, depending on snowstorm durations. Along the first three miles of the main road, the Bryce Amphitheater area (which includes Bryce Point, Inspiration Point, Sunset Point, and Sunrise Point) is the first area to be plowed, so it remains accessible even during temporary closures of the scenic southern drive.

There are only two roads that are closed to vehicle traffic for the entire winter season (not currently in effect): the 1 mile (1.6 km) road leading to Fairyland Point and the 0.3 mile (0.5 km) road leading to Paria View. These two spur roads close after snow levels begin to require plow removal, but remain accessible for hikers, cross-country skiiers, and snowshoers.
Construction Alert
To improve the condition of roadways around the Bryce Canyon Lodge and Sunrise Point area, resurfacing work is scheduled to begin on June 15th and continue through September 15th. Between 7 a.m. and 5 p.m., traffic delays of no more than 15 minutes should be anticipated along the Lodge Loop road. Minor noise disturbances should be expected in this area during construction.
No work is scheduled to occur on weekends or federal holidays.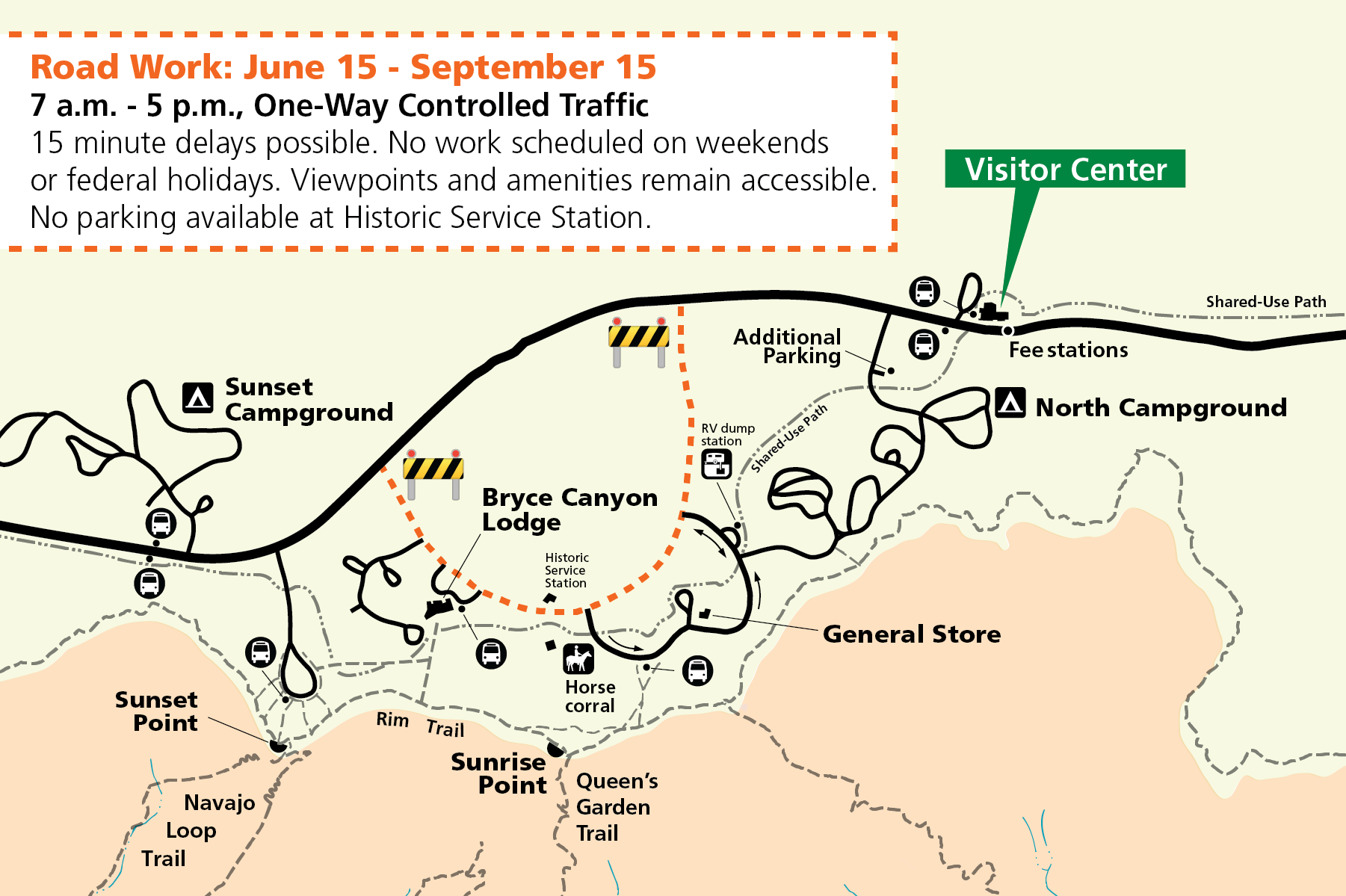 The Lodge Loop road construction area.
Trail Conditions
Temporary Trail Closures in Effect
The Agua Canyon Connecting Trail from Ponderosa Point remains closed due to rockfall.
Backcountry Under-the-Rim Trail Damage and Hiker Advisory
Due to deteriorated trail conditions, those hiking the Under-the-Rim trail must understand that they do so at their own risk. Strong wayfinding skills are a must, and responses to emergency situations may be difficult and delayed.
Fire Restrictions
Lighting or maintaining a fire is prohibited in all areas except:
Designated campgrounds and picnic areas in government provided grills or fireplaces or personally provided grills. Campfires are restricted to established campfire grates, or personally provided grills.
When conditions of high wildfire dangers are reached within the park, additional fire and smoking prohibitions may be in place. While the public will be notified when such restrictions exist, this may occur without prior public notice.

Read more and find a map of state-wide fire restrictions.
Last updated: June 10, 2022