Article
28 Days of Black History
Black history is American history. In 1926, Dr. Carter G. Woodson began a weeklong celebration that has since grown into an entire month dedicated to remembering the achievements, contributions, resilience, and legacies of Black Americans at a time when it was not commonly taught. In celebration of Black History Month, explore people, places, and stories from more than 400 national parks and communities across the country through National Park Service programs and partners and keep exploring African American heritage throughout the year.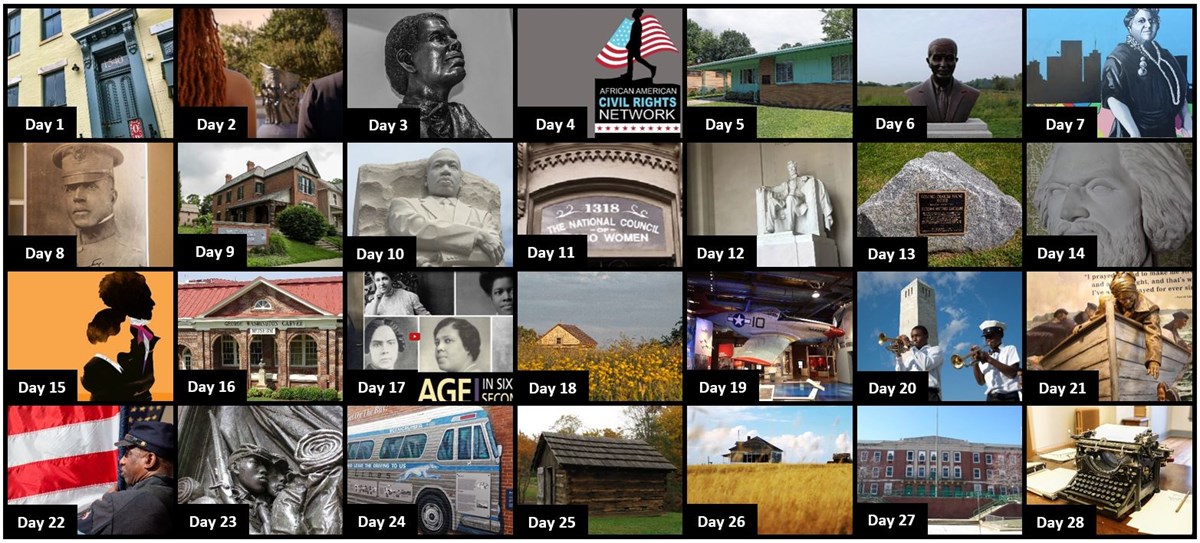 ☑ Instructions
Dr. Woodson and his colleagues created tools that teachers could use in schools to teach Black history during the weeklong (now monthlong) celebration. They made lesson plans, scripts for history plays, and educational posters featuring important dates and people in history. This is a day-by-day virtual calendar to use during February or any time to learn about Black history preserved in national parks or through National Park Service programs.
Revisit each day to learn or try something new. You can print the daily squares to fill in your wall calendar. Although this list is inspired by Black History Month in February, start or catch up at any time. Share your completed activities and your national park experiences on social media to inspire others using #BlackHistoryMonth and #FindYourPark or #EncuentraTuParque.



☐ Day 1
Start at the beginning of Black History Month—with its origins. Learn about Dr. Carter G. Woodson, known as the "Father of Black History," and his vision when he created what is now Black History Month. Plan a future trip to the Carter G. Woodson Home National Historic Site in Washington, DC.
☐ Day 2
Watch "Twenty & Odd," a short film that reflects on more than 400 years of Black history and heritage exploring the trauma, resilience, and beauty of the African American experience in our country through the lens and storytelling of those closest to the stories. A companion guide reveals the symbolism and context of each scene of the film.
☐ Day 3
There are more than 400 national parks across the country of very different shapes, sizes, and reasons they were set aside to preserve for current and future generations. Learn about some of the parks that were created and named in honor of African Americans and about each person's incredible achievements and contributions to our nation.
☐ Day 4
In honor the birthday of civil rights icon Rosa Parks on February 4, explore the African American Civil Rights Network, which connects places in parks and communities across the country to tell a more complete story of the Civil Rights Movement. Take a virtual tour map to explore these places where history was made.
☐ Day 5
Learn about one of the newest places added to the National Park System: Medgar and Myrlie Evers Home National Monument, home of leaders in the Civil Rights Movement. The tragic assassination of Medgar Evers in 1963 for his efforts to promote racial equality and social justice was one of the key catalysts for passage of the Civil Rights Act of 1964 as the nation reacted in horror to his death.
☐ Day 6
Celebrated as a great agricultural scientist, George Washington Carver was also a prolific essay writer and artist. Third and fourth graders can submit entries to an annual art and essay contest hosted by George Washington Carver National Monument by February 12, 2021, focusing on the theme "Helping and Healing." But everyone is welcome to share your own essay and art about this topic anytime on social media using @GeorgeWashingtonCarverNM, #BlackHistory Month, and #FindYourPark.
☐ Day 7
Go on a virtual tour of Maggie L. Walker National Historic Site in Virginia. In spite of humble beginnings in post-Civil War Virginia, Walker became a prominent businesswoman and community leader who devoted her life to defeating racism, sexism, and economic oppression. She founded a bank, was a newspaper editor, and led a fraternity while also fostering entrepreneurialism in the African American community in Richmond.



☐ Day 8
Learn about the legendary Buffalo Soldiers and one of their most distinguished leaders by taking a virtual trip to this month's National Park Getaway Charles Young Buffalo Soldiers National Monument in Ohio. Download an entire exhibition to help teach their history. Make your own virtual or physical exhibit about a history topic and share it on social media using #BlackHistoryMonth and #FindYourPark.
☐ Day 9
Born in 1872, Paul Laurence Dunbar was one of the first African American poets to gain national and international recognition during his life. In honor of Dunbar, write a poem or host your own poetry slam with family and friends. Share on social media using #BlackHistoryMonth and #FindYourPark to inspire others with your words. Plan a future visit to the Paul Laurence Dunbar House Historic Site in Ohio.
☐ Day 10
Dr. Martin Luther King Jr. was one of the most influential leaders of the Civil Rights Movement and moved hearts and minds with his speeches and writings. Take a few minutes to read aloud some of Dr. King's quotes immortalized on the walls of the Martin Luther King, Jr. Memorial. Also listen to a park ranger share his personal reflections of hearing Dr. King deliver his famous "I Have a Dream" speech at the Lincoln Memorial in person and how that impacted his life. Write your own speech to share what is important to you. Let us hear your voice by sharing on social media using #BlackHistoryMonth and #FindYourPark.
☐ Day 11
Take a virtual tour through Mary McLeod Bethune Council House National Historic Site in Washington, DC to meet a 20th-century leader with a very impressive resume in education and civil service. From her home near both the White House and Dr. Carter G. Woodson's home, the National Council of Negro Women spearheaded civil rights campaigns aimed at supporting African American women and created the National Archives for Black Women's History.
☐ Day 12
Abraham Lincoln's birthday on February 12 partially influenced the timing of Black History Month. While his history with emancipation is complex, Lincoln was historically called the "Great Emancipator" and his birthday was a traditional day of celebration in Black communities in the decades following his death. Read the Emancipation Proclamation, which Lincoln considered one of his most important actions, and reflect on this pivotal moment in US history.
☐ Day 13
Start following a new podcast/vodcast series by Charles Young Buffalo Soldiers National Monument called the "The Veterans Podcast." In the first two episodes, join Park Superintendent Robert Stewart for a conversation with US Army World War II Buffalo Soldier veteran Harold J. Warren Jr. and for his personal reflections about his own military experiences.
☐ Day 14
Frederick Douglass' birthday on February 14 has been a longstanding traditional day of celebration by Black communities, which also influenced the timing of Black History Month. Born into slavery in 1818, Douglass escaped his enslavement and dedicated his life to fighting for justice and equality. Take a virtual tour of Frederick Douglass National Historic Site in Washington, DC where he lived the last 17 years of his life in view of the US Capitol.



☐ Day 15
Plug in your earphones to listen to the new podcast series "The Agitators," made in partnership with the Women's Suffrage Centennial Commission and PRX. It explores the enduring yet complex relationship between Frederick Douglass and Susan B. Anthony as they both advocated for voting rights during the 19th century.
☐ Day 16
Booker T. Washington wanted to improve higher education opportunities for African Americans in the South, so he built Tuskegee Institute, now a national historic site. As a professor at the institute, George Washington Carver wanted to improve the lives of lower income farmers, so he created innovative new farming techniques. Explore an online exhibit about Carter's work at the Institute. What innovative way would you improve the lives of others?
☐ Day 17
As the women's suffrage movement achieved a major success with the passing of the 19th Amendment of the US Constitution 100 years ago, Ida B. Wells had been working tirelessly to ensure that African American women were part of the conversation. Follow her footsteps looking at places in her life and watch an episode of "Suffrage in 60 Seconds" about African American women and the vote.
☐ Day 18
During the 19th century, thousands of African Americans homesteaded across the Great Plains creating communities, homes, and often a new life. As you take a closer to learn their stories captured by Homestead National Historical Park, watch a short film discussing how African Americans settled the West and explore a virtual story map.
☐ Day 19
Famously known as "Red Tails," the first African American military pilots tested their wings in the skies over Tuskegee, Alabama. The Tuskegee Airmen were initiated into the U.S. Armed Forces on February 19, 1942. Plan a future visit to Tuskegee Airmen National Historic Site and tour an online exhibit to learn more about these pilots who opened doors—and the skies—to African American military pilots.
☐ Day 20
The roots of jazz were largely nourished in the African American community but became a broader phenomenon that drew from many communities and ethnic groups in New Orleans. Check out New Orleans Jazz National Historical Park on social media to find interactive live stream concerts, recorded concerts, and interviews with musicians all month (and year) long!
☐ Day 21
One of the most famous and successful "conductors" on the Underground Railroad, Harriet Tubman was dedicated to causes improving the lives of African Americans, women, and people with disabilities. Take a short video tour of where she began her journey as an American legend. Kids can "meet" Harriet Tubman in an episode of "The Magic Sash" podcast series.



☐ Day 22
The history of the free and enslaved Black communities and freedom seekers around Fredericksburg, Virginia, a major Civil War crossroads, could have been lost. Watch a ranger program about their story and how it was saved through oral histories and secondhand accounts. Get started recording your own family's oral history to help it continue to be passed to the next generations.
☐ Day 23
The African American community of Boston were leaders in the fight against slavery and racial injustice during the 18th and 19th centuries. Take a virtual trip on the Black Heritage Trail and join virtual ranger programs at Boston African American National Historic Site to learn their stories of resilience, identity, and empowerment participating in a fight for their own rights.
☐ Day 24
In 1961, a small interracial band of "Freedom Riders" peacefully challenged laws requiring separation of races in interstate travel by riding on buses through states together over seven months. The world reacted in shock as the these buses were viciously attacked, even firebombed. A mural of a bus is painted on a brick wall at Freedom Riders National Monument. Design a mural of history or a cause that is important to you. Share it on social media using #BlackHistoryMonth and #FindYourPark.
☐ Day 25
Booker T. Washington went from growing up in a slave cabin to building ways for all Americans to succeed. Washington was a nationally-respected author, orator, and adviser to many US presidents. He was not satisfied with higher education options for African Americans in the late 19th century—so he built his own school now Tuskegee Institute National Historic Site. Plan a future visit to Booker T. Washington National Monument in Virginia and watch "Measure of a Man" to learn his story.
☐ Day 26
Watch and listen to "O Nicodemus" short film to hear a community's enduring spirit from its roots as a town created by former enslaved Americans who migrated to Kansas in 1877 to build a new life. Write or recite a poem about the pride you have for your own community and share on social media using #BlackHistoryMonth and #FindYourPark to inspire others with your words.
☐ Day 27
Become a historian of your own neighborhood. The National Register of Historic Places recognizes more than 95,000 historic places in communities across the entire country. Use the database like a professional historian to find places in your area or about a topic that you are interested in. If you take a walk or drive to see these place in person, just remember to be respectful as many of these places are privately owned.
☐ Day 28
One of Dr. Woodson's goals for an annual celebration of Black history was to recognize people's achievements and great contributions to our nation. Make a list 28 Americans in history who inspired you. Join the conversation on social media using #BlackHistoryMonth and #FindYourPark to share your list with others.


☑ A Few More Days
Black History Month was started as a weeklong celebration timed to include the birthdays of Frederick Douglass and Abraham Lincoln. It's also during the shortest month of the year. Here are a few more suggestions to make your own history with national parks.
☐ Day 29
Find Your Park. There are more than 400 national parks across the country of different shapes, sizes, and reasons for being set aside to preserve for current and future generations of Americans. So no matter what you are interested in—nature, history, or recreation—there are national parks for you to enjoy. Spend time learning the many parks in the National Park System and plot your path to exploring them in person or virtually. Share your experiences with national parks on social media using #FindYourPark or #EncuentraTuParque.
☐ Day 30
Experience the Power of Parks for Health. Take advantage of health benefits of parks for physical and mental well-being! If you are new to visiting national parks, try these gateway activities to get you hooked on enjoying the great outdoors. Join the #RecreateResponsibly movement to learn and lead by example in practices to keep yourself and everyone else safe while out enjoying parks.
☐ Day 31
Be a Steward of Your Public Lands. Consider joining our National Park Service team through employment, volunteering, or interning in a surprisingly wide variety of career fields located in parks and offices across the country. Partnerships play a key role in welcoming visitors to parks, preserving the history, lands and living things in parks and extending the benefits of parks into communities.