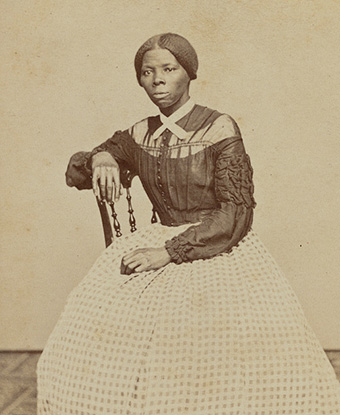 Significance:
Underground Railroad "conductor," abolitionist, Union spy, suffragist
Place of Birth:
Dorchester County, MD
Date of Birth:
March, 1822
Place of Death:
Auburn, NY
Date of Death:
March 10, 1913
Place of Burial:
Auburn, NY
Cemetery Name:
Fort Hill Cemetery
Born into slavery on Maryland's Eastern Shore in 1822, Tubman was named Araminta by her enslaved parents, Ben and Rit Ross. Nearly killed at the age of 13 by a blow to her head, "Minty" recovered and grew strong and determined to be free.
Changing her name to Harriet upon her marriage to freeman John Tubman in 1844, she escaped five years later when her enslaver died and she was to be sold. One hundred dollars was offered for her capture. Vowing to return to bring her family and friends to freedom, she spent the next ten years making about 13 trips into Maryland to rescue them. She also gave instructions to about 70 more who found their way to freedom independently.
Tubman successfully used the skills she had learned while working on the wharves, fields and woods, observing the stars and natural environment and learning about the secret communication networks of free and enslaved African Americans to affect her escapes. She later claimed she never lost a passenger. The famous abolitionist William Lloyd Garrison called her "Moses," and the name stuck.
A lifelong humanitarian and civil rights activist, she formed friendships with abolitionists, politicians, writers and intellectuals. She knew Frederick Douglass and was close to John Brown and William Henry Seward. She was particularly close with suffragists Lucretia Coffin Mott, Martha Coffin Wright, and Susan B. Anthony. Intellectuals in New England's progressive circles, such as Ralph Waldo Emerson, William Lloyd Garrison, Bronson Alcott, Harriet Beecher Stowe, Franklin B. Sanborn, and Mrs. Horace Mann, befriended her, and her work was heralded beyond the United States.
During the Civil War, she served the United States Army as a spy, scout, nurse and cook. In early 1862, Tubman traveled to South Carolina to provide badly needed nursing care for African-American soldiers and civilians. Working with Major General David Hunter, Tubman also began spying and scouting behind Confederate lines. 
On June 1, 1863 she joined Colonel James Montgomery and his 2nd South Carolina Infantry, composed of emancipated slaves, in an assault on several plantations along the Combahee River. This raid rescued more than 700 enslaved people, many of whom later enlisted in the Union army. These actions weakened the Confederate economy while providing the Union army with more soldiers. Her role in the raid was celebrated in the press, increasing her fame. 
Tubman showed the same zeal and passion for the campaign to attain women's suffrage after the American Civil War as she had shown for the abolition of slavery. Harriet Tubman died in 1913 in Auburn, New York at the home she purchased from Secretary of State William Seward in 1859, where she established the Harriet Tubman Home for the Aged. She was buried with military honors at Fort Hill Cemetery.
 
---
Learn More
To learn more about Harriet Tubman and her legacy, consider reading the following articles:
Determining Harriet Tubman's Birth Year
Harriet Tubman and the Underground Railroad
Harriet Tubman and the 54th Massachusetts
Re-Imagining Harriet Tubman
Last updated: May 11, 2023