Find a Park by State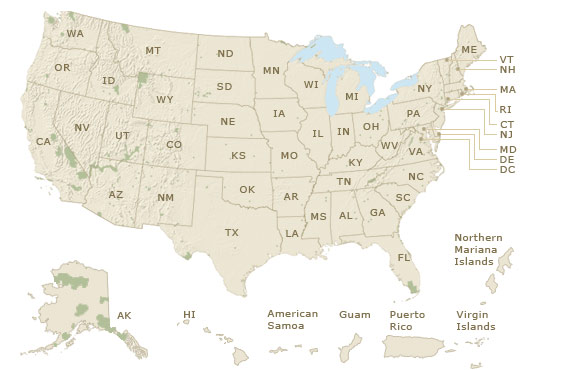 Navajo National Monument
Visit the homes of the Ancestral Puebloans who paved the way for current Native American groups in the Southwest.
Timucuan Ecological & Historic Preserve
The coastal wetlands of the lower Southeast have been home to numerous peoples, including the Timacuan, over the last 6,000 years.
Nez Perce National Historical Park
Explore the mountains, valleys, and plateaus of the inland Northwest that were home to the Nimiipuu or Nez Perce people.
Honoring Our Nation's Veterans
Fort McHenry NM & Historic Shrine
During the War of 1812, the fort's flag gave inspiration to the author of the future national anthem and generations of Americans.
National Mall & Memorial Parks
Located in the heart of the nation's capital, the National Mall is home to many memorials honoring the service of our veterans.
World War II Valor in the Pacific NM
The park is collection of sites across three states that commemorate the victories and sacrifices of the U.S. military during World War II.
Getaway to Wupatki National Monument
In the Painted Desert of northern Arizona, explore the ruins of ancient pueblos where communities once thrived.
Friendship Hill National Historic Site
In the rolling hills of western Pennsylvania, step back into the early days of the nation's history at the home of Albert Gallatin.
National Mall & Memorial Parks
Walk through a unique park In the heart of the nation's capital that binds together our nation's history.
Kobuk Valley National Park
Venture to the Alaskan wilderness to discover a largely unaltered landscape teeming with wildlife, stunning scenery, and resilient locals.