Find a Park by State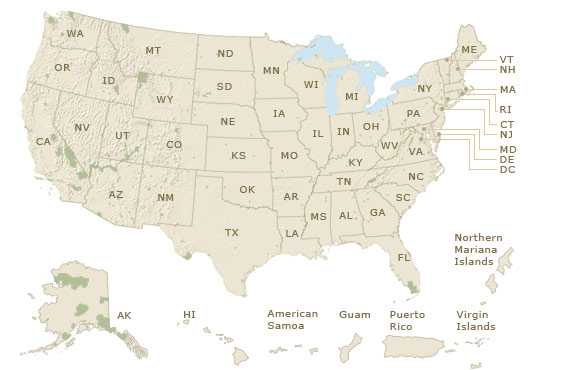 Championing Women's Equality
Women's Rights NHP
Prominent 19th-century activists gathered in Seneca Falls, New York, in July of 1948 to hold the first Women's Rights Convention.
Maggie L. Walker NHS
Explore the home of this community leader who devoted her life to the advancement of African Americans and women.
Belmont-Paul Women's Equality NM
From a residence across the street from the US Capitol, a national suffragist group pushed for the ratification of the 19th Amendment.
Bandelier National Monument
Created July 8, 1916, the park preserves 11,000 years of human history and 33,000 acres of desert canyon and mesa to explore.
Acadia National Park
While the park has seen several name changes, it was originally established on July 8, 1916, through the efforts of the local community.
Abraham Lincoln Birthplace NHP
An elaborate memorial honoring the humble beginnings of the 16th US president was created on July 17, 1916.
Hawai'i Volcanoes National Park
Established as Hawaii National Park in 1916, Hawai'i Volcanoes is a dynamic, ever-changing landscape sculpted by active lava flows.
Haleakalā National Park
Also originally part of Hawaii National Park, Haleakalā protects fragile native Hawaiian ecosystems and celebrates the islands' culture.
Capulin Volcano National Monument
Set aside on August 9, 1916, the inactive volcano was last park before the creation of the National Park Service two weeks later.
This Month's National Park Getaway
Lyndon Baines Johnson Memorial Grove on the Potomac is a "living" presidential memorial in the nation's capital.
Adams National Historical Park
Meet four generations of an influential political family that helped guide a young nation at Adams National Historical Park.
Wind Cave National Park
Explore an exciting world above and below ground at a "two-in-one" park in the Black Hills of South Dakota.
Washita Battlefield NHS
Once a somber place of remembrance, these fields in Oklahoma have become a place where communities can come together.
Last updated: August 16, 2018