Find a Park by State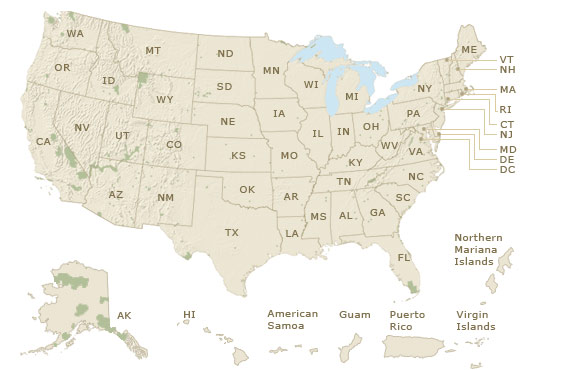 Hot Springs National Park
As early as 1832, Hot Springs Reservation was set aside for the people to enjoy the thermal springs.
Yellowstone National Park
A dramatic landscape of colorful hot springs, mudpots, and geysers, Yellowstone was set aside for the enjoyment of future generations.
Yosemite National Park
Yosemite's deep valleys, grand meadows, giant sequoias, and vast wilderness captivated the likes of John Muir and Theodore Roosevelt.
Look Who Else is Turning 100!
Hawai'i Volcanoes National Park
Established as Hawaii National Park in 1916, Hawai'i Volcanoes is a dynamic, ever-changing landscape sculpted by active lava flows.
Haleakalā National Park
Also originally part of Hawaii National Park, Haleakalā protects fragile native Hawaiian ecosystems and celebrates the islands' culture.
Acadia National Park
Established as Sieur de Monts National Monument in 1916, Acadia continues to draw people to the rugged Maine coast.
Capulin Volcano National Monument
Renamed from "Capulin Mountain," the monument is testament to how this currently inactive volcano shaped the landscape over time.
Lassen Volcanic National Park
The park covered with volcanoes, lakes, and wildflowers, was created in 1916 by pairing Cinder Cone & Lassen Peak national monuments.
Getaway to Theodore Roosevelt Island
A hidden oasis of nature in the nation's capital, Theodore Roosevelt Island is a living memorial to the 26th president.
Niobrara National Scenic River
Among the golden prairie of Nebraska flows a scenic river perfect for adventure-seekers or relaxation.
Olympic National Park
A stunning variety of sights, sounds, and experiences beckon visitors to the northwest corner of Washington state.
First State National Historical Park
Delve into the rich heritage of Delaware from the first settlers to building a new nation and the exciting opportunities today.