Find a Park by State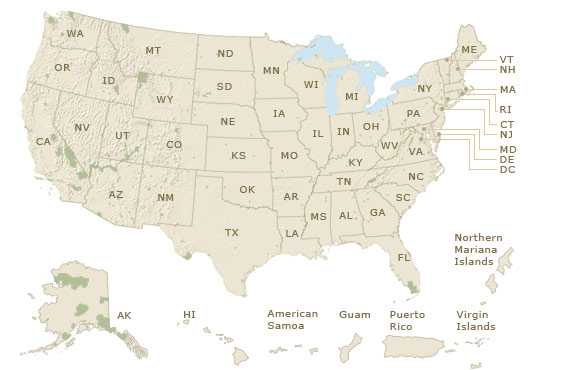 WWII Valor in the Pacific NM
After the surprising and devastating attack on Pearl Harbor on December 7, 1941, the country officially entered World War II.
Home of Franklin D Roosevelt NHS
Walk through the home of a four-term president, who led the nation through the Great Depression and into the second world war.
Rosie the Riveter WWII Home Front
Learn firsthand about efforts and sacrifices of American civilians on the World War II home front.
Appalachian National Scenic Trail
Passing through 14 states, the extensive geodiversity and geological history of the east coast is visible to hikers.
Channel Islands National Park
The soils on the Channel Islands support rare species of plants, including some that can only be found on the islands.
Homestead National Monument of America
On land suitable for agriculture, the park tells the story of settlers expanding westward in search of rich soils and the American dream.
This Month's National Park Getaway
Adventure, recreation, and discovery are beckoning explorers to Big Cypress National Preserve in southern Florida.
Frederick Law Olmsted NHS
Experience a defining legacy in landscape architecture firsthand by touring the home of the Olmsted family in Massachusetts.
Appalachian National Scenic Trail
Stretching 2,200 miles across 14 states past history and stunning scenery, the iconic trail draws thousands of hikers each year.
Devils Tower National Monument
A rocky sentinel at Devils Tower National Monument has stood watch over the Black Hills in Wyoming for millions of years.
Last updated: December 3, 2018