Find a Park by State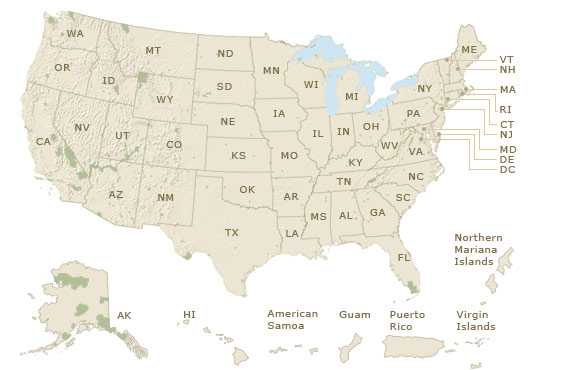 Lowell National Historical Park
Find out how "mill girls" became the voice of the textile industry when they protested wage cuts and demanded better working conditions.
Maggie L. Walker NHS
Explore the home of this community leader who devoted her life to the advancement of African Americans and women.
Women's Rights NHP
Learn how five women organized the 1848 meeting that proudly declared, "all men and women are created equal."
Great Smoky Mountains NP
Nestled in the heart of Appalachia, these mountains host the most diverse plant and animal life in the National Park System.
Virgin Islands National Park
Explore coral reefs with a trip to one of the best snorkeling and diving destinations in the world.
Theodore Roosevelt NP
From grazing bison to burrowing prairie dogs, you can't help but feel inspired by this remote and rugged landscape.
This Month's National Park Getaway
Discover the story of the struggle for women's rights at Belmont-Paul Women's Equality National Monument.
Waco Mammoth National Monument
Open a door into the Ice Age and learn about prehistoric life preserved in a paleontological site in Texas.
Hopewell Culture NHP
Travel to the gently rolling hills of Ohio to discover the Hopewell tradition preserved in large prehistoric earthen mounds.
Wupatki National Monument
In the Painted Desert of northern Arizona, explore the ruins of ancient pueblos where communities once thrived.