Find a Park by State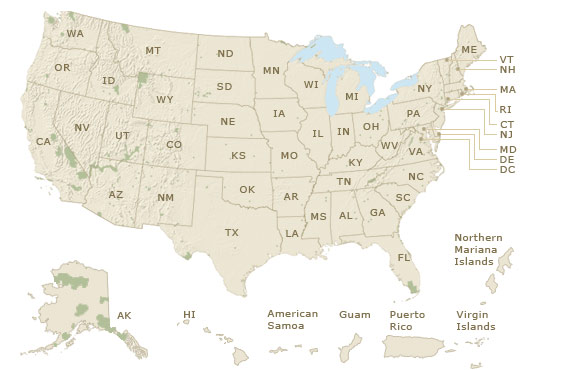 Kaloko-Honokōhau NHP
Experience the land and traditions of the native Hawaiians in a hot, arid environment full of unique beauty and wildlife.
Dry Tortugas National Park
Take a splash to explore an underwater world full of marine life and shipwrecks off the coast of the Florida Keys.
Cape Cod National Seashore
Have a day of play at the beach! Enjoy splashing in the water, building sand castles, or basking in the sun.
Tuskegee Airmen National Historic Site
Step inside an airplane hangar to learn more about the first African American military pilots, who later became known as the "Red Tails."
Bering Land Bridge
Head to the northwest corner of the country and explore the stunning landscape and thousands of years of human history.
Carlsbad Caverns National Park
Regardless of the temperature outside, the cave remains a refreshing 56 degrees on even the hottest of summer days.
Getaway to Valles Caldera NP
Explore the stunning landscape and human history centered around a dormant supervolcano in the "the Land of Enchantment."
Gauley River National Recreation Area
Take a wild ride on the Gauley River to enjoy raging rapids, rugged geography, and scenic shorelines filled with history and nature.
Virgin Islands National Park
The clear waters, coral reefs, white sandy beaches, lush green hills, and historic ruins are home to thriving island culture and wildlife.
Bandelier National Monument
Abounding with wildlife today, explore the rugged canyons and mesas that were once home to the Ancestral Pueblo people of New Mexico.
Last updated: June 15, 2017