Find a Park by State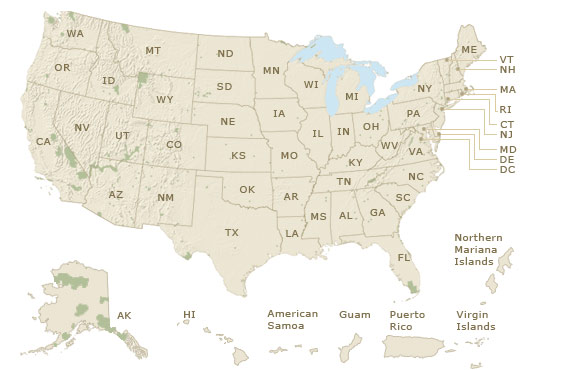 Hovenweep National Monument
Turn out the lights to discover thousands of stars illuminating the night sky.
Lassen Volcanic National Park
View the night sky above the clear mountain lakes and jagged, volcanic landscape.
Capitol Reef National Park
Take a tour of the sky with astronomers and Night Sky Ambassadors.
Mesa Verde National Park
Nearly 5,000 archaeological sites give a glimpse into the vanished culture of the Ancestral Pueblo people.
Statue of Liberty National Monument
Originally an international gift of friendship, the statue of Lady Liberty is one of the most recognized monuments around the world.
Carlsbad Caverns National Park
Hidden within the Guadalupe Mountains are more than 100 caves, many of which are decorated with countless rock formations.
Getaway to Virgin Islands National Park
The clear waters, coral reefs, white sandy beaches, lush green hills, and historic ruins are home to thriving island culture and wildlife.
Bandelier National Monument
Abounding with wildlife today, explore the rugged canyons and mesas that were once home to the Ancestral Pueblo people of New Mexico.
New Orleans Jazz NHP
Experience the sounds of jazz in the city where it all began at this unique park dedicated sharing our nation's musical heritage.
Hovenweep National Monument
Walk in the footsteps of the ancestral Pueblo people of Utah and Colorado, while also discovering the vast night sky and desert wildlife.