Virtual Black Heritage Trail® Tour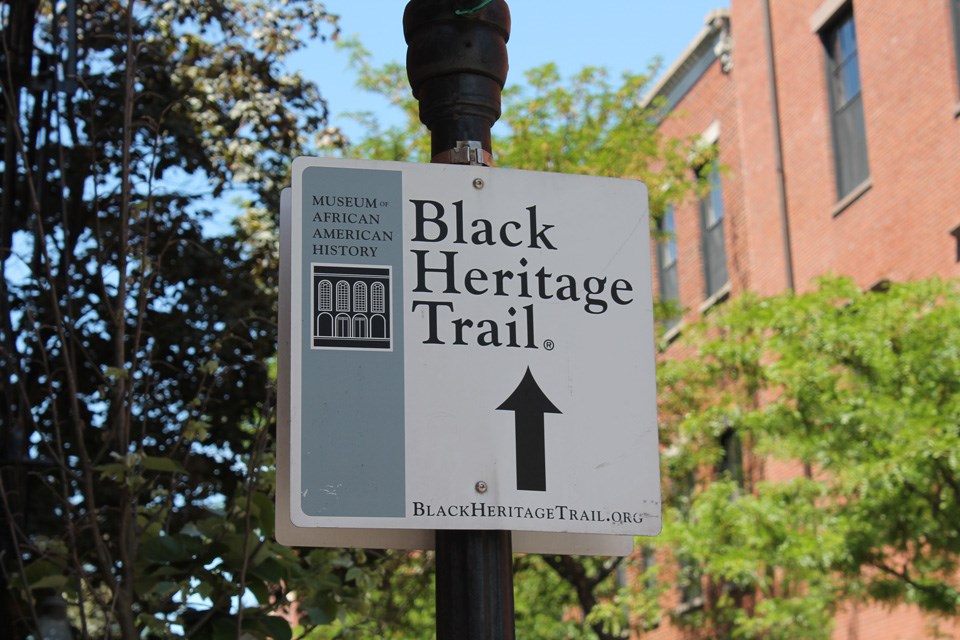 The Black Heritage Trail® is a 1.6 mile walk through the heart of Boston's Beacon Hill neighborhood. Most sites along the trail remain private residences. However, the final stops—the Abiel Smith School and the African Meeting House—are part of the Museum of African American History which is open to the public.
This self-guided audio tour is also available on the free NPS app! You can download this tour ahead of your visit and listen along as you walk through Boston.
Total run time of all 10 audio clips: 23 minutes, 51 seconds.
Download this tour and discover many more using the free NPS App!
How to find the Black Heritage Trail Tour® on the NPS App
Download the free NPS App from your preferred app store
Tap "Find a Park" and search "Boston African American National Historic Site"
Select "Boston African American National Historic Site, Massachusetts," which will take you to the park homepage on the App
Tap "Self-Guided Audio Tours"
Select "The Black Heritage Trail"
Bearse, Austin. Reminiscences of Fugitive Slave Law Days in Boston. Boston: Warren Richardson, 1880.
Bowditch, Henry Ingersoll. Life and Correspondence of Henry Ingersoll Bowditch. Volume II. Cambridge: The Riverside Press, 1902.
Burchard, Peter. One Gallant Rush: Robert Gould Shaw and His Brave Black Regiment. New York: St. Martin's Press, 1990.
Chamberlain, Allen. Beacon Hill: Its Ancient Pastures and Early Mansions. Boston: Houghton Mifflin Company, 1925.
Egerton, Douglas R. Thunder at the Gates: The Black Civil War Regiments That Redeemed America. New York: Basic Books, 2016.
Emilio, Luis F. A Brave Black Regiment: History of The Fifty-Fourth Regiment of Massachusetts Volunteer Infantry 1863-1865. New York: Da Capo Press, 1995.
Grover, Kathryn, and Janine V. Da Silva. "Historic Resource Study: Boston African American National Historic Site." Boston African American National Historic Site, 2002.
Horton, James and Lois Horton, Black Bostonians: Family Life and Community Struggle in the Antebellum North. New York: Holmes and Meier, 1979.
Jackson, Francis. Account Book of Francis Jackson, Treasurer, The Vigilance Committee of Boston. Boston: 1850-1861.
Jacobs, Donald M., editor. Courage and Conscience: Black and White Abolitionists in Boston. Bloomingdale: Indiana University Press, 1993.
Kantrowitz, Stephen. More Than Freedom: Fighting for Black Citizenship in a White Republic, 1829-1889. New York: Penguin Press, 2012.
Kaplan, Sidney and Emma Nogrady Kaplan. The Black Presence in the Era of the American Revolution. Amherst: University of Massachusetts Press, 1989.
Kendrick, Stephen and Paul Kendrick. Sarah's Long Walk: The Free Blacks of Boston and How Their Struggle for Equality Changed America. Boston: Beacon Press, 2004.
Nell, William Cooper, Dorothy Porter Wesley and Constance Porter Uzelac, editors. William Cooper Nell: Selected Writings 1832-1874. Baltimore: Black Classic Press, 2002.
Nell, William Cooper. The Colored Patriots of the American Revolution with Sketches of Several Distinguished Persons: To Which is Added a Brief Survey of the Conditions and Prospects of Colored Americans. Boston: Robert F. Wallcut, 1855. Reprint. New York: Arno Press, 1968.
Last updated: March 31, 2023