Directions and Transportation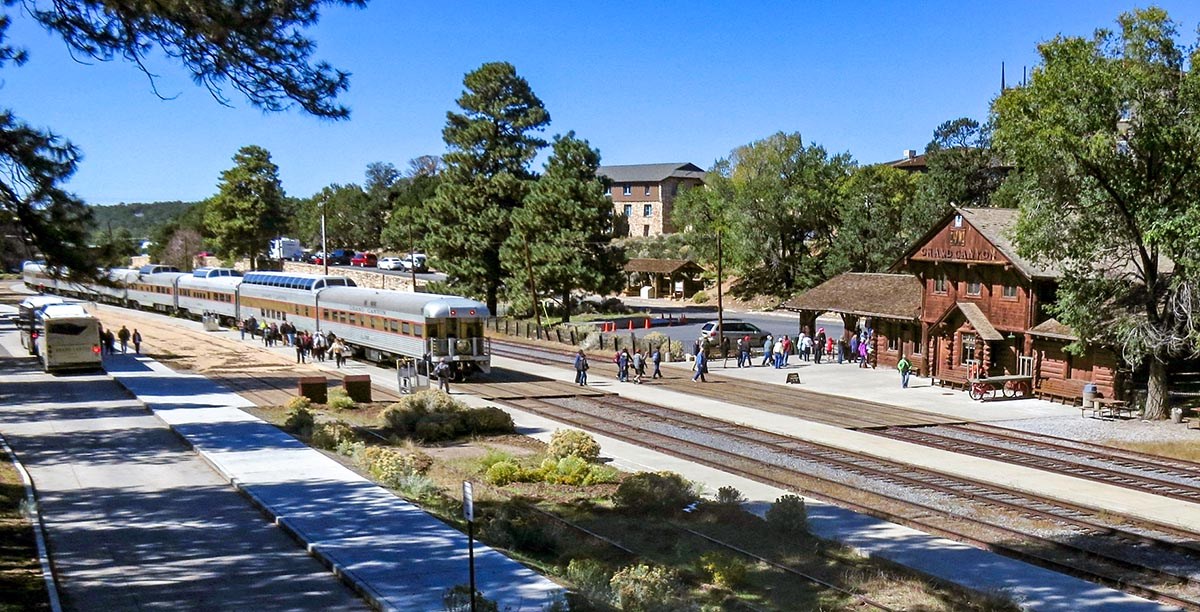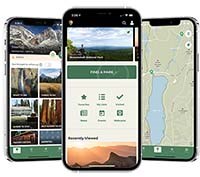 The National Park Service Mobile App is a great tool for planning your trip, then it can be used as a guide during your visit. You can download the maps and content from Grand Canyon National Park for offline use. It's especially handy if you're exploring remote areas or concerned about data limits.

Visit this webpage (updated daily) for the current list of what is open and closed, and the hours of operation.
Where is Grand Canyon?
Grand Canyon National Park is in the northwest corner of Arizona. The Colorado River flows through the canyon, comprised from water from seven states, yet the feature we know as Grand Canyon is entirely in Arizona. A large part of Grand Canyon lies within Grand Canyon National Park and is managed by the National Park Service.

However, the Grand Canyon Skywalk and the waterfalls of Havasupai are located on tribal lands outside of the National Park. A portion of Grand Canyon is located in the North Kaibab District of the Kaibab National Forest.

Jump to a Larger Map - to: South Rim ------to: North Rim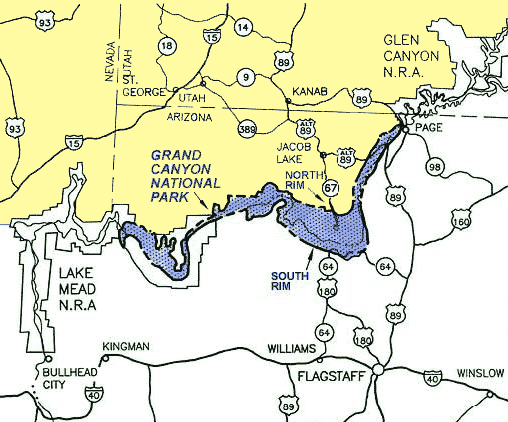 Two Parks in One: South and North Rims
A 277-mile (446 km) canyon separates the park into North and South Rims. The South Rim of the Grand Canyon is open all year, receives about 90% of the park visitation, and has two visitor entrances: the South Visitor entrance and the East Visitor entrance at Desert View.

The North Rim of the park has a smaller developed area, receives about 10% of park visitation, and is open seasonally, May 15 through October 15. There is one visitor entrance to the North Rim. Further west of the North Rim entrance is the remote and semi-primitive Tuweep area of the park, which has one visitor entrance and requires a permit reservation in advance of visiting.

The average distance across the canyon is only 10 miles, however, the drive between the park's South Rim Village and the North Rim Village is about 212 miles and takes about 4 1/2 hours to drive. It takes time, planning, and effort to visit both rims in one trip.
---

Essential Information: The South Entrance to Grand Canyon National Park is 6 miles north of the town of Tusayan, Arizona. There's an airport in Tusayan and the South Rim has rail service. It takes approximately 60 minutes to drive from Interstate 40 and the town of Williams, Arizona - and 90 minutes from Flagstaff, Arizona, also on Interstate 40 to the South Entrance.

A larger city with a major airport, Phoenix, Arizona, is also south of Grand Canyon, and is approximately a four-hour drive. More >

The East Entrance to the Desert View area of Grand Canyon National Park is 25 miles west of the Navajo Nation town of Cameron, Arizona. The East Entrance at Desert View is open. Details >

South Rim Visitor Center Location: 36°03'32"N --- 112°06'33"W
Driving Directions to the South Rim >
Getting Around Inside the Park - Public Transportation >

Grand Canyon Village has a visitor center, historic district, lodges, campground, RV campground with full hook-ups, a bank, U.S, post office, general store, and a variety of shops and museums. Learn more about the South Rim: Grand Canyon Village

South Rim Hours of operation >
How to make reservations for lodging and camping.

Essential information: The North Rim is open seasonally every May 15 through October 15 with lodging, restaurants, and other services available. Between October 16 and November 30, the North Rim is open for day use only with no services.

The North Rim Entrance station is 30 miles south of Jacob Lake, Arizona, on Highway 67. The rim of the Grand Canyon with visitor services is an additional 14 miles south beyond the entrance station. There is no airport or rail service to the park, which means that the North Rim village may only be reached by road.

By Bus between the Rims
The Trans Canyon Shuttle (928-638-2820) provides service between the North and South Rims of the park once each day, in each direction, between May 15 and October 15, and on a limited schedule between October 16 and November 30. The travel time is about 4 1/2 hours each way and reservations are required.
By Car between the Rims
From the Grand Canyon South Rim (212 miles), drive east and depart out the East entrance on State Route 64 to Cameron, drive north on Highway 89 to Bitter Springs, drive west on Highway 89Alt to Jacob Lake, and drive south on Highway 67 to the North Rim Entrance.
Driving directions to the North Rim >
North Rim Visitor Center: 36°11'51"N --- 112°03'09"W

Learn more about the North Rim Hours of operation and how to make reservations for lodging and camping.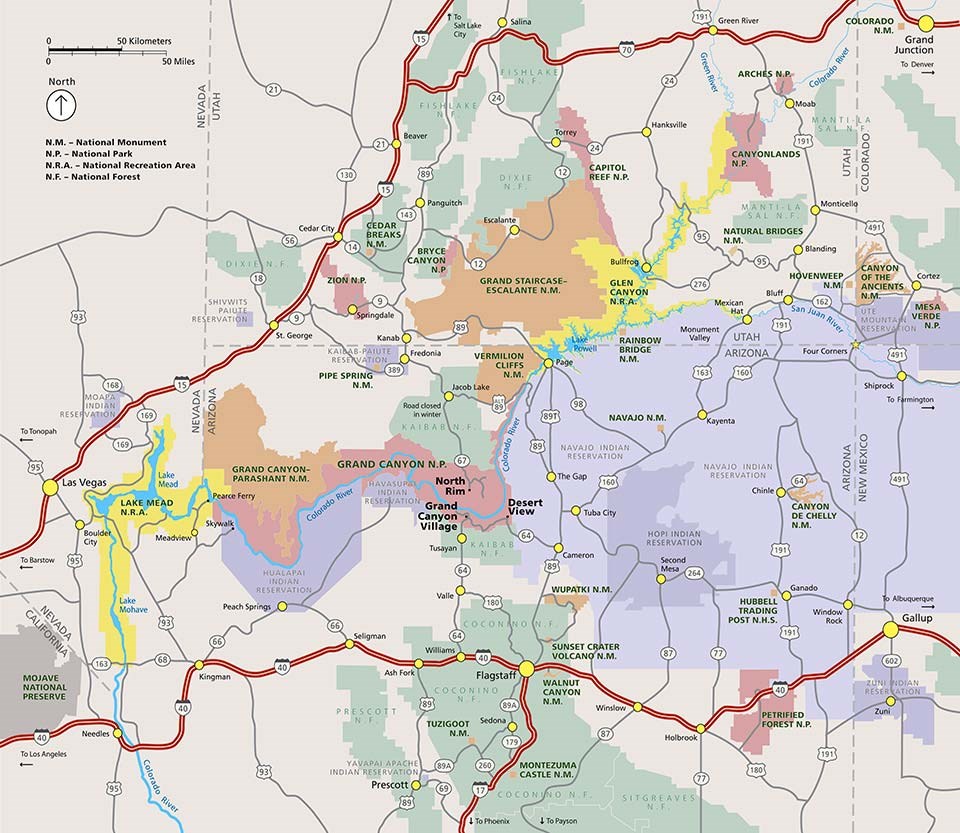 The region shown in this map includes 1) on the left edge of the map, Las Vegas, NV and Needles, CA 2) across the bottom, Interstate 40 from Needles, CA, east, through Flagstaff, AZ, to Gallup, NM. 3) on the right edge, starting at Gallup, NM, then, north to Colorado Nat. Monument, 4) Finally, bounded across the top by Interstate 70 crossing the state of Utah until it meets the intersection with Interstate 15.

Grand Canyon National Park is located east of Las Vegas, NV.
North of Interstate 40 and the cities of Williams and Flagstaff, AZ.
East of the Navajo and Hopi Indian Reservations, and south of the Utah state line. The Colorado River is shown through the entire 277 mile transect of Grand Canyon National Park.

Public and tribal lands are show in different colors.

Tribal lands are show in purple and reservation boundaries are shown for the following tribes: Navajo, Hopi, Hualapai, Havasupai, Kaibab Paiute, Shivwits Paiute, Zuni, and Ute Mountain.

National forest lands are shown in green, and include, Coconino, Prescott, Sitgreaves, Kaibab, Dixie, Fishlake, and Manti-La Sal.

National parks are shown in vermilion, and include, Petrified Forest, Grand Canyon, Zion, Bryce, Capitol Reef, Canyonlands, and Arches.

National monuments are shown in orange and include, Wupatki, Sunset Crater, Walnut Canyon, Tuzigoot, Montezuma Castle, Canyon De Chelly, Navajo, Grand Canyon Parashant, Vermilion Cliffs, Grand Staircase Escalante, Pipe Springs, Rainbow Bridge, Cedar Breaks, Natural Bridges, Hovenweep, Canyon of the Ancients, and Colorado.

National Recreation Areas are shown in yellow and include, Lake Mead, and Glen Canyon.
Visit our keyboard shortcuts docs for details
Duration:

8 minutes, 39 seconds
In "More Than A View," Park Ranger Stephanie Sutton invites us to go beyond the rim and explore all that Grand Canyon National Park has to offer; diverse life zones, landforms, and cultural history.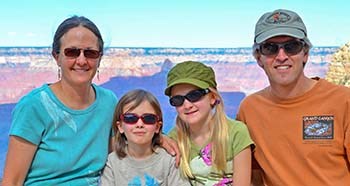 "Traveling Green"
is a great way to help Grand Canyon and other areas you visit reduce carbon emissions, divert and reduce what goes into the waste stream, and to generally help the environment. Go to the Traveling Green page for helpful tips on planning your next green adventure.
Thanks for doing what you can to help protect our environment!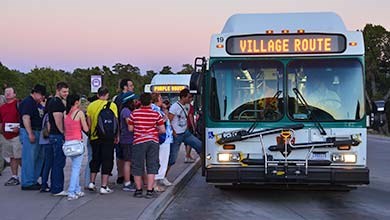 Quick links to information about:


Last updated: February 28, 2023