South Rim Shuttle Bus Routes: Spring 2018

Jump to: -- Hiker Express Shuttle - -
During winter months, free shuttle buses operate on two routes:
Village (Blue) Route - In Service: Connects the Visitor Center with lodges, campground, and other facilities.

Kaibab Rim (Orange) Route

- In Service: Fastest way get from the Visitor Center to canyon views.
Hermit Road (Red) Route - In Service: March 1 through November 30, 2018: Outstanding scenic views along an historic road. Hermit Road is closed to private vehicles March 1, through November 30, 2018.
Tusayan Route/ Park & Ride -

In Service: March 1 through September 30. 2018 If you are planning a visit during the South Rim's busy season (March 1, through September 30, 2018) lines are long at the entrance station and parking is difficult to find on the South Rim. You can park in the gateway community of Tusayan and ride this free shuttle bus into the park.
---
South Rim Pocket Map and Services Guide


In 2015
, Grand Canyon National Park
discontinued the Grand Canyon Guide newspaper.
In place of the newspaper, the
South Rim Pocket Map and Services Guide
is now being distributed at entrance stations, visitor centers, lodges, campgrounds, stores, and out-of-park locations.
Download it here...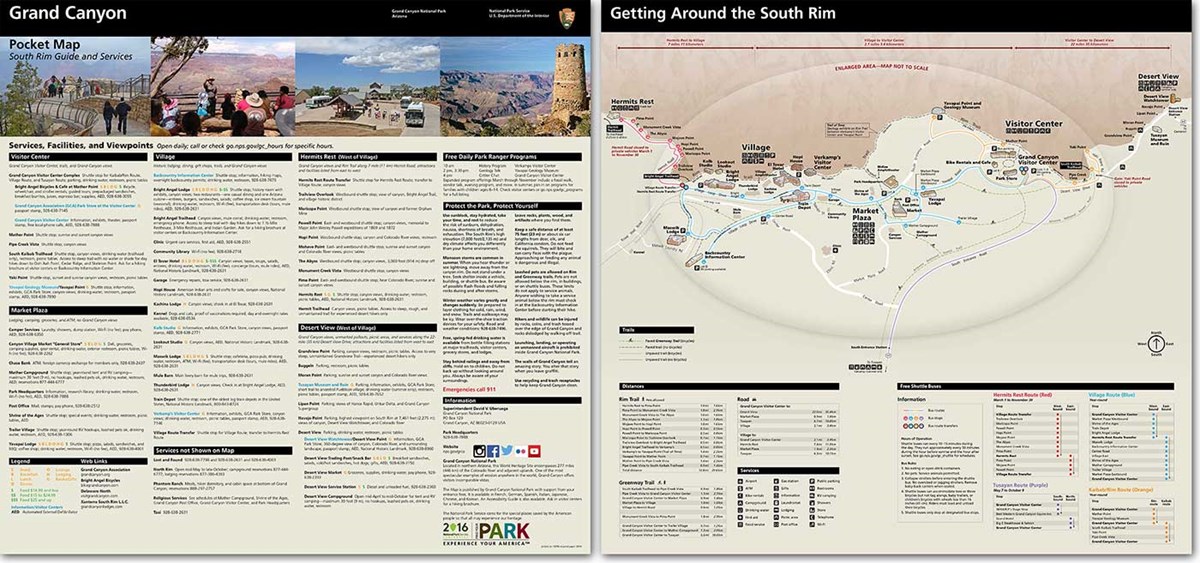 Things to know when riding park shuttle buses

Buses are white with a green stripe and display the route name on the front and the side
No tickets are required; a portion of your entrance fee pays for this important service
Buses come every 15-30 minutes
Bus stops are clearly marked throughout the park
The routes interconnect, but do not overlap
Bus stops are located approximately every mile along the 13-mile Rim Trail. Walk a portion of the Rim Trail while taking in the views and then get on a shuttle bus. The Rim Trail is wheelchair-accessible from Lookout Studio to the South Kaibab Trailhead
Bus stops are also in proximity to great cycling opportunities. Bicycle the Greenway Trail to South Kaibab Trailhead or ride Hermit Road to Hermits Rest and then get on a shuttle bus to come back
Service may be suspended during inclement weather
Shuttle Bus Etiquette
No eating or open drink containers

No pets. Service animals permitted

Collapse strollers before entering the shuttle bus. No oversized or jogging strollers. Remove baby-back carriers when seated

Shuttle buses can accommodate two or three bicycles, but not tag alongs, baby trailers, or children's bicycles with wheels less than 16 inches (41 cm). Riders must load and unload their bicycles

Shuttle buses are equipped with ramps and space to carry passengers in wheelchairs.Please note: wheelchairs larger than 30 inches wide by 48 inches long (76 cm x 122 cm) cannot be accommodated on shuttle buses and most motorized scooters will not fit

Shuttle buses only stop at designated bus stops
All of the park's buses are wheelchair accessible, but the park does offer a Scenic Drive Accessibility Permit, which allows entry for visitors with mobility issues to some areas closed to public traffic. The permit is available at entrance gates and National Park Service visitor centers.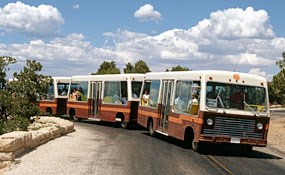 History of the South Rim Shuttle Bus System

The National Park Service has provided free shuttle bus service on the South Rim of Grand Canyon National Park for more than 40 years. All of the park's buses are fully accessible and run on compressed natural gas, which means fewer harmful emissions for people and the environment. And the roadways are far less crowded!

Grand Canyon's shuttle system provides a hassle free way to access South Rim trails, viewpoints, and other points of interest –some areas are only accessible by bus. The shuttle system is not an experience in and of itself, but a means to access all that the South Rim has to offer –hiking;cycling;scenic views and artistic endeavors;historical structures inspired by the regional landscape;and museums and information centers that highlight the park's unique cultural and natural resources. So, park your car and begin your Grand Canyon explorations!
Last updated: February 28, 2018