Backcountry Hiking
First time Grand Canyon hikers tend to react to the experience in one of two ways: either they can't wait to get back, or they swear they'll never do it again.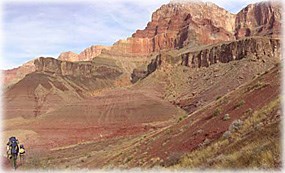 Going on a hike is wonderful way to experience some of the canyon's rich natural beauty and immense size. However, even if you are an avid hiker, hiking the Grand Canyon is very different from most other hiking experiences.
Mental attitude and adequate water and food consumption are absolutely essential to the success of any Grand Canyon hike, particularly in summer. The day hiker and the overnight backpacker must be equally prepared for the lack of water, extreme heat and cold, and isolation characteristic of the Grand Canyon.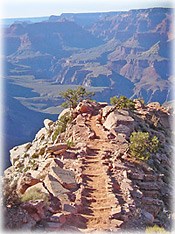 Hiking in the Grand Canyon is so demanding that even people in excellent condition often emerge sore and fatigued. Yet small children, senior citizens, and people with physical disabilities have successfully hiked the canyon.
A hike into the Grand Canyon will test your physical and mental endurance. Know and respect your limitations. Moderation is the key to an enjoyable hike.
Depending on how prepared you are, your trip can be a vacation or a challenge, a revelation or an ordeal.
Backcountry Audio Podcasts
Seasonal updates by Backcountry Information Center staff covering conditions in the Grand Canyon backcountry. Learn about water availability, trail conditions, access to remote trailheads, and weather dangers.

Hike Smart Tips - Audio Podcasts
Join Sarah, a PSAR Ranger at Grand Canyon National Park, to learn about what to expect on the trail, the 10 essentials you should always bring with you (even on a short hike), how to rescue yourself, some tips for hiking with children and most of all how to HIKE SMART!

Backcountry Video: Hiking Grand Canyon, Prepare for Backpacking
A Grand Canyon hike can be one of the most challenging and memorable experiences of a lifetime. But no hike in the canyon is easy: the terrain is steep, dry and rugged. This video is designed to help you plan for and enjoy your hike into the canyon's harsh, yet fragile, environment.

Leave No Trace Video
All Grand Canyon backcountry users are asked to follow Leave No Trace principles. The goal is to have minimum human impact on the canyon as a result of your trip. This video will introduce you to the Leave No Trace principles.

---
Additional backcountry info can be found on the following webpages.
Last updated: March 31, 2023