Visitor Centers, Information and Museums
South Rim and Desert View
Open year-round

Grand Canyon Visitor Center
Winter Hours: 9 am to 4 pm

If you are entering through the South Entrance Station, make the Visitor Center your first stop. You can park your car in one of four parking areas, then get your first view of Grand Canyon by taking a short walk to nearby Mather Point.

From the Visitor Center, it is also possible to Park-and-Ride. Leave your car at the Visitor Center, then board free shuttle buses and ride to Mather Point, around Grand Canyon Village, or out to a variety of scenic overlooks.

NOTE: During busy periods, including spring break, summer, and fall holiday weekends, parking around the visitor center is full by 9:30 am. During these times, proceed to lots A-D in Market Plaza and the Village Historic District.

At the Visitor Center you can:
Find information. Outside exhibits discuss park activities and attractions; hiking, the free shuttle bus system and park ranger programs.
Watch Grand Canyon: A Journey of Wonder, a 20 minute movie that takes viewers on a rim to river and dawn to dusk journey through the park. Movie starts on the hour and half-hour.
Explore exhibits inside, including: a large video-enabled relief map, a Science On a Sphere® program, and displays of historic artifacts.

Stop

at the

Park Store,

across the plaza from the Visitor Center, for books, and a variety of Grand Canyon gifts. Open 8 am to 7 pm (6pm after November 30)

Rent a bicycle or take a guided bicycle tour, available March through October, or when weather allows. A coffee bar with "grab and go" food options is located here. Learn More...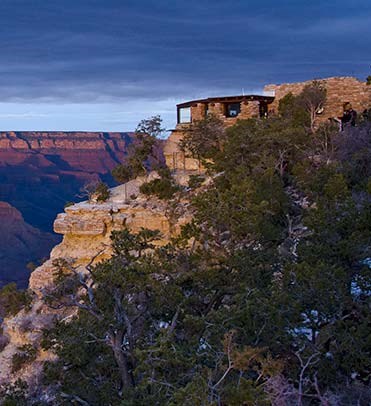 Yavapai Geology Museum (1928)
Located at Yavapai Point,
between Grand Canyon Visitor Center and Grand Canyon Village
.
Note: parking lot is usually full one hour before sunset. Ride the Kaibab Rim Shuttle (Orange Route) from the Visitor Center to Yavapai Point to watch sunset here.
Open daily
8 am – 7 pm (March 3 through May 18)
8 am – 8 pm (May 19 through Aug. 17)
9 am - 8 pm (Aug. 18 through Sept. 7)
8 am – 7 pm (Sept. 8 through Nov. 30)
8 am – 6 pm (Dec. 1 through March 1)
View expansive vistas through large windows.
Discover exhibits about how Grand Canyon was formed.
Attend a ranger program

to learn about geology.

Visit the museum shop for books and gifts. Learn more about the museum
Ride the Kaibab Rim Shuttle (orange route) to Grand Canyon Visitor Center and other scenic overlooks.
Walk west along the Rim Trail to Grand Canyon Village, or east to Mather Point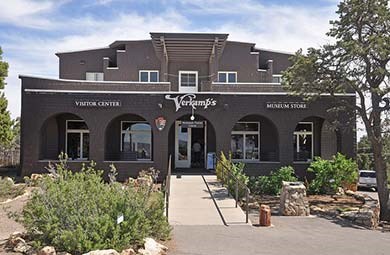 Verkamp's Visitor Center (1906)
A curio shop and family home for more than a century.
Open daily
8 am – 7 pm (March 3 through May 18)
8 am – 8 pm (May 19 through Aug. 17)
9 am - 8 pm (Aug. 18 through Sept. 7)
8 am – 7 pm (Sept. 8 through Nov. 30)
8 am – 6 pm (Dec. 1 through March 1)
View exhibits about the history of Grand Canyon Village
Shop

for canyon-related books and gift items

Ask

park rangers and/or store staff your most pressing questions

Walk

east to Hopi House/ El Tovar Hotel or west along the Canyon Rim Trail to Yavapai Geology Museum.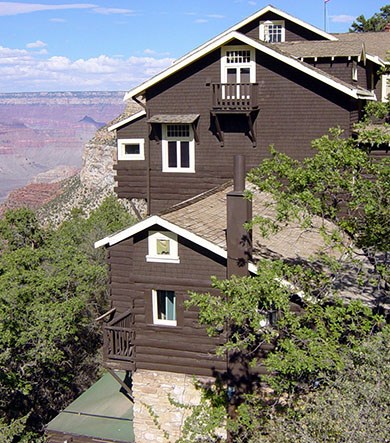 Kolb Studio (1905)
This restored building was a family home and photography studio.
Open daily
8 am – 7 pm (March 3 through May 18)
8 am – 8 pm (May 19 through Aug. 17)
9 am - 8 pm (Aug. 18 through Sept. 7)
8 am – 7 pm (Sept. 8 through Nov. 30)
8 am – 6 pm (Dec. 1 through March 1)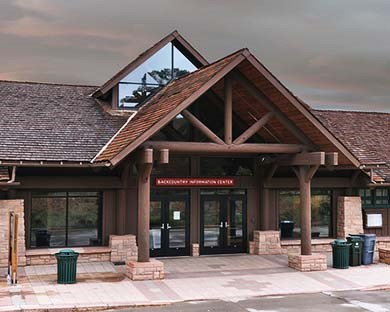 Backcountry Information Center
Chat with rangers, get trail information and learn how to Hike Smart.
8 am to noon, and, 1 pm to 5 pm (MST)
---
Desert View
Located 25 miles (40 km) from Grand Canyon Village - Open year-round -
Desert View Campground
Closed for Winter.

Will open for the 2020 season between mid-April, and mid-October, 2020.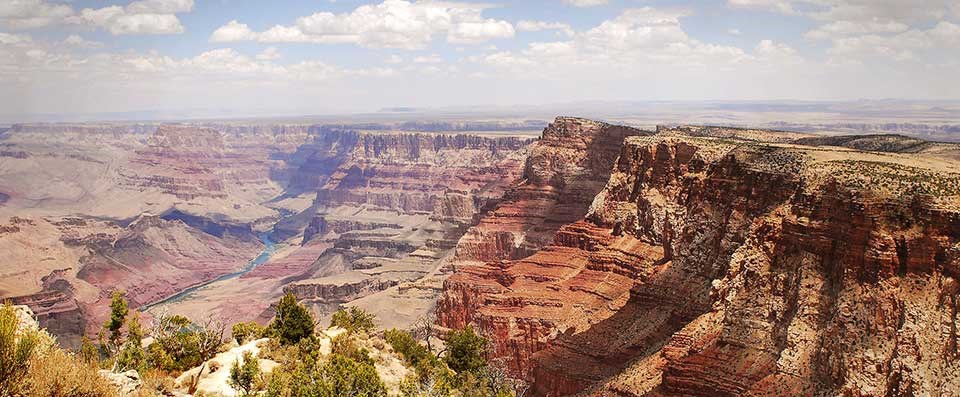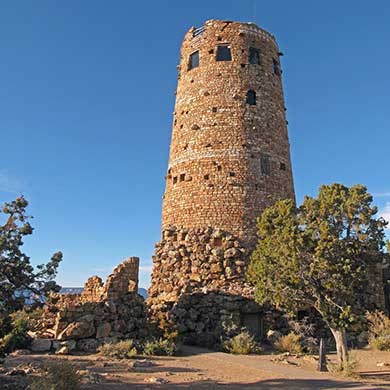 Desert View Watchtower (1932)
An unusual stone tower designed by Mary Colter, in the style Ancestral Puebloan towers. Watchtower Video. More detailed information about Desert View here.

Winter Hours:
Watchtower Kiva Shop 9 am to 5 pm
Watchtower stairs 8 am to 4:30 pm
Climb

85 steps for a 360° view from 70 ft (21 m) above.

Study

wall murals by Hopi Artist Fred Kabotie

Spot

the Colorado River turning north and the Painted Desert extending towards Navajo and Hopi Indian lands.

Visit

the Kiva Room for books, gifts and expansive views through large windows.

Meet cultural demonstrators and watch them at work.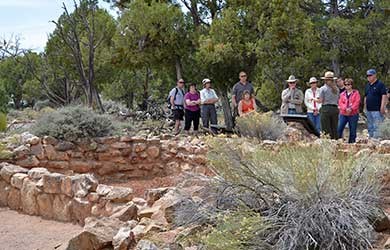 Tusayan Ruin and Museum (1928)
Tusayan Ruin is the remains of a small Ancestral Puebloan village located 3 miles west of Desert View Watchtower
Hours: 9 am to 5 pm
Walk the relatively flat 0.1 mile (200 m) trail around the ruin.
Imagine Puebloan Indian life some 800 years ago.
Attend daily ranger-led ruin tours (summer and fall.)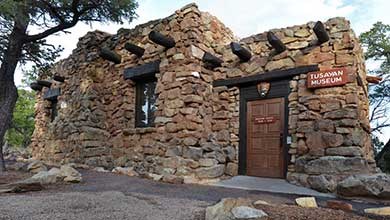 Tusayan Museum has exhibits that help bring the ruin to life.
Hours: 9 am to 5 pm
View 2,000–4,000 year old artifacts along with the traditional handicrafts made by regional tribes.
Learn about the prehistoric people who once made this place their home.
Visit the museum's bookstore/shop.
North Rim Lodge and Restaurants are

Closed for the Winter
For additional information about visiting the North Rim during the 2020 Season, visit this link...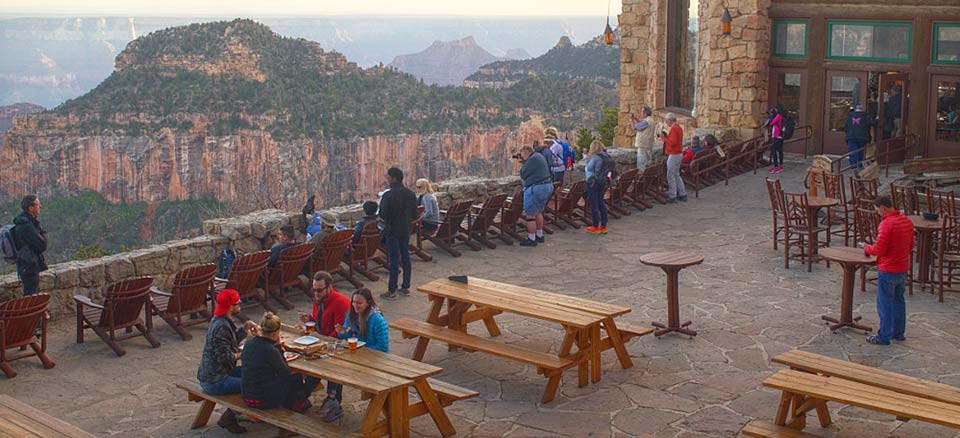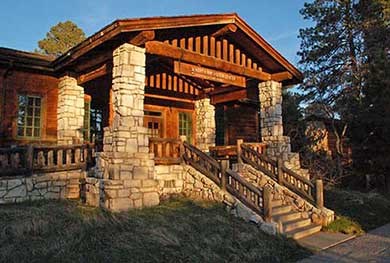 North Rim Visitor Center
CLOSED FOR WINTER
Open for the 2020 season 8 am — 6 pm daily, May 15 through October 15
Speak to a park ranger and plan your visit.
Walk a short distance to Bright Angel Point.
Experience the sunset on the North Rim Lodge patio, just a short walk away
Learn about park and regional information, maps, brochures, exhibits, and a bookstore.
Attend a park ranger program.
Grand Canyon Conservancy
, a non-profit park partner since 1932, operates book and gift stores throughout the park, where your tax-free purchases help support programs and research projects in Grand Canyon National Park.


Last updated: December 2, 2019