Visitor Centers, Information Desks and Museums

Winter 2022/2023 Hours
For detailed information about each facility, visit the individual links.

Note - if you arrive after a visitor center has closed: Trip planning and hiking information is available through a series of signs outside, and at key locations throughout the park.
Grand Canyon Village (South Rim)
Grand Canyon Visitor Center > The building is open daily from 10 am to 4 pm, with an information desk staffed by park rangers. Annual passes may be purchased in the Visitor Center
Verkamp's Visitor Center > open daily from 8 am to 6 pm
Located in the Village Historic District and frequented by visitors who arrive on the train, Verkamp's features exhibits about the history of Grand Canyon Village and a museum store.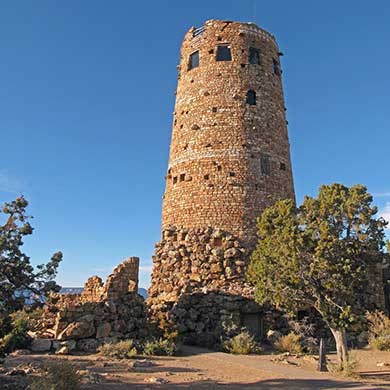 Desert View (South Rim)
Located 23 miles (37 km) east of Grand Canyon Village.
Most Desert View Services are open. Details >
Desert View Watchtower (Kiva Room)
GCC Park Store: 9 am to 5 pm Daily
Only the ground level is open. The tower remains closed at this time.

Grand Canyon Conservancy staff or Park rangers are on hand to answer any questions you may have.

During the busy season, cultural demonstrations take place here in the Watchtower.
The North Rim is
Closed for the Winter
On Thursday, December 1, State Route 67, and the North Rim of Grand Canyon National Park closed to all vehicle traffic for the winter. State Route 67 and all North Rim services are scheduled to re-open for the 2023 season on May 15th, 2023 (subject to change).
The North Rim campground is available for winter camping, with a backcountry permit, for those hiking inner canyon trails from the South Rim — or by those cross-country skiing, snowshoeing or hiking the 45 miles overland from Jacob Lake. How to obtain a Backcountry Permit >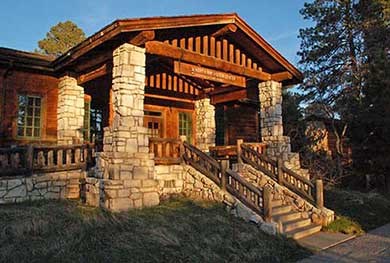 North Rim Visitor Center

CLOSED
The Visitor Center building is closed for the winter. It is located next to the parking lot for Grand Canyon Lodge and Bright Angel Point. There are restrooms on the back side of the building. During the season, the Park Store inside is open from 9 am to 5 pm daily.
Grand Canyon Conservancy, a non-profit park partner since 1932, operates book and gift stores throughout the park, where your tax-free purchases help support programs and research projects in Grand Canyon National Park.


Last updated: December 4, 2022