Ranger Programs and Special Events - Summer 2023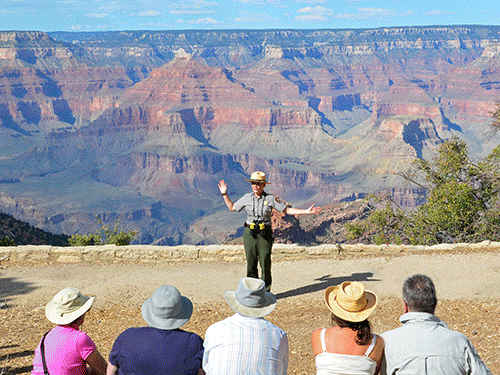 When you arrive in the park, be on the lookout for signs or ask at information desks about ranger programs being offered during your visit.


Ranger Program and Location:
2023 Special Events:
---
Grand Canyon Celebration of Art

Hosted each year by Grand Canyon Conservancy, the Grand Canyon Celebration of Art is an annual event that includes 6 days of art related events followed by a 4 month long exhibition in Kolb Studio on the South Rim of Grand Canyon National Park. The 2023 events at Grand Canyon will take place September 8, 2023, through January 15, 2024. Details >

---

Grand Canyon Music Festival

The 40th season of the Grand Canyon Music Festival takes place from September 1 through September 16, 2023. Starting off the season, the festival will present the Catalyst String Quartet on September 1 and 2, at Shrine of the Ages Auditorium on the South Rim. Doors open 7 pm and concerts start 7:30 pm. Concert Repertoire and complete schedule > https://grandcanyonmusicfest.org/concerts/

The Catalyst String Quartet will also present a world premiere concert of the Native American Composer Apprentice Project (NACAP) works, on Sunday, September 3, 2023 at 5 pm at Shrine of the Ages Auditorium. This concert is free and open to the public.
Visit our keyboard shortcuts docs for details
Duration:

4 minutes, 10 seconds
Have you ever wondered how the Grand Canyon was formed and why it is found here in Northern Arizona? To understand the formation of the canyon, there is a simple way to remember how it was shaped over time. All you have to remember are the letters D U D E or dude. The letters stand for: Deposition, Uplift, Down cutting and Erosion.
Last updated: September 2, 2023