Park Ranger Programs - Fall 2021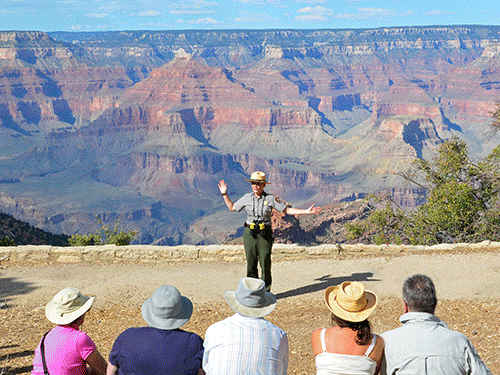 Ranger Programs
When you arrive in the park, check bulletin boards or ask at information tables about programs being offered during your visit.
Locations:
Outdoor Information Tables Staffed by Park Rangers:
South Rim - Village: Outside Grand Canyon Visitor Center. The information desk is open from 9 am - 4 pm, Thursday through Monday. We are closed on Tuesdays and Wednesdays except during holiday weeks (Thanksgiving, Christmas, and New Years) when it will be staffed 7 days/week. The visitor center building remains closed.
South Rim - Desert View: The information table is closed.

Desert View Ranger Programs have ended for the season.

North Rim:

The Visitor Center is closed and ranger programs have ended for the season.

The North Rim is open for dawn-to-dusk day use through November 30, or if a major snowstorm closes State Route 67.
Visit our keyboard shortcuts docs for details
Duration:

4 minutes, 10 seconds
Have you ever wondered how the Grand Canyon was formed and why it is found here in Northern Arizona? To understand the formation of the canyon, there is a simple way to remember how it was shaped over time. All you have to remember are the letters D U D E or dude. The letters stand for: Deposition, Uplift, Down cutting and Erosion.
Visit our keyboard shortcuts docs for details
Duration:

11 minutes, 28 seconds
Do you enjoy a warm cup of java in the mornings? So do our rangers! Join Ranger Joe and Ranger John for coffee on the rim as they discuss where the water in that steaming cup comes from.
Last updated: October 23, 2021