Park Ranger Programs - Fall 2021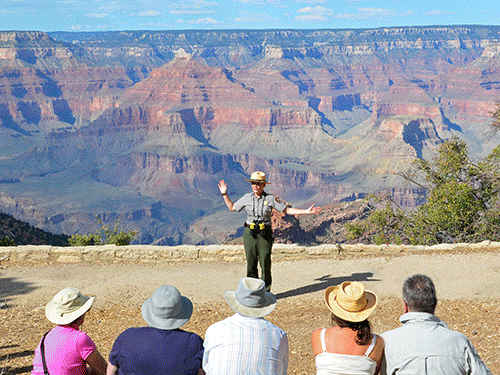 Ranger Programs
When you arrive in the park, check bulletin boards or ask at information tables about programs being offered during your visit.
Locations:
Outdoor Information Tables Staffed by Park Rangers:
South Rim - Village: outside Grand Canyon Visitor Center: 8 am to 5 pm daily.
South Rim - Desert View: outside, on the north end of the main paking lot at the entrance to the Orientation Plaza: 9 am to 5 pm daily (as staffing permits). Last day will be Saturday, October 23.

North Rim:

Visitor Center closed and ranger programs have ended for the season.
Visit our keyboard shortcuts docs for details
Duration:

11 minutes, 28 seconds
Do you enjoy a warm cup of java in the mornings? So do our rangers! Join Ranger Joe and Ranger John for coffee on the rim as they discuss where the water in that steaming cup comes from.
Last updated: October 17, 2021