Campgrounds - South Rim
The information below is primarily for reference; for planning a visit during 2021.
Here is the updated list of facilities and services that are open at this time.

Grand Canyon National Park is continuing to evaluate and adapt to changing COVID-19 guidance and will adjust operations as needed.

This page has information about "Developed" Campgrounds. (where vehicles are permitted) For information about backpacking and camping within the canyon, visit this link.
How to Make Campground Reservations:
Mather Campground (NPS)
On the South Rim, campground reservations can be made for NPS Mather Campground, located within busy Grand Canyon Village. (a historic district, lodges, shuttle buses, visitor center, train etc.)

There are no RV hook-ups at Mather Campground.

Mather Campground reservations (for the months of March through November) can be made through Recreation.gov. Call 1-877-444-6777 Online: https://www.recreation.gov/ (Reservations can be made up to 6 months in advance)
Trailer Village -
Full Hook-ups
Also, within Grand Canyon Village is Trailer Village, a concessioner operated RV park with full hook-ups.
Desert View Campground (NPS)

CLOSED for WINTER
In a less developed area, the NPS Desert View Campground is located at the east entrance to the park (25 miles/ 41km east of Grand Canyon Village)
First-come, first-served only. No reservations are accepted.

There are NO RV hook-ups at Desert View, and

The campground usually fills by 12 noon each day.
The opening date for Desert View Campground for the 2021 season has not been determined.
---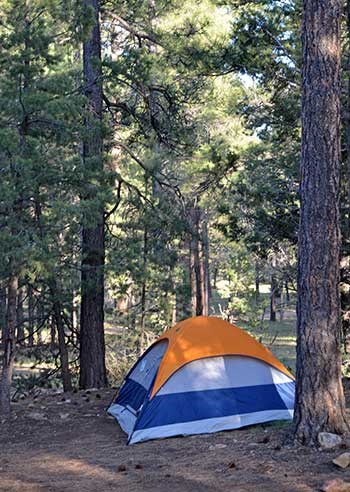 Mather Campground (NPS)
Grand Canyon Village
36°03'02"N - 112°07'16"W
Elevation: 6,971 ft/ 2,125 m
30-foot maximum total length including trailer or RV
No hook-ups Need hook-ups? Trailer Village is nearby.
Open year-round.
Operated by the National Park Service
Offers tent and RV camping.
Accessible campsites and restrooms are available.
Pets are allowed, but must be leashed at all times, and may not be left unattended.
Wood and charcoal fires permitted in provided campsite grills only.
No gathering of down wood, wood may be purchased at the general store.
Laundry and showers at the entrance to the campground, in the Camper Services Building are

CLOSED at this time due to COVID-19 concerns

.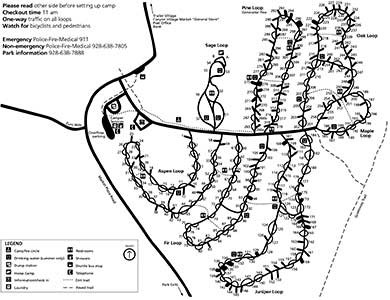 Mather Campground Map
Mather Campground Site Bulletin and Map
(231 kb PDF February 2014)
Mather Campground -
Winter Season Bulletin/Map
(210 kb PDF Dec. 2015)
Reservations may be made through the National Recreation Reservation Service by calling 1-877-444-6777 or online at the
https://www.recreation.gov/
Photos of Mather Campground
Camper Services Grab and Go
-
CLOSED UNTIL FURTHER NOTICE
Located at the entrance to Mather Campground. Offers a laundromat and pay showers, coffee bar, sandwiches, deli items and ice cream.
Reservations are strongly recommended from mid-March 1 through mid-November.
Mather Campground is usually full by noon during this time period.

Golden Age or Access passport holders pay only ½ price year round (passport number is needed when making reservation and passport holder must be camping at the site).

Fees are $18 per site per night. A maximum of 2 vehicles, 6 people, 3 tents are allowed per site.
(A vehicle that is towing a trailer, pop-up, tent trailer, fifth wheel, or a motor home pulling a vehicle is considered two vehicles.)

Hiker/biker communal (shared) sites are available March 1 thru mid-November - inquire at the campground kiosk office.
Note: Change for the spring 2021 season - only small Group sites are available, $30/night, maximum of 10 people and 3 vehicles per group site.
Pets are NOT ALLOWED below the canyon rim at any time. Pets are NOT permitted on the shuttle buses. Kennels are available in the South Rim Village.
During the winter months of December, January, and February:
the campground office is closed and online reservations are not available.
Registration is first come first serve using the self-pay machine located at the entrance to the campground by the campground office.
The campground will remain at 50% capacity due to COVID-19.
Campsites will be available for small groups only (6 or less)
Restroom locations and availability will change daily due to COVID-19 cleaning protocols.
During winter months, shared hiker/biker campsites are not available. Hikers and bicyclists must pay for an individual site which is $15.00. Winter Campground Bulletin/Map
Note: during Spring Season 2021, (March 1, through May 28) the Village (Blue Route) shuttle bus that normally stops at Mather Campground, will not be in service. Here is more information about the available Shuttle Bus Routes: The Hermit Road (Red Route) and the Eastbount Kaibab Rim (Orange Route).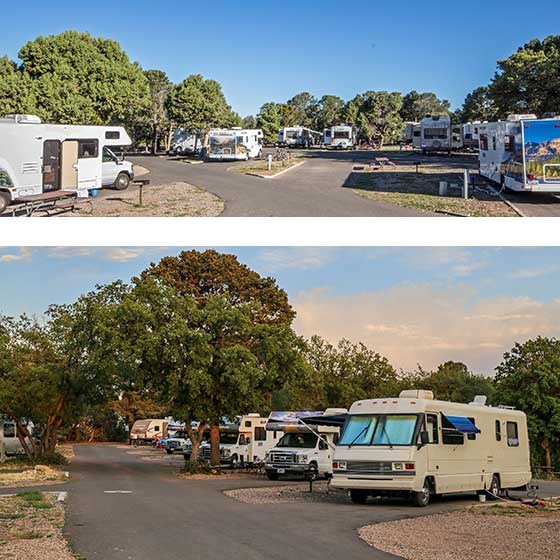 Trailer Village

RV Park with Full Hook-ups
(Concessioner Operated)
36°03'10"N - 112°06'53"W (7,028 ft/ 2,142 m)

Adjacent to Mather Campground, Trailer Village offers paved RV sites up to 50 feet in length (15.24 meters) with full hook-ups.
Trailer Village is operated by Delaware North.
Reservations may be made online here >>>

To book (or modify) your Trailer Village RV Park reservation by phone, Please call: Toll-free (877) 404-4611 - For same day reservations: (928) 638-3047

A dump station (closed during the winter months) is located near Mather Campground.

Pets are allowed, but must be leashed at all times, and may not be left unattended. View additional photos of Trailer Village here.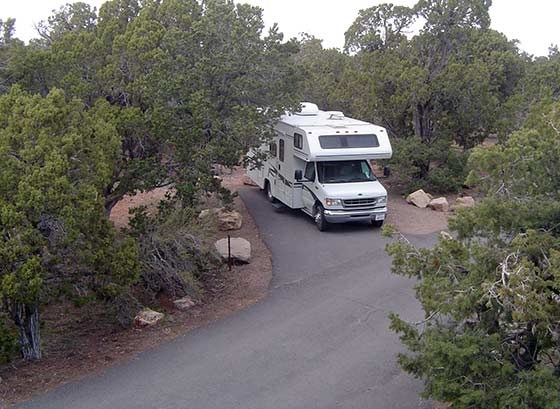 Desert View Campground (NPS)
CLOSED for WINTER
2021 opening date has not been determined..
Closes for the 2021 season mid-October 2021

No Hook-ups: First Come/ First Served - No Reservations

Total length 30-foot maximum (vehicle + trailer)

Campground fills by 12 noon each day.

Located 26 miles/ 42 km east of Grand Canyon Village. More about Desert View.

36°02'24"N - 111°49'20"W

Altitude 7,463 ft/ 2,275 m.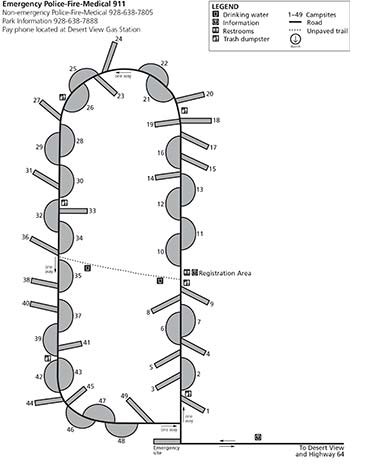 Desert View Campground Map
There are a total of 50 campsites in the Desert View Campground.
Most sites are sized to accommodate tents or smaller RV's or Travel Trailers.
Sites can not accommodate large RV's or Travel Trailers (30 ft. maximum length).
Limit of six persons; two tents; two-vehicles or one RV/Travel Trailer per site.
There are no Group Sites. Affiliated Groups cannot break up into separate sites. Examples of Affiliated Group: clubs, Scouts, organizations, group of friends, large family gatherings.
View photos of the Desert View Campground here: https://www.flickr.com/photos/grand_canyon_nps/sets/72157627139318016/

Desert View Campground Bulletin and Map (176 kb PDF March 2014)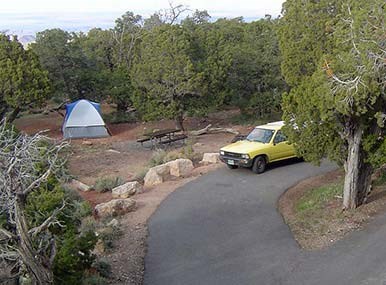 Campsites are on a First Come - First Served Basis

Reservations are not accepted for campsites at Desert View Campground

Desert View Campground is usually full by 12 noon.
There is a 7-day camping limit. Check out is at 11:00 AM.

PETS are allowed, but must be leashed at all times.
PETS may not be left unattended.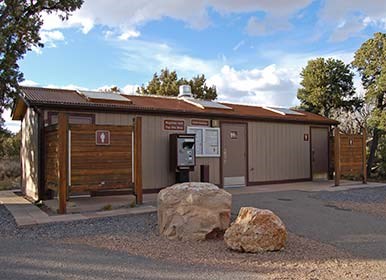 Camping Fees at Desert View Campground
Campsites at the Desert View Campground are
$12.00
for each space for each night.
Campers are required to self-register at our automated fee machine located by the campground restrooms.
The Interagency Senior Pass, Interagency Access Pass, Golden Age Passport, and Golden Access Passport entitle the pass owner to a 50% discount on camping fees. No discounts on camping for any other Federal Pass holders.
At this time, our automated fee machine accepts credit cards only for payment of campsites. The pay station is located by the campground restrooms.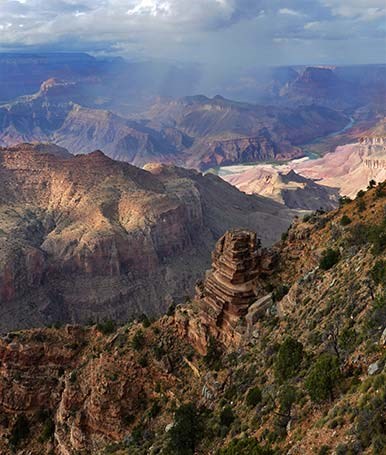 Services Available at Desert View Campground:
No utility, water, or sewer hook-ups
are available.
(all campsites are dry sites) Download the map (176kb PDF March 2014)

Each site does have a campfire grill for fires and cooking use and a picnic table.

There are two water faucets located within the campground.

There are men's, women's, and ADA accessible restrooms in the campground.

The restrooms have flushing toilets and sinks (no hot water).

No showers, laundromat, or dump station at the Desert View Campground.
Nearest showers, laundromat, and dump station are at: Mather Campground, in Grand Canyon Village, 26 miles/42 km west of Desert View. Note: Mather Campground showers, and laundromat are CLOSED AT THIS TIME due to Covid-19.

During a normal season, a Campground Host will be on site this season to assist campers.
Desert View Campground is CLOSED for the Winter.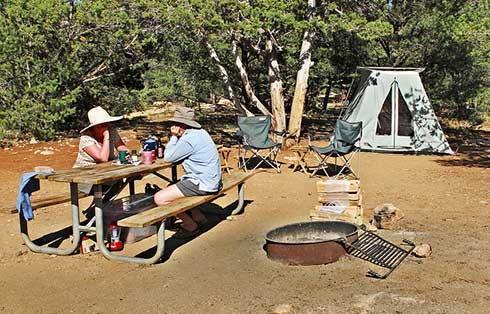 Quick links:
Outside the Park Camping - South Rim
Ten-X Campground
The U.S. Forest Service operates Ten-X Campground 2 miles/3 km south of Tusayan. Ten-X Campground is open May 1st through October 16th. No hook-ups or showers; pit toilets and cold water faucets are located throughout the campground. Group sites and 15 of their 70 family sites may be reserved through Recreation.gov, and the fee is $10 per night for one vehicle. (extra charge for any additional vehicles.)
https://www.recreation.gov/camping/Ten_X_Campground_Az/r/campgroundDetails.do?contractCode=NRSO&parkId=75372&topTabIndex=CampingSpot
The remaining family sites are available on a first-come, first-served basis. A group site is available for groups of up to 100 people, reservations are required for the group site. Call (928) 638-2443. For more information about this campground click here:
Dispersed Camping:
Camping "at-large" is permitted in the national forest outside the park. Camping must be at least 0.25mile/ 0.4 km away from Highway 64. Other restrictions may apply. Contact the Tusayan Ranger District, Kaibab National Forest, P.O. Box 3088, Grand Canyon, AZ 86023 or call (928) 638-2443 for information.
Grand Canyon Camper Village:
is a commercial campground located 7 miles south of Grand Canyon Village in the town of Tusayan. Open seasonally. Hook-ups and coin-operated showers are available. Call (928) 638-2887.

http://www.grandcanyoncampervillage.com/home.html

You can secure your campsite, buy a park entrance pass, then ride the free Tusayan Shuttle to the park's transit center (at the Visitor Center.) The shuttle comes every 20 minutes. This will save you from driving your car or RV into the park where there is limited parking and road improvement work causing detours and delays.

From the transit center, you can transfer to another free shuttle and ride out to scenic overlooks, or around historic Grand Canyon Village.
---
Camping on Nearby American Indian Lands
Havasupai Indian Reservation
The Havasupai Indian Reservation is in a large tributary canyon on the south side of the Colorado River. This land lies outside the boundary and jurisdiction of the National Park Service and is administered by the Havasupai Indian Tribe.

Update: March 16, 2020 - All Havasupai tourism has been suspended for the Campground and the Lodge, in response to the coronavirus / COVID-19 pandemic. Details here: https://www.havasupaireservations.com/

The village of Supai is accessible only by foot or horseback (it is an 8-mile hike each way) Hiking/camping is by tribal permit only. View 2018 information and fees on their website: http://theofficialhavasupaitribe.com/Havasupai-Camping/havasupai-camping.html
Hualapai Indian Reservation
Grand Canyon West (located on the south side of the Colorado River) is managed by the Hualapai Tribe. On the north side of the river (river right) is Grand Canyon National Park, on the south side of the river (river left) above the historic high water mark is Hualapai Tribal Land. Groups desiring to hike or camp on river left above the historic high water mark must request a permit from the Hualapai Tribe in adavance of their launch date. River users are asked by the NPS and required by law to treat the sensitive cultural sites wih care and respect.

The official Website for the west rim of the Grand Canyon, known as Grand Canyon West, home of the Skywalk, which is owned and operated by the Hualapai Nation is: http://grandcanyonwest.com/ All tour information is listed on this website. The reservation numbers are 1-888-255-9550 and 1-928-769-2219. These numbers are also listed on this website. Inquiries such as visiting the west rim, tour packages, prices, directions and general information, should be directed to the website and the reservation lines.

For reservations at Hualapai Lodge in Peach Springs: 1-928-769-2230 Fax: 1-928-769-2372
Navajo Indian Reservation
Land east of Grand Canyon National Park lies outside the boundary and jurisdiction of the National Park Service and is administered by the Navajo Indian Tribe.

Public Notice: All Navajo Tribal Parks and facilities shall be closed to all public access effective March 14, 2020, and continue until further notice. https://navajonationparks.org/public-notice/

Information and permits can be obtained for camping and for the trails along the east-side of the Colorado River, Marble Canyon, Jackass Canyon, Salt Trail Canyon, Totahatso Point, Rainbow Bridge trails, Cove Mesa, Coal Mine Canyon and areas in the western portion of the Navajo Nation - at the tribal visitor center in the town of Cameron. (57 miles/ 92km east of Grand Canyon Village)
The visitor center is located at the junction of Highway 89 and Highway 64 in Cameron, Arizona. Inquiries should be directed to the Cameron Visitor Center, P.O. Box 459, Cameron, AZ 86020, (928) 679-2303 voice (928) 679-2330 fax. http://www.navajonationparks.org/
---
Last updated: February 28, 2021