The Official Grand Canyon National Park App (Free)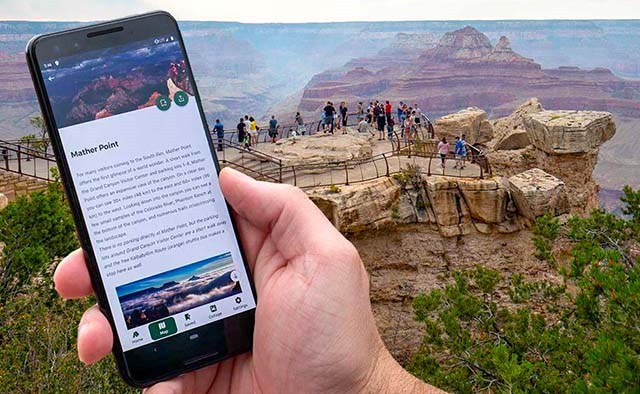 The official Grand Canyon App from the National Park Service
provides detailed information about things to do, lodging, campgrounds, and services throughout the park. It also enables you to discover rich natural and cultural resources through
self-guided walking tours.
Apple Store Preview:
https://apps.apple.com/bn/app/nps-grand-canyon/id1463843937
Google Play:
https://play.google.com/store/apps/details?id=gov.nps.grca
Note: Cellular service and Wi-Fi are limited within Grand Canyon National Park, however, before you arrive, you can download the app (along with the map).
Then you can use it in the park - when there is no internet connection.
Follow these steps >
App Features:
.
Map - Use the park map to find sites, get directions and locate services. Start the app and download the map before you arrive to use it when there is no internet connection.
Sites - Find trailheads, restrooms, overlooks and more throughout the entire park.
Save Favorites - Build an itinerary by saving your favorite sites and events. You can even get alerts when you're nearby a saved site.
Calendar - Get up-to-date information from the National Park Service about what is happening in the Grand Canyon, including ranger talks and other learning opportunities.
Tours - Discover rich natural and cultural resources with self-guided walking tours.
Accessibility - This app includes up-to-date accessibility information for facilities and some trails in the park, audio-described sites, and alternative text for images.
Using the App
Cellular service within the park is extremely limited. In order to make use of the app while visiting Grand Canyon, follow these simple steps
before you arrive
:
.
Download the app.
In the app, select the "Settings" option.
Tap the choice "Download Offline Content."
By doing this, most of the app content will be available for use in the park (the exceptions being alerts, calendar updates, and real-time updates—accessing those items before leaving service will at least keep that information in the app).
Even without cellular service, the app will be able to share your location on the map and bring up all site content.
Although, continued use of GPS running in the background can dramatically decrease battery life.
App-related Questions or Comments
Please contact us with any comments you might have about the app, from issues you might be experiencing or new content you'd love to see in the app. We want to hear from you.
Last updated: March 24, 2021