Desert View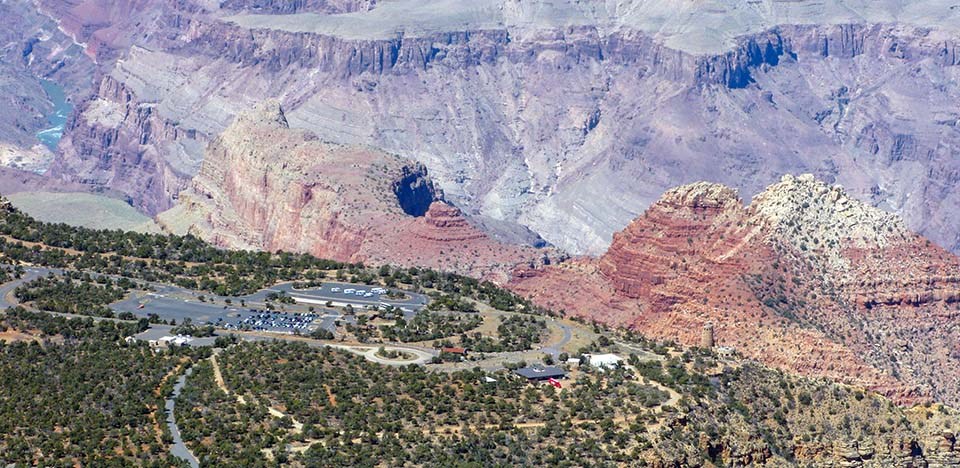 Desert View
Updated September 7, 2022

The East Entrance to the park at Desert View is open 24 hours/day, 7 days/week.

Desert View is a small settlement on the South Rim located 23 miles/ 37 km east of Grand Canyon Village, and near the eastern edge of Grand Canyon. Arizona State Route 64, also known as Desert View Drive, is a 23 mile (37 km) scenic road that connects Desert View with Grand Canyon Village. Desert View Drive is open to all vehicles throughout the year.

Visitors traveling through the Navajo Nation on US 89, turn west at Cameron, Arizona onto State Route 64, then drive 25 miles (40 km) to the park's East Entrance. A stop at Desert View provides their first views of Grand Canyon. Some of the finest views of the Colorado River and canyon geology may be seen from here.

Nearby Navajo Tribal Parks are open and welcome visitors at 75 percent capacity. For more information about Navajo Tribal Parks, call: 928-871-6647 or visit www.navajonationparks.org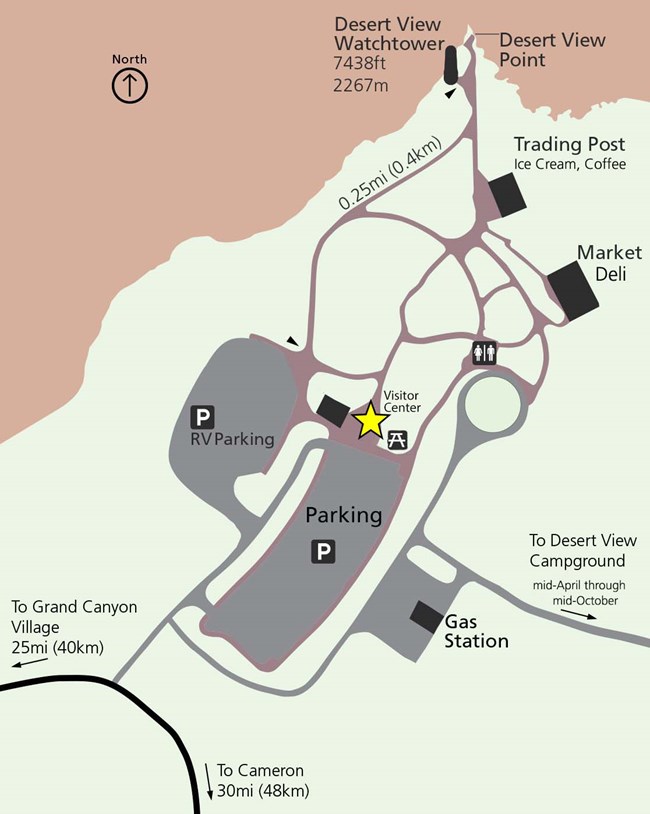 Services Open for Visitors:
Viewpoints in the Desert View vicinity.
Desert View parking lot and RV parking lot.

Restrooms:

between the main parking lot and the canyon rim.
Outdoor Visitor Center -

information desk staffed by rangers: 9 am to 4 pm Daily. (as staffing allows)

Cultural Demonstrations are held on Thursdays and Fridays: 9 am to 4 pm.

Location vary

Details >
Desert View Watchtower ground level (Kiva Room)
GCC Park Store: 8 am to 6 pm Daily
The tower remains closed until further notice.

Trading Post:

Native American Handicrafts




Ice Cream/Coffee: 9 am to

6 pm
Desert View Market: 9 am to

6 pm

Deli (inside the Market) 11 am to 6 pm
These Facilities Are Closed at This Time
NOTE:

OVERNIGHT LODGING IS NOT AVAILABLE HERE

.
Desert View Watchtower: the tower itself is

CLOSED

Desert View Sunset Ranger Talks will resume Summer 2023
Tusayan Pueblo Archaeological Site and Museum CLOSED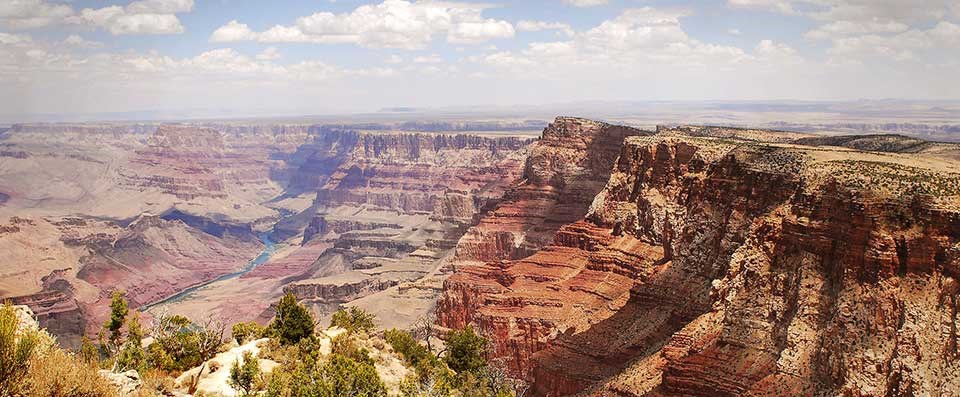 Visit our keyboard shortcuts docs for details
Duration:

6 minutes, 39 seconds
The Desert View area has been used as a gathering place for thousands of years. Visitors can see a glimpse of the ancient past at the Tusayan Ruin and Museum. The Desert View Watchtower, is modeled after the architecture of the Ancestral Puebloan people of the Colorado Plateau. Today Desert View represents the physical and cultural gateway from Grand Canyon National Park to the Navajo and Hopi reservations.
Last updated: September 7, 2022