Desert View
Most Desert View Facilities Remain Closed
Updated December 4, 2020

Visitors driving on US Route 89 in northern Arizona will be travelling through the Navajo Nation, which requires face masks to be worn at public facilities and businesses to slow the spread of COVID-19.

IMPORTANT > The East Entrance to the park at Desert View remains closed because of COVID-19 lockdowns on the neighboring Navajo Nation. The East Entrance gate is locked.

You must use the South Entrance near the town of Tusayan to enter and exit the park. The driving distance from Grand Canyon Village to Desert View along Desert View Drive (SR 64) necessitates a 50 mile (80 km) round-trip, since you must enter and exit the park through the South Entrance.

The following Desert View areas and services are open for visitors:
• Viewpoints in the Desert View vicinity
• Desert View parking lot and RV parking
• Porta-toilets located near the Desert View parking lot

With public health in mind, the following facilities and areas remain closed at this time:
The East Entrance to the park on SR 64

CLOSED

Desert View Watchtower, including visitor contact station and bookstore

CLOSED

Desert View Visitor Center

CLOSED

Desert View Campground

CLOSED

Desert View Chevron Gas Station

CLOSED

Desert View Trading Post & Ice Cream

CLOSED

Desert View Market and Deli

CLOSED

Tusayan Ruin and Museum

CLOSED
Grand Canyon National Park is continuing to evaluate and adapt to changing COVID-19 guidance, and is adjusting operations as needed. The information presented here is primarily to help you plan a visit during 2021.
Visit this web page for the current list of what is open, and for park-wide updates >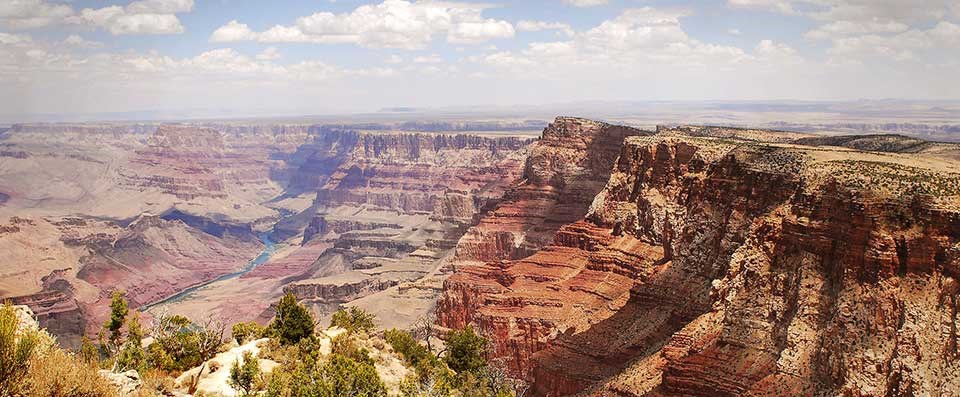 Desert View
The information below is for reference only.

We are continuing to evaluate and adapt to changing COVID-19 guidance and adjust operations as needed.
Desert View is a small settlement on the South Rim located 25 miles/ 41 km east of Grand Canyon Village, and near the eastern edge of Grand Canyon. Arizona Highway 64, Also known as Desert View Drive, is a scenic road that connects Desert view with Grand Canyon Village.

For visitors coming into the park via the East Entrance, a stop at Desert View provides the first views of Grand Canyon.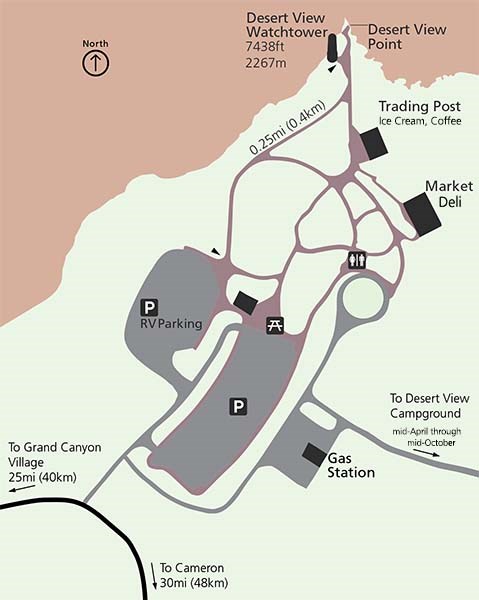 Attractions include:
Some of the finest views of the Colorado River and canyon geology
Historic 70 ft. Desert View Watchtower with observation deck.
The nearby Tusayan Museum highlighting the story of American Indians of the region
Facilities include:
Visitor contact station and bookstore in the watchtower,
Rest rooms,
Gas Station and camping gear.
Seasonal Campground

CLOSED

Lodging is not available at Desert View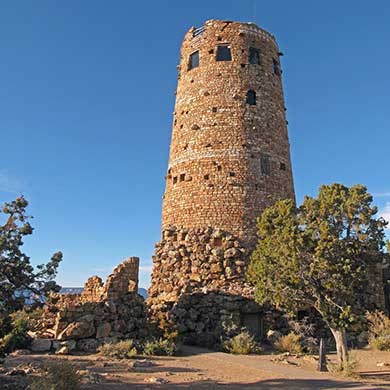 Desert View Watchtower (1932)

CLOSED
An unusual stone tower designed by Mary Colter, in the style of Ancestral Puebloan towers. Watchtower Video.


The Watchtower is the official visitor contact station at Desert View.

Climb

85 steps for a 360° view from observation deck 70 ft (21 m) above.

Study

wall murals by Hopi Artist Fred Kabotie

Spot

the Colorado River turning north and the Painted Desert extending towards Navajo and Hopi Indian lands.

Visit

the Kiva Room for expansive views through large windows and Grand Canyon Conservancy shop with books and gifts.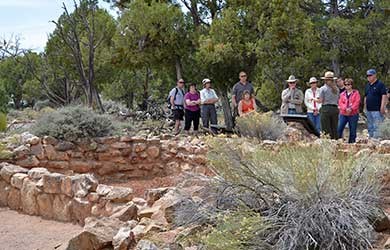 Tusayan Pueblo and Museum (1928)
Tusayan Pueblo is the remains of a small Ancestral Puebloan village located 3 miles (5 km) west of Desert View. This was a thriving community that created pottery, arrowheads and other household artifacts. Hours: 9 am to 5 pm
Walk the relatively flat 0.1 mile (200 m) self-guiding trail around the site.
Imagine Puebloan Indian life some 800 years ago.
Attend daily ranger-led ruin tours at 11 am and 2 pm (summer season)
Download: Tusayan Ruin Trail Guide (821kb PDF file)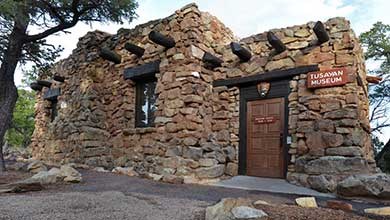 Tusayan Museum has exhibits that help bring the pueblo to life. Admission is free. Hours: 9 am to 5 pm
Note: Tusayan Pueblo and Musuem has been closed untill further notice as a precaution - due to concerns about COVID-19 11/6/2020
View 2,000–4,000 year old artifacts along with traditional handicrafts made by regional tribes.
Learn about the prehistoric people who once made this place their home.
Visit the museum's bookstore/shop.
Visit our keyboard shortcuts docs for details
Duration:

6 minutes, 39 seconds
The Desert View area has been used as a gathering place for thousands of years. Visitors can see a glimpse of the ancient past at the Tusayan Ruin and Museum. The Desert View Watchtower, is modeled after the architecture of the Ancestral Puebloan people of the Colorado Plateau. Today Desert View represents the physical and cultural gateway from Grand Canyon National Park to the Navajo and Hopi reservations.
Last updated: December 4, 2020