Guided Tours
Public health measures and seasonal closures?
Visit this web page (updated daily) for a list of what is open and the hours of operation.
Grand Canyon Conservancy Field Institute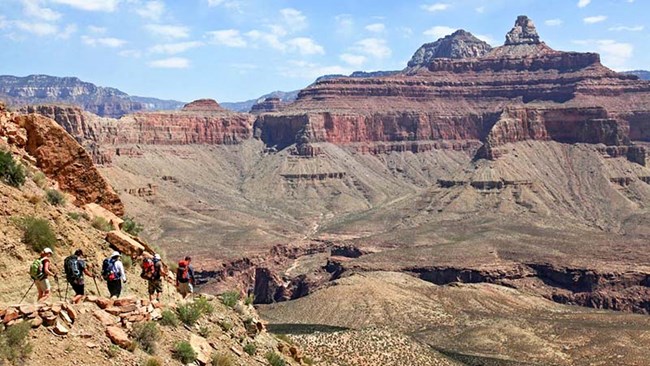 The institute provides amazing immersive and educational adventures at Grand Canyon—all officially designed and developed in partnership with Grand Canyon National Park.

Whether you're looking for a day hike for your family, a once-in-a-lifetime backpacking trip, or an educational class on outdoor photography, the Field Institute has a variety of programs designed to inspire you above and below the rim of Grand Canyon.

Field Institute guides will help you plan and prepare for your journey so you may enjoy a most exhilarating outing. 2023 Classes and Outings >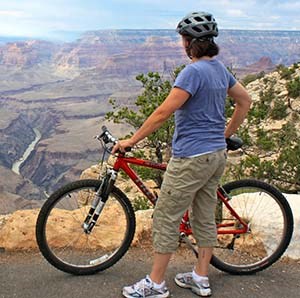 Bicycle Rentals and Bicycle Tours
Bicycle rental services, as well as guided bicycle tours are provided on the South Rim by Bright Angel Bicycles. They are located in the Visitor Center Plaza. They also offer a coffee bar with a "grab and go" food and beverage service targeted toward hikers, bikers and pedestrians.

Bicycle rentals and guided bicycle tours are available between April 1 and October 31 (other times when weather permits - check their website for current availability) The coffee bar/ cafe is open all year. Learn More >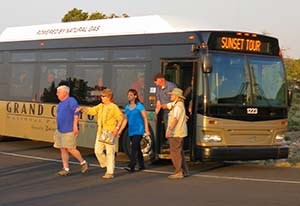 South Rim Bus Tours
Coach tours within the park to Hermits Rest and/or Desert View, as well as sunrise and sunset tours, are available daily. Experienced guides do the driving while you relax and enjoy spectacular views of Grand Canyon. Choose a tour that suits your schedule and interests. Take in some of the fascinating history and geology of this special place. Details > -- (Wheelchair accessible coaches are available by prior arrangement).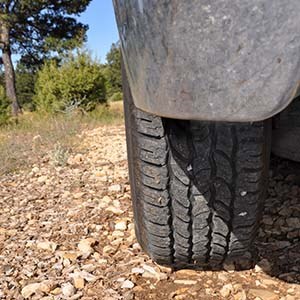 Jeep and Van Tours
Join an off-road trip or travel by van to viewpoints along the canyon rim. Tour the park with local guides and learn about human history, wildlife, geology and folklore.
Off-road and van tours are based outside of the park. The Grand Canyon Chamber of Commerce website has more information about companies that offer
Jeep Tours
and
Van Tours.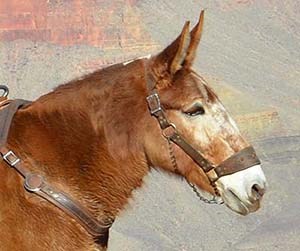 Mule Trips - North and South Rim

Taking a mule trip at Grand Canyon is a time-honored method of sightseeing.

Mule trips into the canyon - as well as rides through the park's woodlands to scenic canyon overlooks - are offered on both the North and South Rims. Details >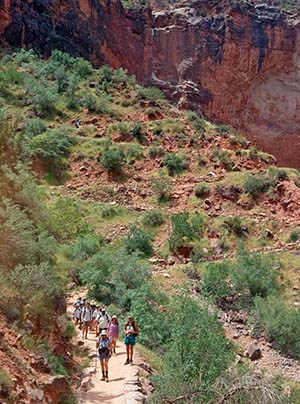 Guided Hikes - North and South Rim
Day hikes and walks led by Park Rangers may be offered during the summer of 2023. These programs are free and require no advanced sign-up.

In addition to overnight trips, Grand Canyon Conservancy Field Institute offers fun-filled short walks and hikes along and below the rim. Guides connect with the park on a deeper level as you learn about the plants, animals, rocks, and Indigenous cultures
Additional guided hike options Details >

Commercial Outfitters authorized to guide overnight hikes within the park: Guided Backpacking Trips Bulletin (170 kb PDF file) Please contact the companies directly regarding cost and services provided.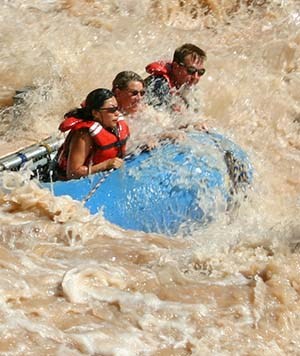 3-21 Day White Water Raft Trips
Commercial white-water raft trips through the canyon last 3-21 days and require reservations well in advance.

More than a dozen companies are authorized to provide trips on the Colorado River through Grand Canyon. Prices vary depending on company, length of trip, and craft used, but are roughly $250-300 per day.

View the current list of commercial river companies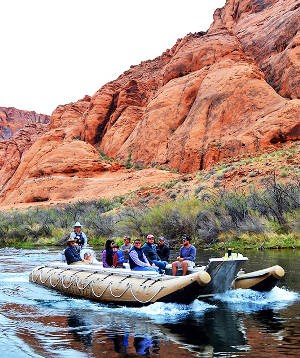 Half-day and Full Day Raft Trips
Half-day and one-day raft trips on the Colorado River are available below Glen Canyon Dam. The trips are not offered during the winter months.
Wilderness River Adventures
offers smooth-water trips from Glen Canyon Dam to Lees Ferry. Trips begin in Page, Arizona, 140 miles from Grand Canyon Village. Reservations are required. When visiting the park, check with the Transportation Desks in Bright Angel, Maswik, or Yavapai Lodges to book a trip.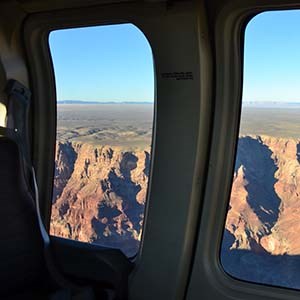 South Rim Air Tours
All scenic air tours are based outside of Grand Canyon National Park. Both fixed-wing and helicopter tours of the Grand Canyon region are offered daily.
Some air operators also fly to the Grand Canyon Airport from Phoenix/Scottsdale, Arizona or Las Vegas, Nevada. For a list of air tour operators with links to their websites, view Arizona Department of Transportation's listing
:
https://azdot.gov/about/grand-canyon-airport/tour-operators-grand-canyon-airport
National Forest Trail Rides - South Rim
During the season, one-hour and two-hour trail rides through the pines of the Kaibab National Forest and twilight campfire and wagon rides are available. Both horses and mules are utilized. Apache Stables is located just outside of the South Entrance to Grand Canyon National Park at the north end of the community of Tusayan. For information and reservations call (928) 638-2891.
---
Last updated: December 16, 2022