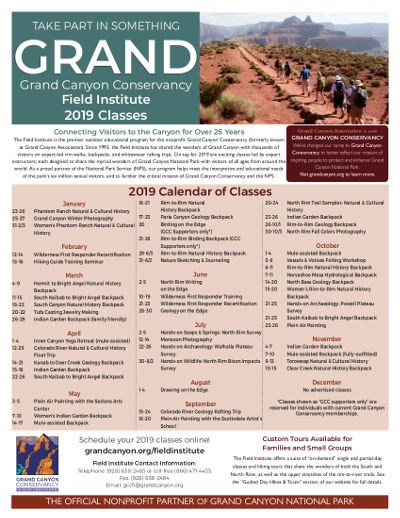 Grand Canyon Conservancy
Field Institute
2019 Schedule of Classes
(744 kb PDF File)
The Grand Canyon Conservancy Field Institute offers single and multi-day educational tours at Grand Canyon National Park led by expert instructors while day hiking, backpacking, camping, & whitewater rafting.
Topics include geology, ecology, history, archaeology, botany, photography, and more.
For over two and a half decades, Grand Canyon Conservancy Field Institute has been working closely with the National Park Service to provide educational opportunities that complement the park's interpretive efforts. Each class is reviewed by an interdisciplinary team of NPS educators and resource managers to ensure that it meets the educational goals of the park.
The Field Institute is a program of the
Grand Canyon Conservancy
, the official nonprofit partner of Grand Canyon National Park since 1932.
Visit
Grand Canyon Conservancy Field Institute
for more information.