Restaurants and Groceries
Public health measures and temporary closures? Visit this webpage (updated daily) for a list of what's open and hours of operation.
South Rim Restaurants and Groceries (Inside the Park)
Grand Canyon Visitor Center
Bright Angel Bicycle Rental and Café - Located at the plaza between the Visitor Center and the Bookstore. Offers a coffee bar, "grab-and-go" Breakfast and Lunch, and hiker/biker supplies. Open year-round. Phone 928-638-3055.
Market Plaza
(the business center of the village with a post office, ATM machine, campground and RV campground.)
At Canyon Village Market (open daily, year-round):
At Mather Campground - Camper Services Building
Camper Services Laundromat and pay showers are open daily. Camp Store and grab-and-go food is

CLOSED

until further notice.

Camper Services is located at the entrance to Mather Campground.
At Yavapai Lodge (open daily, year-round):
Grand Canyon Village Historic District
At El Tovar Hotel (open daily, year-round):
El Tovar Dining Room - Located on the rim. Offers Breakfast, Lunch and Dinner. Dinner reservations recommended. Phone 928-638-2631.
El Tovar Lounge - Located inside the El Tovar hotel, with a side entrance facing the rim. Offers drinks and light meals.
El Tovar Food Truck - parked at the Train Depot
At Bright Angel Lodge (open daily, year-round):
At Maswik Lodge
Hermit's Rest
Located 7 miles/11 km west of Grand Canyon Village at the end of Hermit Road; open daily, year-round.
Desert View
The East Entrance to the park at Desert View is open 24 hours/day, 7 days/week.
Desert View Drive is a 23 mile/ 37 km scenic road between Desert View and Grand Canyon Village, and is open to all vehicles.

The following Desert View services with food are open for visitors:

South Rim (Outside of the Park)
Groceries, restaurants and supplies are available in the gateway community of Tusayan 7 miles/11 km south of Grand Canyon Village. The Tusayan Chamber of Commerce has detailed information on their website >

During the summer months, every 20 minutes, the free Tusayan (Purple) Route shuttle bus connects Tusayan with Grand Canyon Visitor Center in the park. Tusayan Shuttle service is scheduled to resume on May 27, 2023.
| | | |
| --- | --- | --- |
| Canyon Food Mart | | (928) 638-2608 |
| Canyon Star | | (928) 638-3333 |
| General Store | | (928) 638-2854 |
| McDonald's | | (928) 638-2208 |
| Mexican Kitchen | | (928) 638-8423 |
| Pizza Hut | | (928) 638-4629 |
| Plaza Bonita Tusayan | | (928) 638-8900 |
| Quality Inn | | (928) 638-2673 |
| Foodie Club | | (928) 638-3115 |
| Squire Inn Restaurant | | (928) 638-2681 |
| Tusayan Steak House | | (928) 638-2780 |
| We Cook Pizza & Pasta | | (928) 638-2278 |
| Wendy's | | (928) 638-6484 |

Phantom Ranch Canteen
Phantom Ranch Canteen is located at the bottom of Grand Canyon.

Reservations are Required. Meals MUST be reserved well in advance of your descent. There are a limited number of meals available at each seating, and overnight guests are given priority. Call 303-297-2757 or 888-297-2757 to inquire about a meal reservation.

The Phantom Ranch Canteen is open to the public during daytime hours. During this time, a small variety of hiker items including snacks, beverages, stamps, T-shirts, postcards, headlamps and first-aid supplies are available for sale. Learn more.

North Rim Restaurants and Groceries (Inside the Park)
Grand Canyon Lodge will operate day-use services with limited food and beverage service beginning June 2. No overnight accommodations will be available until at least July 23, 2023, due to a major water pipeline break. Details >
General Store (Camper Store) Located adjacent to the campground. Offers groceries, a coffe bar, and grab-and-go meals. The North Rim General Store, gift shop, and gas station will open on June 2, 2023.

These Restaurants will open later in the season - when water delivery has been restored.
Grand Canyon Lodge Dining Room - On the rim. Breakfast, Lunch and Dinner. Reservations are required for dinner. 928-638-2611.
Roughrider Saloon - Located in the Grand Canyon Lodge complex. Offers adult beverages, coffee and baked goods.
Deli in the Pines - Located in the Grand Canyon Lodge complex. Offers Lunch and Dinner.
---
North Rim (Outside of the Park)
Kaibab Lodge Restaurant - Seasonal - 928-638-2389 - 18 miles/29 km north
North Rim Country Store - Seasonal - 928-638-2383 - 18 miles/29 km north
Jacob Lake Inn - Open all year. 928-643-7232 - 45 miles/72 km north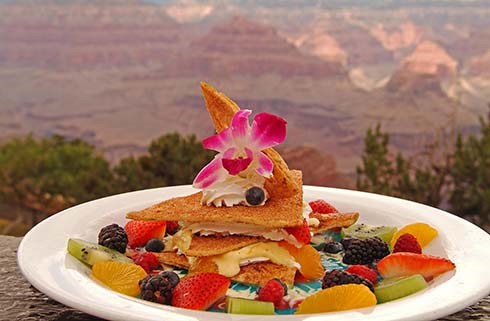 Quick links
What You Can Do
Check out the links below for suggestions on simple things you can do to help protect the park and show that you, too, think "Green is Grand!"
Refill your water bottles!
Did you know that you can reduce plastics in the waste stream, litter along trails and walkways and greenhouse gas emissions just by refilling a reusable water bottle? Go to Grand Canyon's Reduce, Reuse, Refill page to learn more.
Travel Green!
It's a great way to help the Grand Canyon and the environment. Go to the Traveling Green page for helpful tips on planning your next green adventure.
Reduce, Reuse, Recycle!
Thanks for doing what you can to help protect Grand Canyon National Park!


Last updated: May 18, 2023