Trip Planning Publications (Formerly Newspapers)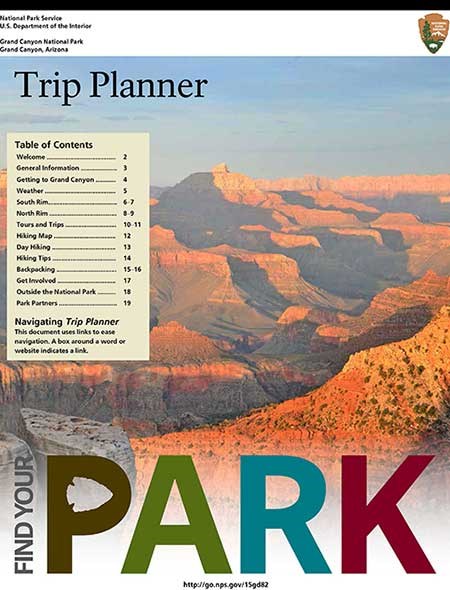 English ( 4 MB PDF ) Updated May 2018
Backcountry Trip Planning Included
A Handy Source of Information/ Maps for those starting to plan a visit.

How will you experience the canyon ?
Read our Trip Planner before you visit the park. Contains useful information and essential maps. (both North & South Rims)
This PDF "newspaper" contains active links that can connect you to more detailed information, If you would like a paper copy, the Trip Planner is formatted for printing on standard letter-size paper.
Trip Planner Translations (PDF) Updated May 2018
Chinese (simplified)
French
German
Italian
Japanese
Korean
Spanish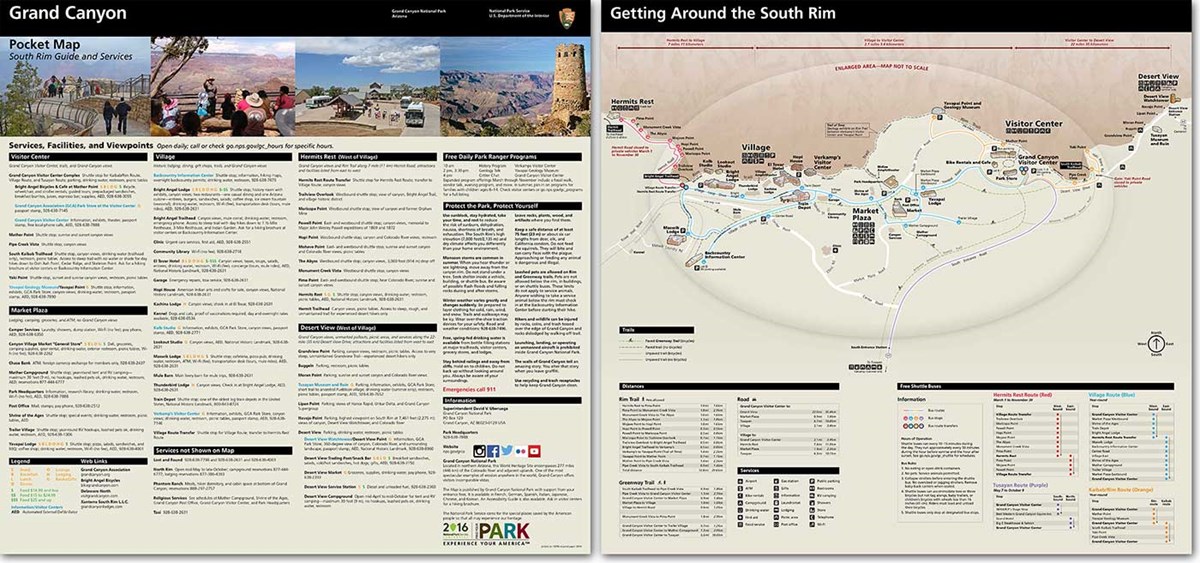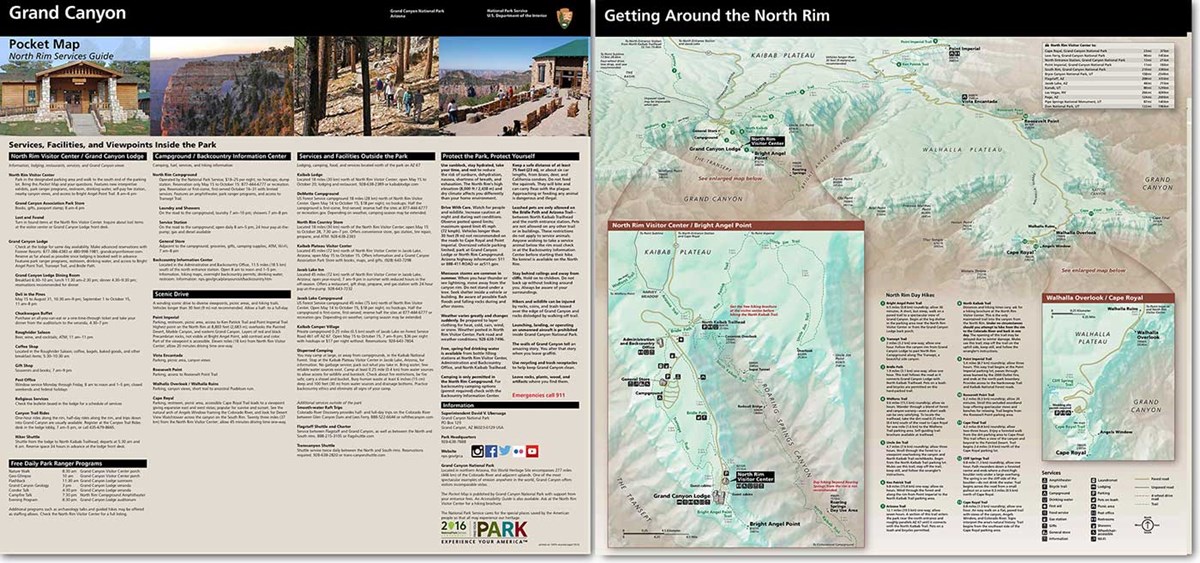 Introduction to Backcountry Hiking Brochure
This foldable brochure is for day and overnight inner canyon hikers. It gives information about hiking the Bright Angel, South Kaibab, and North Kaibab trails, as well as permit, planning, Leave No Trace, and Hike Smart information. It is distributed at park visitor centers and backcountry information centers.
The web version of this publication is formatted to print on standard 8.5 x 11 letter-sized paper. You may download
Introduction to Backcountry Hiking
(4.5 MB PDF file)

PDF Display or Printing Issues?
Are you on a computer and using a web browser to view and print our PDF publications? You may experience issues where the PDF does not display or print correctly. Some web browsers do not automatically open PDFs using the Acrobat Reader application.
Things to try
(1) Select the Acrobat Reader plug-in for your browser's default application for viewing/ printing PDFs. or (2) You can right click and save the PDF document to your desktop and then open it with the Adobe Reader application, and print from there.
Get the newest version of free Adobe Reader.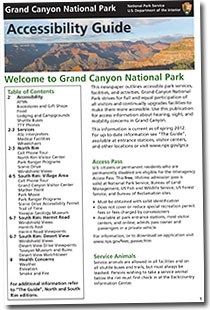 Download a digital copy of Grand Canyon National Park's Accessibility Guide below:
Accessibility Guide (2012)
for printing on Standard Letter-sized Paper (1.2 MB PDF file)

Accessibility Guide (2012)
Large Type Version
for printing on 11 x 17" paper
(1.6 MB PDF file)

If you have accessibility questions about Desert View, the North Rim, or elsewhere in the park, you may email us here.



Upon your arrival at the park, a paper copy of the Accessibility Guide is available upon request at the Grand Canyon Visitor Center, Yavapai Museum of Geology, Kolb Studio, Verkamps Visitor Center, Tusayan Museum, Desert View Visitor Center, or North Rim Visitor Center.

Several of the daily Interpretive Ranger Programs are wheelchair accessible. Inquire at visitor centers for specifics.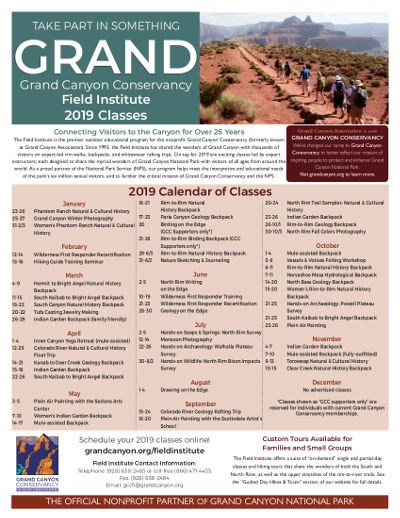 Grand Canyon Conservancy
Field Institute
2019 Schedule of Classes
(744 kb PDF File)
The Grand Canyon Conservancy Field Institute offers single and multi-day educational tours at Grand Canyon National Park led by expert instructors while day hiking, backpacking, camping, & whitewater rafting.
Topics include geology, ecology, history, archaeology, botany, photography, and more.
For over two and a half decades, Grand Canyon Conservancy Field Institute has been working closely with the National Park Service to provide educational opportunities that complement the park's interpretive efforts. Each class is reviewed by an interdisciplinary team of NPS educators and resource managers to ensure that it meets the educational goals of the park.
The Field Institute is a program of the
Grand Canyon Conservancy
, the official nonprofit partner of Grand Canyon National Park since 1932.
Visit
Grand Canyon Conservancy Field Institute
for more information.
In addition to newspapers, Grand Canyon National Park publishes a variety of brochures, trail guides, and single-page bulletins.

These publications are distributed in the park and may also be downloaded in PDF format from the Brochures Web Page.
To view a list of park brochures & bulletins click here.
All of our digital publications require the free Adobe Acrobat Reader for viewing. For best results, we suggest that you download the PDF file to your computer or device before viewing or printing.

Many more publications are available through the park's Online Bookstore, operated the Grand Canyon Association.

---


Last updated: June 9, 2019