Camping

This page has information about developed campgrounds—where vehicles are permitted.
Would You like to backpack and camp within the canyon? visit this link.
---

How Can I Make Campground Reservations?
Advance campground reservations can be made for two of the three NPS campgrounds within Grand Canyon National Park. The NPS campgrounds do not have RV hook-ups.
Mather Campground on the South Rim

(in Grand Canyon Village is

open all year

)


North Rim Campground

. (has a short season - May 15 through October 31 of each year.) The North Rim Campground is Closed to vehicles in the winter and no visitor services are available. It takes multiple days of backpacking and snow camping to reach this remote site during the winter. See Winter Camping on our North Rim webpage for more information.
Reservations can be made through the National Recreation Reservation Service
by calling 1-877-444-6777 or online at https://www.recreation.gov/
Reservations for these two NPS campgrounds can be made up to 6 months in advance.


There is only one RV campground within the park with full hook-ups. It is located in Grand Canyon Village on the South Rim. Trailer Village is a concessioner operated RV park with full hook-ups. Open all year.

The NPS Desert View Campground is closed for the winter
Located on the South Rim of the park, the campground is 25 miles (41 km) to the east of Grand Canyon Village, and is first-come, first-served only. No reservations are accepted. Desert View Campground fills each day by 1-2 pm. There are no RV hook-ups at Desert View. Desert View Campground will be open between mid-April and mid-October, 2018.
---
How Do I Decide Which Rim to Visit ?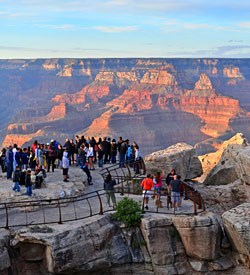 Most people visit Grand Canyon National Park's South Rim

The South Rim of the Grand Canyon is open all year and is located on the "Arizona" side of the Canyon. The South Rim is closer to Interstate 40 and to the transportation centers of Williams, Flagstaff and Phoenix, Arizona. The South Rim also has a local airport and rail service.

Since it is easier to get to, the South Rim is very busy, and during the summer season, campgrounds hustle and bustle and are often filled to capacity. Reservations are strongly recommended.

Detailed information about camping on the South Rim (including Desert View)



---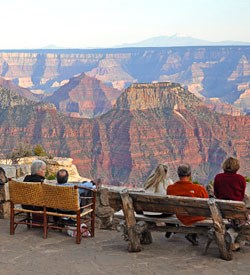 North Rim: Harder to Get to - More Wild and Secluded


Because of its 8,000 ft/ 2,438m elevation and liklihood of early snowfall, most visitor services on the North Rim are only available during a short season that lasts from May 15 through October 31 each year.

The North Rim is located on the "Utah" side of the Canyon. The nearest towns to the park's North Rim village are Fredonia, Arizona, and Kanab, Utah. There is no airport or rail service to the park. (that means that the North Rim village may only be reached by road) Because the North Rim has a shorter season, Campground Reservations are strongly Recommended.

Detailed information about camping on the North Rim (including Tuweep)


---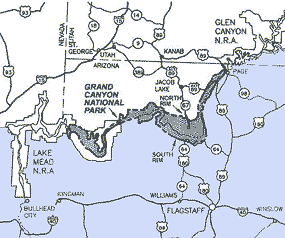 Why is the park separated into South and North Rims?
A 277 mile long (446 km) canyon separates the park into South and North Rims. The Grand Canyon of the Colorado River is a mile-deep, (1.6 km) and creates a barrier that bisects the park. Even though the average distance across the canyon is only 10 miles/ 16 km, be aware that it is a five-hour drive of 215 miles/ 346 km between the park's South Rim Village and the North Rim Village.

Scenery, climate and vegetation are noticably different between north and south rims because of differences in elevation. It is almost like having two parks in one and it takes time, planning and effort to be able to visit both sides of the Canyon in one trip.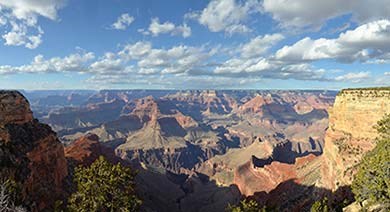 Quick links to information about:
Last updated: January 19, 2018