Maps
The South Rim's South Entrance is open 24 hours/day. Overnight accommodations, and some visitor services are available.

More



Desert View and the East Entrance remain closed because of COVID-19 lockdowns on the neighboring Navajo Nation. You must enter and exit the park through the South Entrance. (Tusayan)



The North Rim is open for Day Use Only. The Lodge and Campground have closed for the 2020 season.

Details
---
(2.5 MB PDF File) revised 2/2015 Shows Grand Canyon National Park in relation to Las Vegas, NV, Flagstaff, AZ, National Forests, Indian Lands, and major area highways.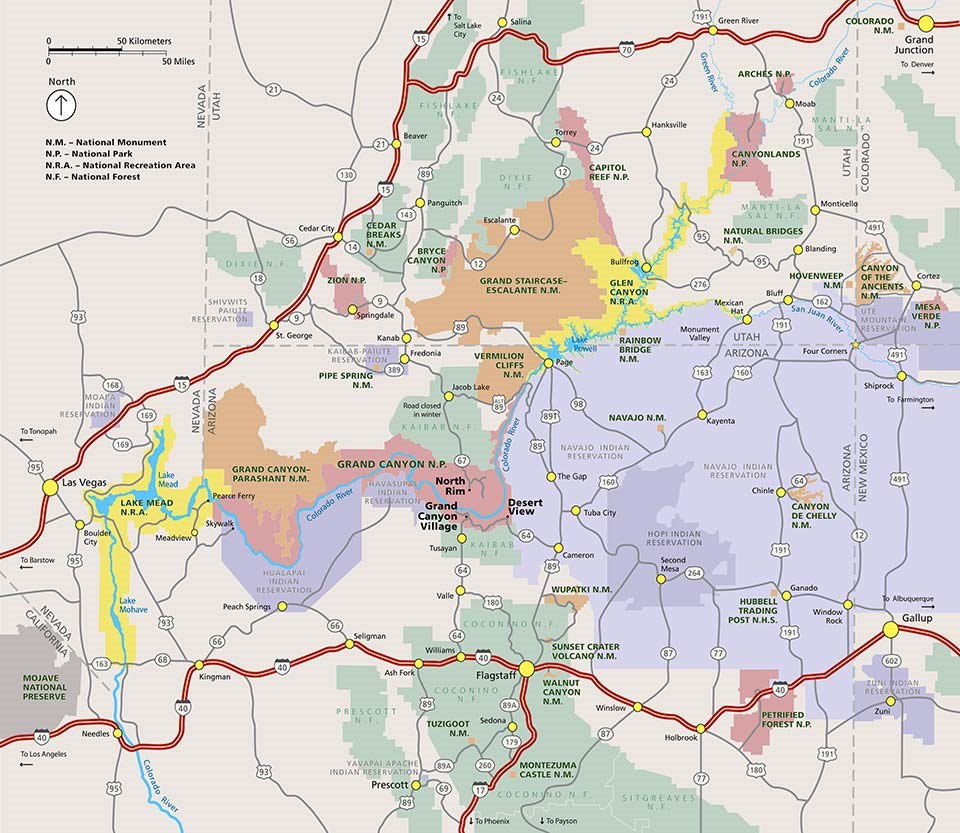 The region shown in this map includes 1) on the left edge of the map, Las Vegas, NV and Needles, CA 2) across the bottom, Interstate 40 from Needles, CA, east, through Flagstaff, AZ, to Gallup, NM. 3) on the right edge, starting at Gallup, NM, then, north to Colorado Nat. Monument, 4) Finally, bounded across the top by Interstate 70 crossing the state of Utah until it meets the intersection with Interstate 15.

Grand Canyon National Park is located east of Las Vegas, NV.
North of Interstate 40 and the cities of Williams and Flagstaff, AZ.
East of the Navajo and Hopi Indian Reservations, and south of the Utah state line. The Colorado River is shown through the entire 277 mile transect of Grand Canyon National Park.

Public and tribal lands are show in different colors.

Tribal lands are show in purple and reservation boundaries are shown for the following tribes: Navajo, Hopi, Hualapai, Havasupai, Kaibab Paiute, Shivwits Paiute, Zuni, and Ute Mountain.

National forest lands are shown in green, and include, Coconino, Prescott, Sitgreaves, Kaibab, Dixie, Fishlake, and Manti-La Sal.

National parks are shown in vermilion, and include, Petrified Forest, Grand Canyon, Zion, Bryce, Capitol Reef, Canyonlands, and Arches.

National monuments are shown in orange and include, Wupatki, Sunset Crater, Walnut Canyon, Tuzigoot, Montezuma Castle, Canyon De Chelly, Navajo, Grand Canyon Parashant, Vermilion Cliffs, Grand Staircase Escalante, Pipe Springs, Rainbow Bridge, Cedar Breaks, Natural Bridges, Hovenweep, Canyon of the Ancients, and Colorado.

National Recreation Areas are shown in yellow and include, Lake Mead, and Glen Canyon.
---
Links to a higher resolution version of this map (3.2 MB jpg file) This map shows the South and North Rims with everything in between. This is the "big picture," generalized overview. Distant features on the North Rim are shown at a smaller scale than foreground South Rim areas.

---
(4 MB PDF file)
This is the map that you will receive when you enter the park and it shows the location of village parking areas, shuttle bus stops, and how to access scenic overlooks and visitor services. Information about services, facilities and overlooks are printed on the back side of the pocket map.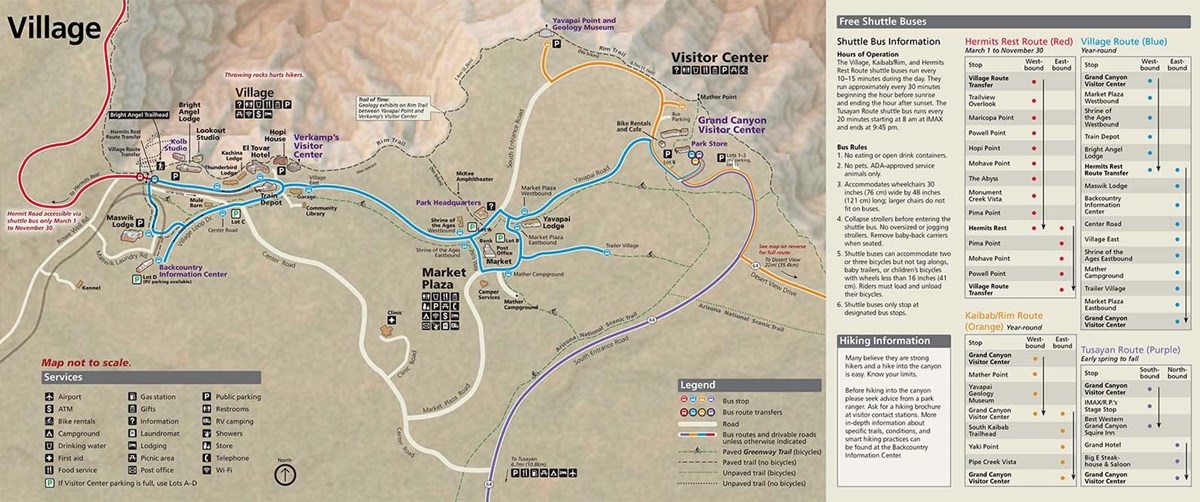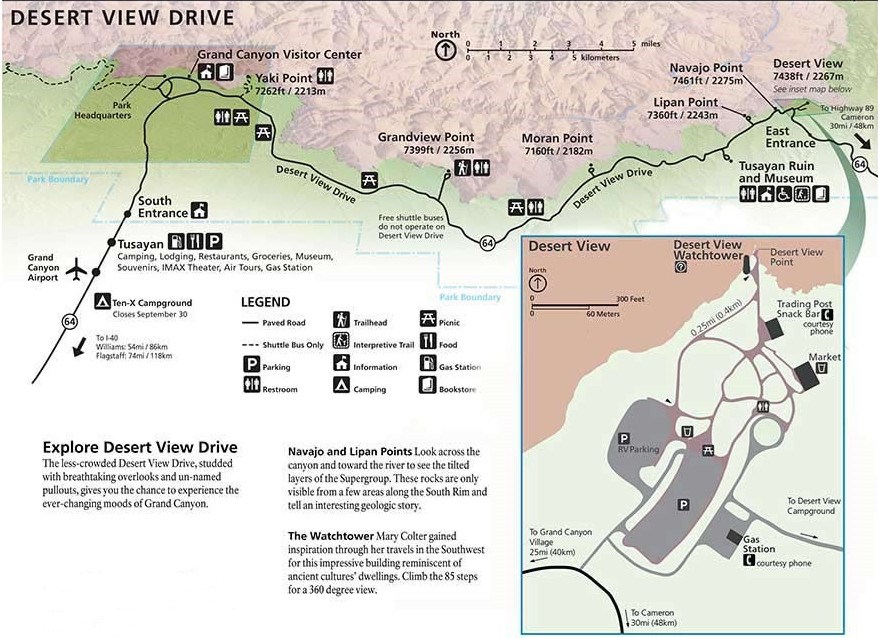 ---
Backcountry Hiking Brochure and Map
This foldable brochure is for day and overnight inner canyon hikers. It gives information about hiking the Bright Angel, South Kaibab, and North Kaibab trails, as well as permit, planning, Leave No Trace, and Hike Smart information. It is distributed at park visitor centers and backcountry information centers.
The web version
of this publication is formatted to
print on standard 8.5 x 11 letter-sized paper.
You may download
Introduction to Backcountry Hiking
(680kb PDF file)
North Rim Pocket Map and Services Guide
In place of a newspaper, the North Rim Pocket Map and Services Guide is now being distributed at entrance stations, visitor centers, lodges, campgrounds, stores, and out-of-park locations. Download it here... The North Rim has a short season with lodging & food service available May 15th through October 15 of each year.
---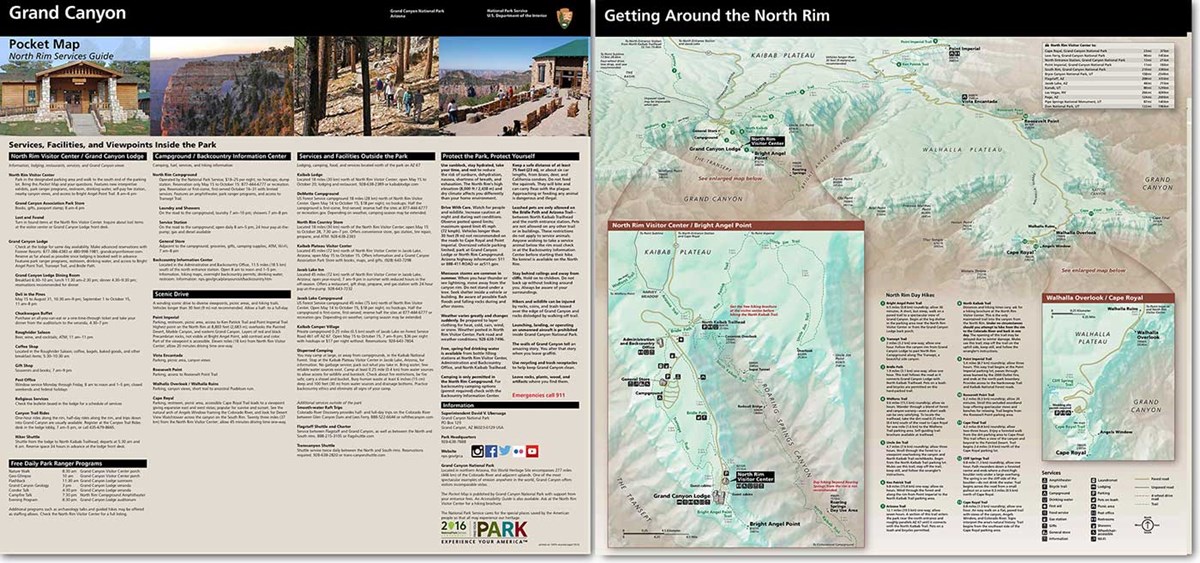 ---
By Arizona Geological Society and United States Geologic Survey (USGS)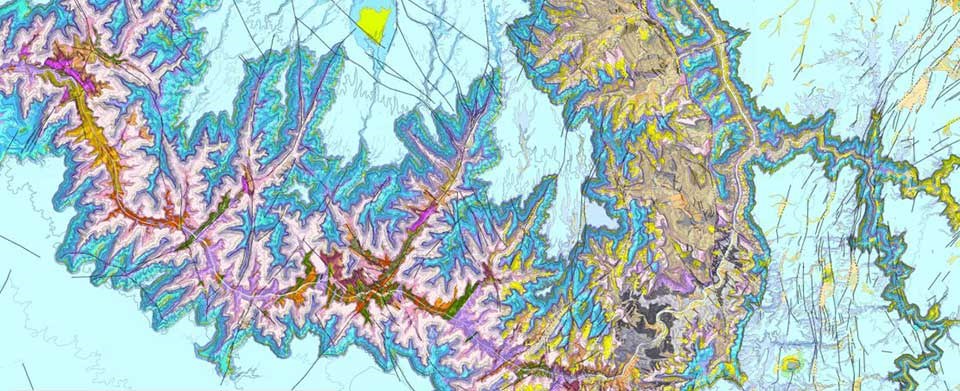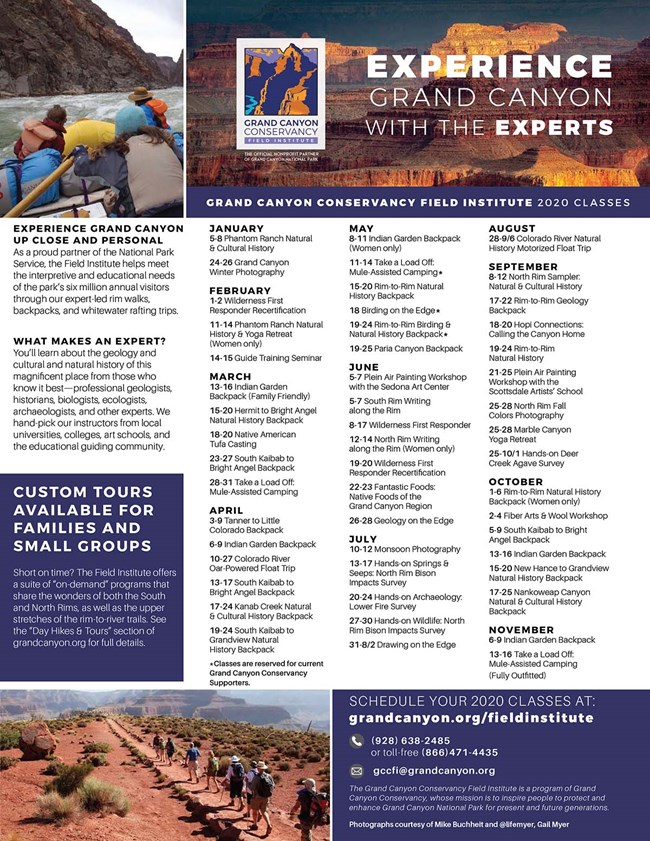 Grand Canyon Conservancy
Field Institute Classes
2020 Schedule of Classes
(411 kb PDF File)
The Grand Canyon Conservancy Field Institute offers single and multi-day educational tours at Grand Canyon National Park led by expert instructors while day hiking, backpacking, camping, & whitewater rafting.
Topics include geology, ecology, history, archaeology, botany, photography, and more.
For over two and a half decades, Grand Canyon Conservancy Field Institute has been working closely with the National Park Service to provide educational opportunities that complement the park's interpretive efforts. Each class is reviewed by an interdisciplinary team of NPS educators and resource managers to ensure that it meets the educational goals of the park.
The Field Institute is a program of the
Grand Canyon Conservancy
, the official nonprofit partner of Grand Canyon National Park since 1932.
Visit
Grand Canyon Conservancy Field Institute
for more information.


Last updated: October 19, 2020