Havasupai Indian Reservation
Havasu Canyon remains closed to visitation through June 2022
All Havasupai tourism remains suspended. It is not currently known when tourism will resume.


For updates please visit:

https://www.havasupaireservations.com/
With the increases in transmission seen nationwide, the Havasupai Chairman Tommy Siyuja and the council made the decision to continue the closure of Havasu Canyon to visitors. People with bookings dated after May 31st, 2022 are not impacted by the suspension of tourism for now, according to a statement from the tribe. No new reservations will be available for purchase while tourism is suspended, and the Havasupai Tribe look forward to welcoming tourists back when it is safe to do so.
The National Park Service (NPS) is requesting all river trips, both commercial and non-commercial, to voluntarily bypass Havasu Canyon on the Colorado river, located at river mile 157.
This request is an effort to minimize the spread of the COVID-19 virus and to further safeguard the Havasupai people and their traditional lands. River guides and boaters are encouraged to honor this request out of respect and safety for the Havasupai people. Camping at the confluence is always prohibited.
The Tribe and Grand Canyon National Park collectively request that all river operators and permit holders respect the unique public health threat to the Havasupai Tribe and respect the sovereignty of the Tribe to enforce the emergency closure. (Updated: January 11, 2022).
Havasu Canyon is a fragile environment and is subject to flash floods.

Because of flood damage that took place during 2018, and 2019, some areas in the canyon are OFF-LIMITS to visitors due to continuing repair work or unstable ground condition. Immediate closure of the canyon is possible at any given time during your visit. Visitors to Havasu Canyon assume all risks while in the canyon and should come prepared.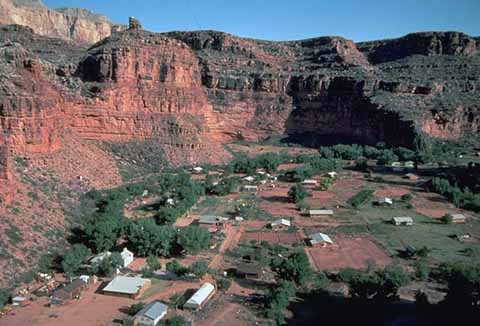 Supai Village
Located within Havasu Canyon, a large tributary on the south side of the Colorado River, Supai Village is not accessible by road. The Havasupai Tribe administers the land, which lies outside the boundary and jurisdiction of Grand Canyon National Park.
The Havasupai Tribe's website is located here:
http://theofficialhavasupaitribe.com/
There are many more reservation requests than available campground spaces. The impact of visitors in the canyon, 2018 flood damage, and the cost of maintaining trails and visitor services has been overwhelming.
An account with Havasupai Reservations is required to create a 2020 campground reservation.
https://www.havasupaireservations.com/
---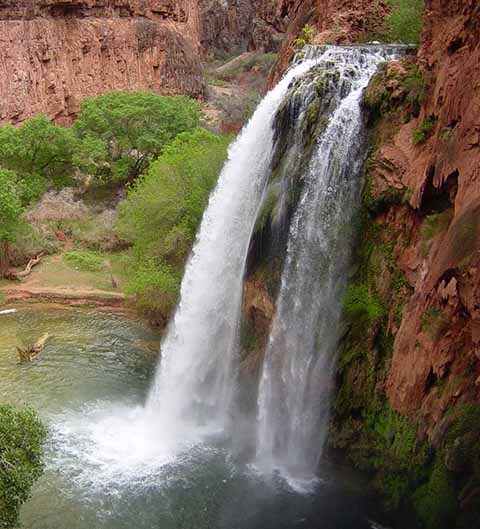 Havasupai
means people of the blue-green waters. The spectacular waterfalls and isolated community within the Havasupai Indian Reservation attract thousands of visitors each year. The Havasupai are intimately connected to the water and the land. When you enter their land, be respectful, you are entering their home.
Getting There
Supai village, located within Havasu Canyon, a large tributary on the south side of the Colorado River, is not accessible by road. The Havasupai Tribe administers the land, which lies outside the boundary and jurisdiction of Grand Canyon National Park.
NO DAY HIKING IS ALLOWED
RESERVATIONS ARE REQUIRED FOR ALL HIKERS AND CAMPERS.
Make sure you are fit, athletic, well hydrated and prepared for a difficult desert hike. Sunscreen and sunhats are recommended.
During summer months, temperatures can reach up to 115 degrees. Trails into Supai will be closed when the temperature exceeds 115 degrees.
Emergency assistance is not always available. Learn more...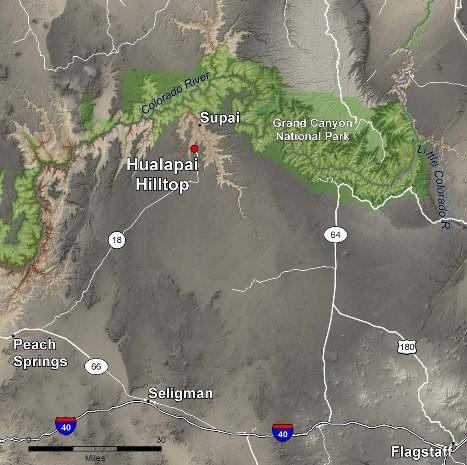 Driving Time
Approximate driving time from Grand Canyon Village on the South Rim of Grand Canyon National Park to Hualapai Hilltop is 4 hours.

Drive west from Williams on I-40 to Seligman, Arizona
Turn off onto U.S. 66 in Seligman, Arizona
Watch for Indian Highway 18, then turn right.
You will then travel 63 miles north to Hualapai Hilltop.

Reservations are required before entering the Havasupai Indian Reservation. Guests can hike down 8 miles to the lodge and tourist office, then 2 more miles to the campground.

Open Supai Region and Location Maps on their website

Open Havasu Canyon Trail and Supai Village Map on their website.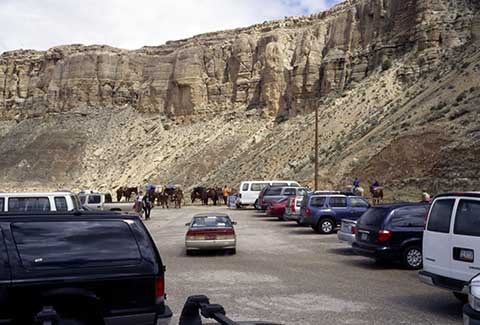 The Trail Begins at Hualapai Hilltop
191 miles/308 km from Grand Canyon Village
or 66 miles/106 km from Peach Springs, Arizona.
Peach Springs
has the nearest services including gas, food, and water. No services are available at Hualapai Hilltop.
Hiking from Hualapai Hilltop to Supai and Mooney Falls
is not a day hike. It is recommended as at least an
overnight hike
;
three days
is even better.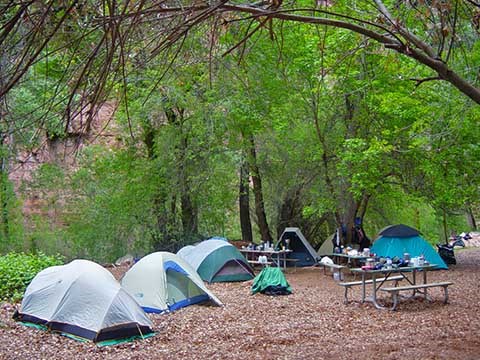 Trail Distances
(one way)
Miles-
Km
Hualapai Hilltop
to Supai
-8
13
Supai to campground
-2
-3
Hualapai Hilltop
to campground
10
16
Campground
to Mooney Falls
0.5
0.8
Mooney Falls
to Colorado River
-8
13
---
Fees (2019 Prices)
All fees and prices are subject to change without prior notice.
Contact Havasupai Tourist Enterprises to verify prices before visiting.

DRONES ARE PROHIBITED ON THE HAVASUPAI RESERVATION
Campground
The campground along Havasu Creek is 10 miles / 16 km from the trailhead at Hualapai Hilltop (2 mi. / 3 km below Supai). It serves up to 350 people. Available in campground, drinking water, restrooms, and picnic tables.
2019 Campground Reservation Pricing:
$100 per person per weekday night
$125 per person per weekend night (Friday/Saturday/Sunday nights)
These prices include all necessary permits, fees, and taxes.

All campground reservations will be for 3 nights / 4 days and must be made online at: https://www.havasupaireservations.com/

There will be NO phone reservations this year. Please do NOT Call!

The tribe requests that you please leave the phone lines open for actual customer service calls.

Havasupai Campground Customer Service Office
Camping: (928) 448-2180 or (928) 448-2237
(928) 448-2141 or (928) 448-2121
Customer Service lines are open from 9 am - 3 pm, Monday through Friday

Camping Tourist Office Hours
May - October 6 am - 6 pm
November - April 9 am - 3 pm

Campground is open March 1, through November 30, 2020
Peak Season: March- October
Reservations are required
No Campfires are allowed in the campground.


DRONES ARE PROHIBITED ON THE HAVASUPAI RESERVATION
Contact Information:
Havasupai Tourist Enterprises
http://theofficialhavasupaitribe.com/

Camping Office:
(928) 448-2121
Lodge Office:
(928) 448-2111

Trading Post/ Cafe:
(928) 448-2951

(This National Park Service webpage was updated on March 16, 2020)
Last updated: January 11, 2022