Where Dinosaurs Roamed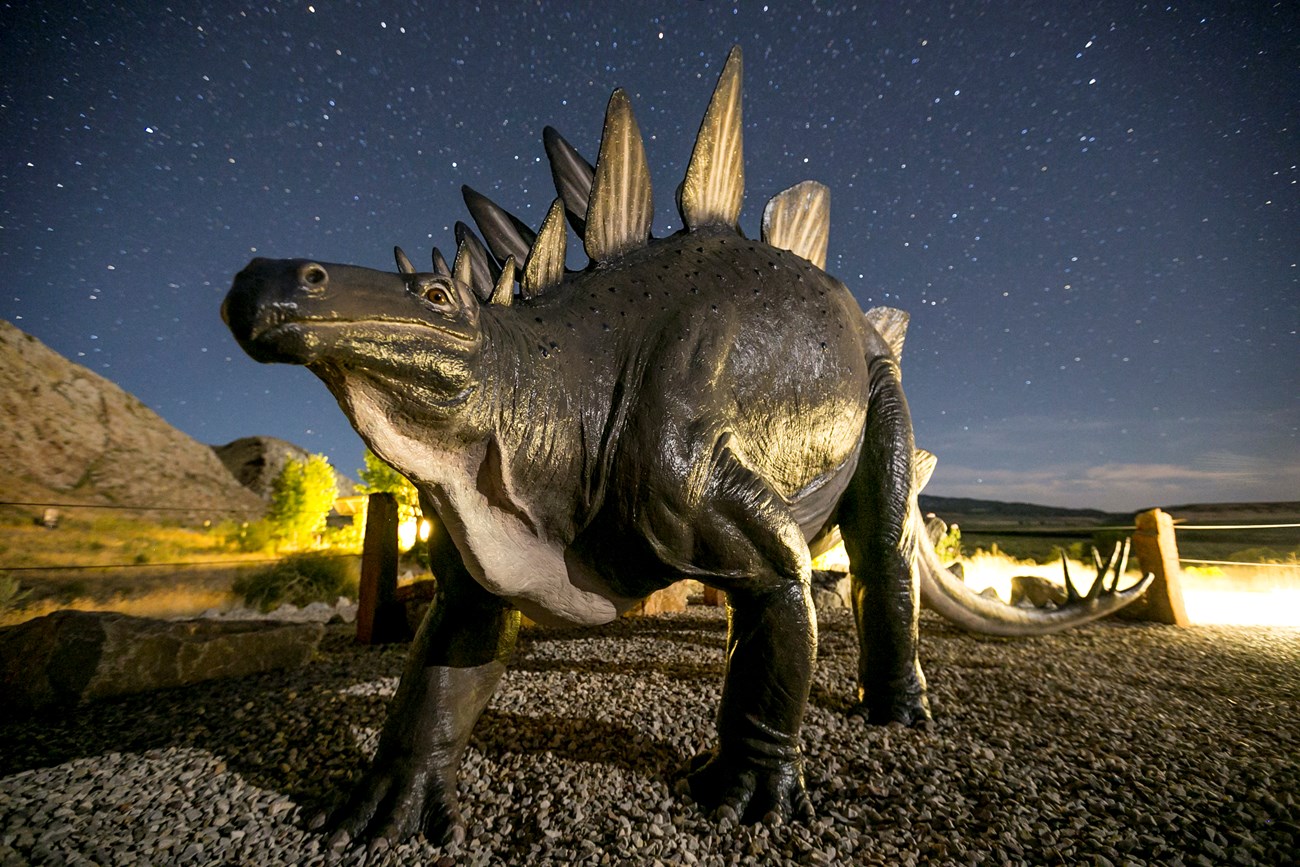 Introduction
Not counting birds, dinosaur fossils have been found on all seven continents and many countries. Dinosaur species have been named from 51 countries and Antarctica. Thirty or more species have been named from 12 countries: Argentina, Brazil, Canada, China, France, Germany, India, Mongolia, South Africa, Spain, the United Kingdom, and the United States. The United States and China are the top two, with more than 320 apiece. Because they are both big countries with varied geology, they have two of the most complete rock records of the Mesozoic.

Almost all of the United States have produced at least one dinosaur fossil (the exceptions are the states along the along the Ohio River and around Lake Michigan, the northern portion of New England, Florida, and Hawaii), although most finds come from a rectangular area from Montana and North Dakota south to Arizona and Texas. Dinosaurs are rare in the eastern half of the country because this area was generally eroding instead of being a place of deposition when dinosaurs were around. Eastern dinosaurs come from the rift valleys of the Late Triassic and Early Jurassic, and coastal areas of the much higher seas of the Cretaceous. We can see this pattern in a map of National Park Service units with dinosaur fossils, which are concentrated in and around the Colorado Plateau (Four Corners states).
National Parks with Dinosaurs
Twenty-two parks have yielded dinosaur body fossils or trace fossils. Two additional parks have dinosaur tracks in locally sourced building stone, and dinosaur fossils are associated in some way with four other parks.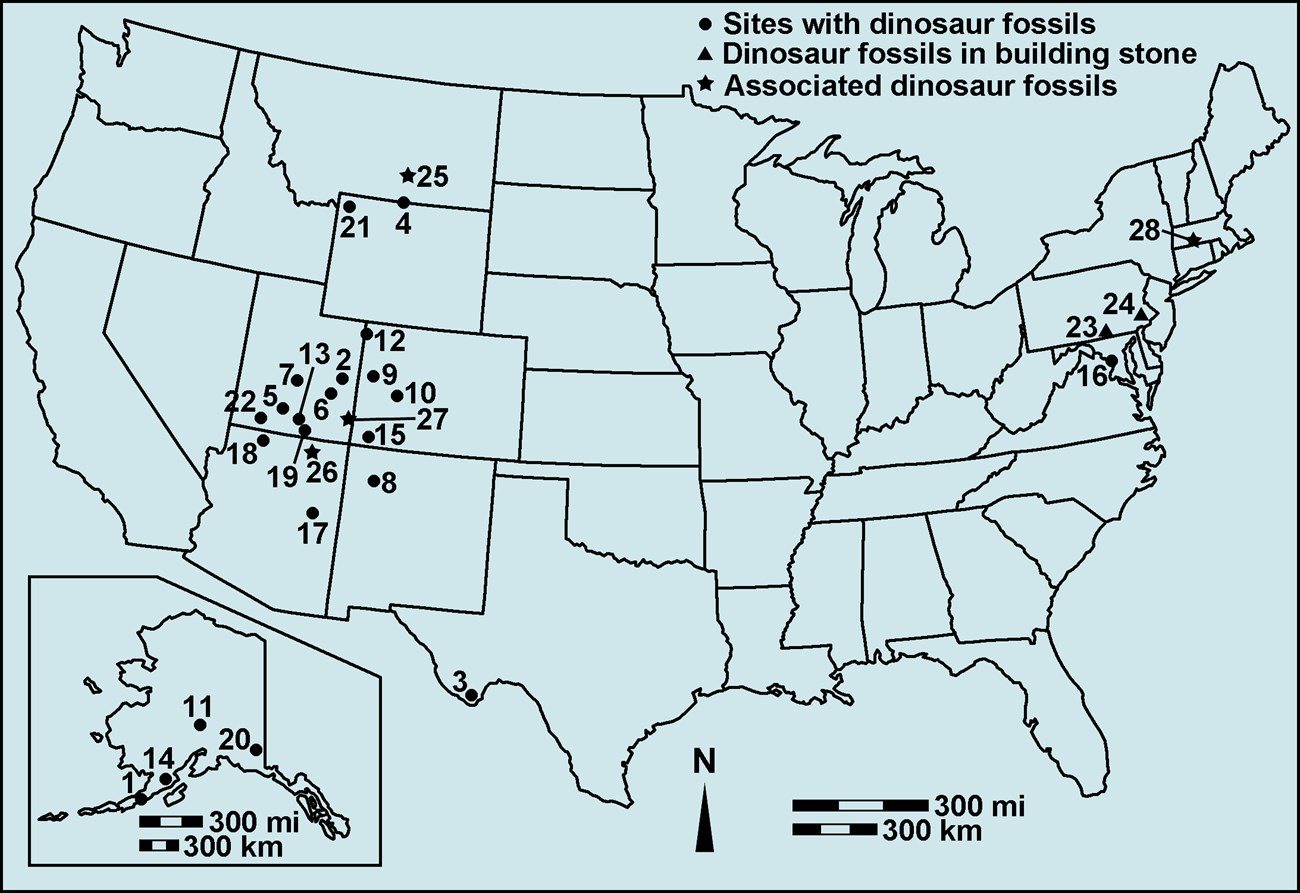 National Park Units
Aniakchak National Monument and Preserve (ANIA), Alaska—[ANIA Geodiversity Atlas] [ANIA Park Home] [ANIA npshistory.com]

Arches National Park (ARCH), Utah—[ARCH Geodiversity Atlas] [ARCH Park Home] [ARCH npshistory.com]

Big Bend National Park (BIBE), Texas—[BIBE Geodiversity Atlas] [BIBE Park Home] [BIBE npshistory.com]

Bighorn Canyon National Recreation Area (BICA), Montana and Wyoming—[BICA Geodiversity Atlas] [BICA Park Home] [BICA npshistory.com]

Bryce Canyon National Park (BRCA), Utah—[BRCA Geodiversity Atlas] [BRCA Park Home] [BRCA npshistory.com]

Canyonlands National Park (CANY), Utah—[CANY Geodiversity Atlas] [CANY Park Home] [CANY npshistory.com]

Capitol Reef National Park (CARE), Utah—[CARE Geodiversity Atlas] [CARE Park Home] [CARE npshistory.com]

Chaco Culture National Historical Park (CHCU), New Mexico—[CHCU Geodiversity Atlas] [CHCU Park Home] [CHCU npshistory.com]

Colorado National Monument (COLM), Colorado—[COLM Geodiversity Atlas] [COLM Park Home] [COLM npshistory.com]

Curecanti National Recreation Area (CURE), Colorado—[CURE Geodiversity Atlas] [CURE Park Home] [CURE npshistory.com]

Denali National Park and Preserve (DENA), Alaska—[DENA Geodiversity Atlas] [DENA Park Home] [DENA npshistory.com]

Dinosaur National Monument (DINO), Colorado and Utah—[DINO Geodiversity Atlas] [DINO Park Home] [DINO npshistory.com]

Glen Canyon National Recreation Area (GLCA), Arizona and Utah—[GLCA Geodiversity Atlas] [GLCA Park Home] [GLCA npshistory.com]

Katmai National Park and Preserve (KATM), Alaska (possible record)—[KATM Geodiversity Atlas] [KATM Park Home] [KATM npshistory.com]

Mesa Verde National Park (MEVE), Colorado—[MEVE Geodiversity Atlas] [MEVE Park Home] [MEVE npshistory.com]

Oxon Run Parkway, District of Columbia

Petrified Forest National Park (PEFO), Arizona—[PEFO Geodiversity Atlas] [PEFO Park Home] [PEFO npshistory.com]

Pipe Spring National Monument (PISP), Arizona—[PISP Geodiversity Atlas] [PISP Park Home] [PISP npshistory.com]

Rainbow Bridge National Monument (RABR), Utah—[RABR Geodiversity Atlas] [RABR Park Home] [RABR npshistory.com]

Wrangell-St. Elias National Park and Preserve (WRST), Alaska (possible record)—[WRST Geodiversity Atlas] [WRST Park Home] [WRST npshistory.com]

Yellowstone National Park (YELL), Idaho, Montana, and Wyoming—[YELL Geodiversity Atlas] [YELL Park Home] [YELL npshistory.com]

Zion National Park (ZION), Utah—[ZION Geodiversity Atlas] [ZION Park Home] [ZION npshistory.com]
Fossils in Building Stone
Gettysburg National Military Park (GETT), Pennsylvania—[GETT Geodiversity Atlas] [GETT Park Home] [GETT npshistory.com]

Valley Forge National Historical Park (VAFO), Pennsylvania—[VAFO Geodiversity Atlas] [VAFO Park Home] [VAFO npshistory.com]
Associated Resource(s)
National Natural Landmarks and National Historic Landmarks with Dinosaurs
In addition to National Park Service units, the NPS also administers the National Natural Landmarks and National Historic Landmarks programs. These sites are not owned by the NPS, and some of them are not open to the public, but they also include a number of significant paleontological sites. Fourteen National Natural Landmarks have dinosaur fossils, and four National Historic Landmarks have a connection to dinosaur paleontology.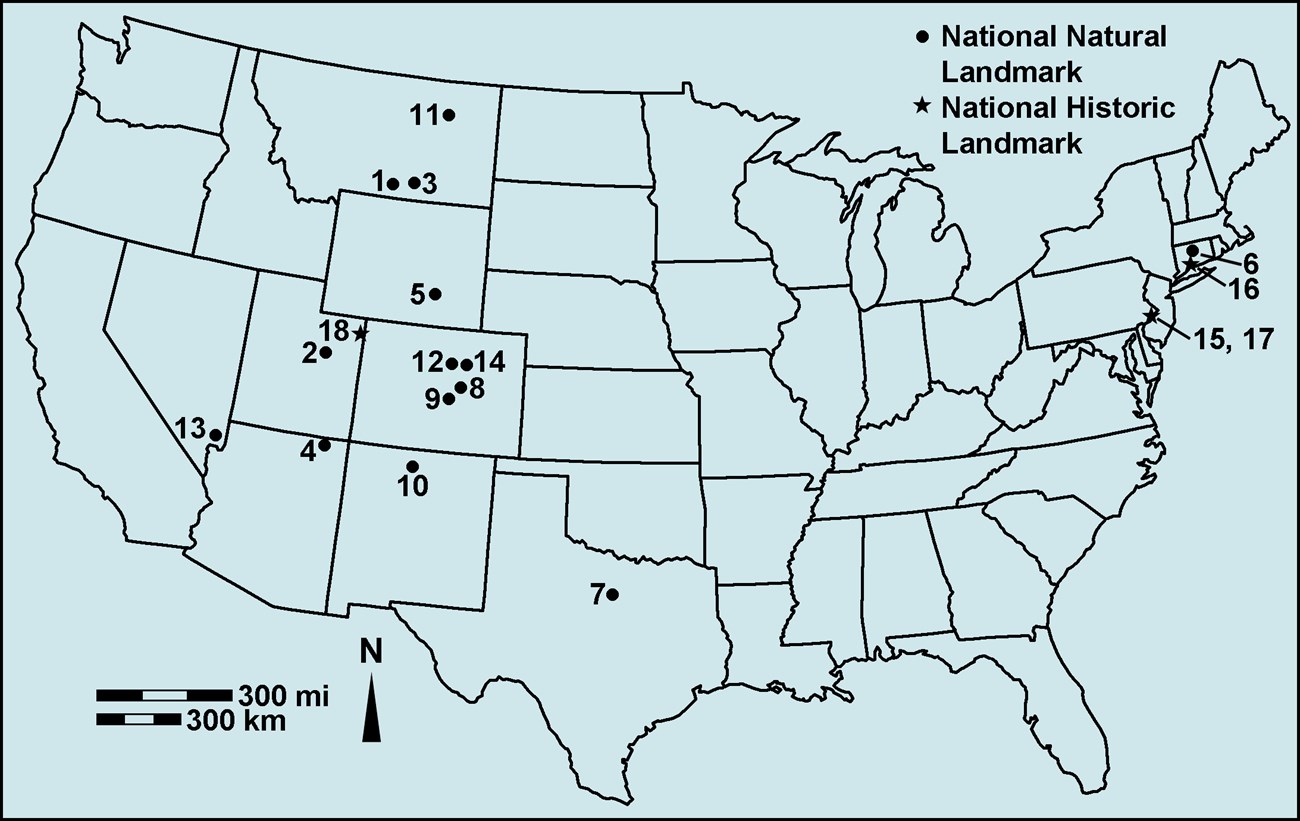 National Natural Landmarks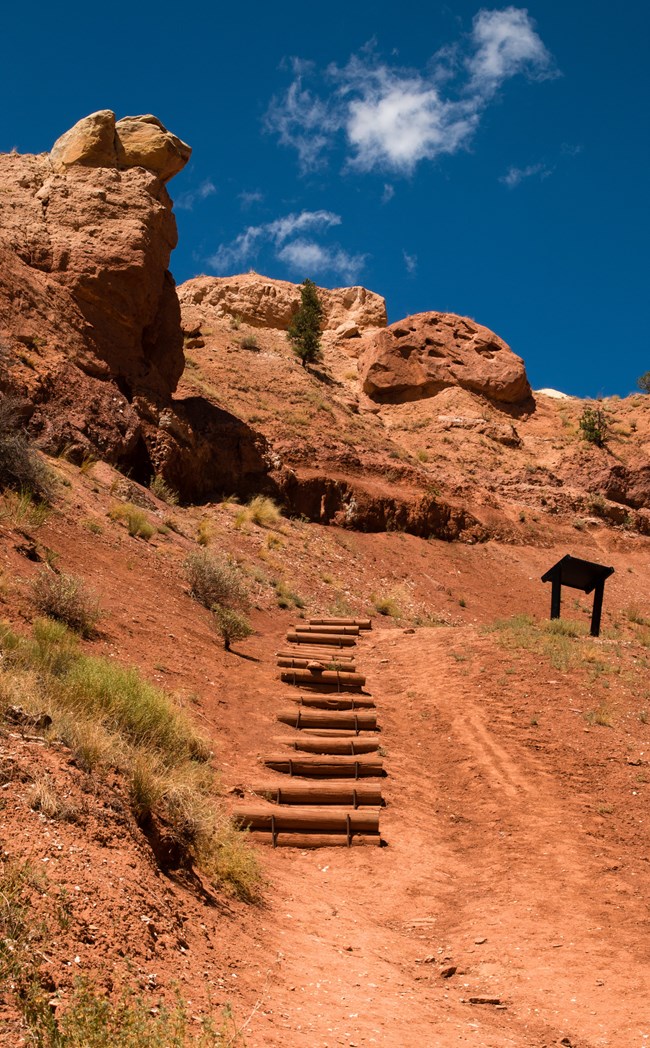 Bridger Fossil Area National Natural Landmark, Montana

Cleveland-Lloyd Dinosaur Quarry National Natural Landmark and Jurassic National Monument, Utah

Cloverly Formation Site National Natural Landmark, Montana

Comb Ridge National Natural Landmark, Arizona

Como Bluff National Natural Landmark, Wyoming

Dinosaur Trackway National Natural Landmark, Connecticut

Dinosaur Valley State Park National Natural Landmark, Texas

Garden of the Gods National Natural Landmark, Colorado

Garden Park Fossil Area National Natural Landmark, Colorado

Ghost Ranch National Natural Landmark, New Mexico

Hell Creek Fossil Area National Natural Landmark, Montana

Morrison-Golden Fossil Areas National Natural Landmark, Colorado

Valley of Fire National Natural Landmark, Nevada

West Bijou Site National Natural Landmark, Colorado
National Historic Landmarks
Edward Drinker Cope House National Historic Landmark, Pennsylvania

Hadrosaurus Foulkii Leidy Site National Historic Landmark, New Jersey

Othniel Charles Marsh House National Historic Landmark, Connecticut

Quarry Visitor Center National Historic Landmark, Utah
Age of Dinosaurs (2021)
Text by Justin Tweet (AGI). Contributors: Vincent Santucci (GRD), Adam Marsh (PEFO), ReBecca Hunt-Foster (DINO), Don Corrick (BIBE). Project Lead / Web Development, Jim Wood (GRD).
References
Tweet, J.S. and V.L. Santucci. 2018. An Inventory of Non-Avian Dinosaurs from National Park Service Areas. in Lucas, S.G. and Sullivan, R.M., (eds.), Fossil Record 6. New Mexico Museum of Natural History and Science Bulletin 79: 703-730. https://irma.nps.gov/DataStore/Reference/Profile/2257153

Santucci, V.L., A. Marsh, W. Parker, D. Chure, and D. Corrick, 2018. "Age of Reptiles": Uncovering the Mesozoic Fossil Record in three Intermountain national parks. IMR Crossroads. Spring 2018, p. 4-11. https://irma.nps.gov/DataStore/Reference/Profile/2253529
Last updated: May 30, 2023