Article
NPS Geodiversity Atlas—Mesa Verde National Park, Colorado
Geodiversity refers to the full variety of natural geologic (rocks, minerals, sediments, fossils, landforms, and physical processes) and soil resources and processes that occur in the park. A product of the Geologic Resources Inventory, the NPS Geodiversity Atlas delivers information in support of education, Geoconservation, and integrated management of living (biotic) and non-living (abiotic) components of the ecosystem.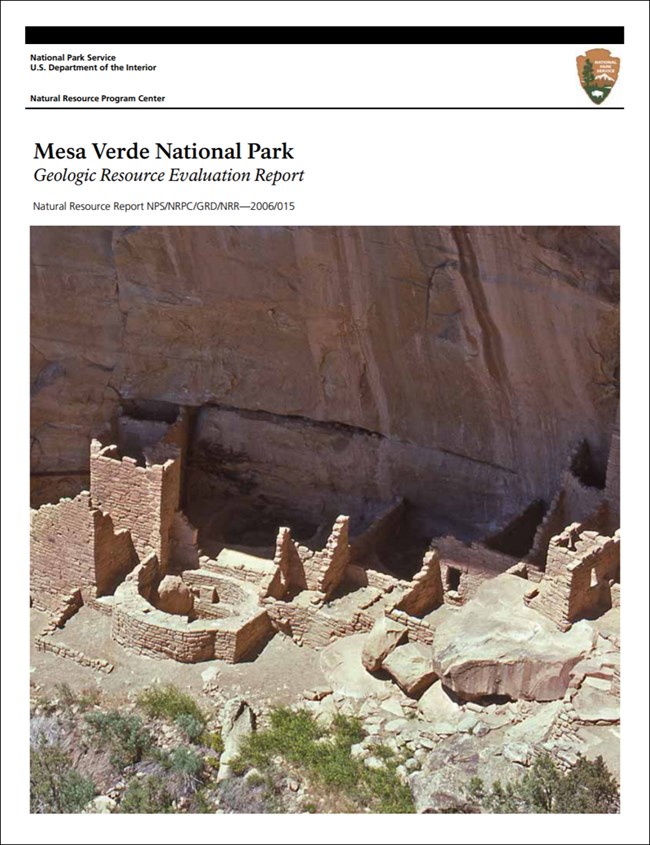 Geologic Features and Processes
Mesa Verde National Park preserves unique cliff dwellings and archaeological treasures left by the ancestral Puebloans that are now a World Heritage Site. These cliff dwellings were built into alcoves within the Cretaceous Cliff House Sandstone Formation. Most of the communities were located at roughly 7,000 feet in elevation. The main landform at Mesa Verde is considered to be a cuesta because the mesa has a gentle slope to the south and a 2,000 foot escarpment on the north side (Graham 2006).

Alcoves formed in the Cliff House Sandstone by the percolation of slightly acidic groundwater through the porous sandstone dissolving any cement material that held the grains together. These grains were then removed through erosional processes that included wind, water, and frost weathering.
Paleontological Resources
Mesa Verde is geographically situated in a highly fossiliferous region of North America once submerged by the Western Interior Seaway until the end of the Cretaceous (Tweet et al. 2009). Paleontological resources are documented from three units at the park: Mancos Shale (Cretaceous), Mesa Verde Group; Point Lookout Sandstone (Upper Cretaceous); and Mesa Verde Group, Menefee Formation (Upper Cretaceous). Fossil specimens found within the park include plant remains, ammonites, pyritized clams, gastropods, bivalves, foraminifera, shark teeth, fish bones and teeth, and trace fossils.

All NPS fossil resources are protected under the Paleontological Resources Preservation Act of 2009 (Public Law 111-11, Title VI, Subtitle D; 16 U.S.C. §§ 470aaa - 470aaa-11).
Cave and Karst
Mesa Verde contains significant cliff dwellings of the ancestral Puebloan people. These cliff dwellings were built in what could have originated as a cave or alcove, and at times were later modified for the occupancy of the Puebloans. Limestone is present at the park and is formed in the Upper Cretaceous (100 million years ago) Juana Lopez Member and Bridge Creek Member of the Mancos Shale.

All NPS cave resources are protected under the the Federal Cave Resources Protection Act of 1988 (FCRPA)(16 U.S.C. § 4301 et seq.).
Geologic Hazards
The sandstone cliffs at Mesa Verde are susceptible to ongoing frost weathering and erosion, which can lead to unstable cliffs. The siltstone, mudstone, and shale slopes beneath the cliffs are not resistant to erosional forces. These natural geologic conditions can cause rockfall which is a major hazard to the park, visitor safety, and cultural artifacts.
Geology Field Notes
Students and teachers of college-level (or AP) introductory geology or earth science teaching courses will find that each park's Geologic Resource Inventory report includes the Geologic History, Geologic Setting, and Geologic Features & Processes for the park which provides a useful summary of their overall geologic story. See Maps and Reports, below.
Regional Geology
Mesa Verde is a part of the Colorado Plateaus Physiographic Province and shares its geologic history and some characteristic geologic formations with a region that extends well beyond park boundaries.
The
Geologic Resources Inventory
produces digital geologic maps and reports for more than 270
natural resource parks
. The products listed below are currently available for this park, check back often for updates as many maps, reports, and posters are still in progress.
Scoping summaries are records of scoping meetings where NPS staff and local geologists determined the park's geologic mapping plan and what content should be included in the report.
Digital geologic maps include files for viewing in GIS software, a guide to using the data, and a document with ancillary map information. Newer products also include data viewable in Google Earth and online map services.
Reports use the maps to discuss the park's setting and significance, notable geologic features and processes, geologic resource management issues, and geologic history.
Posters are a static view of the GIS data in PDF format. Newer posters include aerial imagery or shaded relief and other park information. They are also included with the reports.
Projects list basic information about the program and all products available for a park.
Related Articles
Mesa Verde National Park
National Park Service Geodiversity Atlas
The servicewide Geodiversity Atlas provides information on geoheritage and geodiversity resources and values within the National Park System. This information supports science-based geoconservation and interpretation in the NPS, as well as STEM education in schools, museums, and field camps. The NPS Geologic Resources Division and many parks work with National and International geoconservation communities to ensure that NPS abiotic resources are managed using the highest standards and best practices available.

For more information on the NPS Geodiversity Atlas, contact us.
Last updated: October 25, 2019