Geodiversity refers to the full variety of natural geologic (rocks, minerals, sediments, fossils, landforms, and physical processes) and soil resources and processes that occur in the park. A product of the Geologic Resources Inventory, the NPS Geodiversity Atlas delivers information in support of education, Geoconservation, and integrated management of living (biotic) and non-living (abiotic) components of the ecosystem.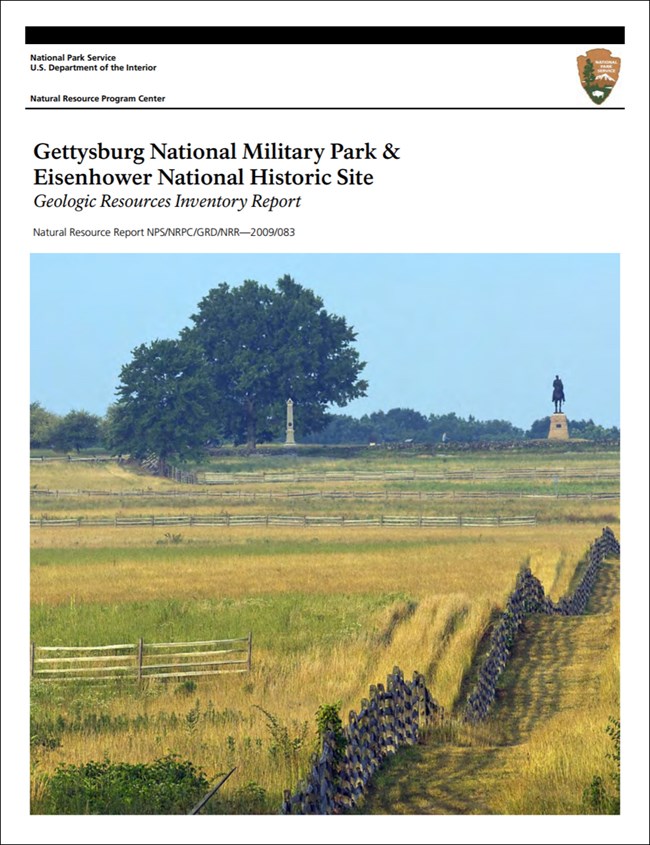 Geologic Features and Processes
The Gettysburg basin is one of a series of many north- northeast trending, fault-bounded structural basins along the eastern edge of the Appalachian Mountains in the Piedmont Plateau physiographic province. The Gettysburg Formation is the donimant geologic unit in the battlefield and consists of layers of siltstone, shale, and sandstone.
Military Geology
The Battle of Gettysburg was the largest battle ever fought on American soil and proved a major turning point in the Civil War (1861–1865). The underlying geology and surface topography were major influences on the flow of the battle as well as its outcome (Cuffey et al. 2006). Skillful use of the terrain of the battlefield, including the transportation of supplies and personnel, maneuvering of troops, and procurement of adequate water and construction materials for field fortifications, relied on an understanding of geologic principles (Kiersch and Underwood 1998; Doyle 2006). Union and Confederate forces had access to geologic and topographic maps, and surveys and knowledge of science, including geology, was an asset in battle (Larson et al. 2004).

Campaign and Battle of Gettysburg
Gettysburg was the first battle re-interpreted from a geologic perspective (Doyle 2006). Because the influence of geology on the military activity leading up to and during the Battle of Gettysburg is so obvious and important, many studies have focused on this topic. Inners et al. (2006) produced an excellent geologic guidebook for the battlefield. A short summary can be found in the Geologic Resources Inventory Report.
Paleontological Resources
Fossils are rather rare in the Gettysburg basin. However, the geologic units located in the Gettysburg National Military Park and Eisenhower National Historic Site area contain microfossils, invertebrates, plants, fossil pollen, and various invertebrate and vertebrate trace fossils (Kenworthy et al. 2006). Paleontological resources are present within the building stones of historic structures and monuments at the park.

All NPS fossil resources are protected under the Paleontological Resources Preservation Act of 2009 (Public Law 111-11, Title VI, Subtitle D; 16 U.S.C. §§ 470aaa - 470aaa-11).
Abandoned Mineral Lands
The rocks of the Gettysburg basin have attracted mining interest for well over a century. Several older quarries located within the park predate the Civil War; later development of the park and monuments utilized these quarries (GRI, scoping notes, 2004). The silty shale and mudstone of the Gettysburg Formation quarried for brick making provided early building materials to the community.

NPS AML sites can be important cultural resources and habitat, but many pose risks to park visitors and wildlife, and degrade water quality, park landscapes, and physical and biological resources. Be safe near AML sites—Stay Out and Stay Alive!
Geohazards
Natural geologic processes continue to shape the park on time scales ranging from seconds to years. Natural materials and processes can create geologic hazards and associated risks. Be cautious and alert to geohazards that may be present in the park, including:
Arsenic Contamination
Radon Gas
Flooding
Landsliding, Slumping, and Slope Creep
Seismic Activity
Geology Field Notes
Students and teachers of college-level (or AP) introductory geology or earth science teaching courses will find that each park's Geologic Resource Inventory report includes the Geologic History, Geologic Setting, and Geologic Features & Processes for the park which provides a useful summary of their overall geologic story. See Maps and Reports, below.
Regional Geology
Gettysburg is a part of the Piedmont Physiographic Province and shares its geologic history and some characteristic geologic formations with a region that extends well beyond park boundaries.
The
Geologic Resources Inventory
produces digital geologic maps and reports for more than 270
natural resource parks
. The products listed below are currently available for this park, check back often for updates as many maps, reports, and posters are still in progress.
Scoping summaries are records of scoping meetings where NPS staff and local geologists determined the park's geologic mapping plan and what content should be included in the report.
Digital geologic maps include files for viewing in GIS software, a guide to using the data, and a document with ancillary map information. Newer products also include data viewable in Google Earth and online map services.
Reports use the maps to discuss the park's setting and significance, notable geologic features and processes, geologic resource management issues, and geologic history.
Posters are a static view of the GIS data in PDF format. Newer posters include aerial imagery or shaded relief and other park information. They are also included with the reports.
Projects list basic information about the program and all products available for a park.
Related Articles
Gettysburg National Military Park
National Park Service Geodiversity Atlas
The servicewide Geodiversity Atlas provides information on
geoheritage
and
geodiversity
resources and values within the National Park System. This information supports science-based
geoconservation
and interpretation in the NPS, as well as STEM education in schools, museums, and field camps. The
NPS Geologic Resources Division
and many parks work with National and International geoconservation communities to ensure that NPS abiotic resources are managed using the highest standards and best practices available.
For more information on the NPS Geodiversity Atlas,
contact us
.