Geodiversity refers to the full variety of natural geologic (rocks, minerals, sediments, fossils, landforms, and physical processes) and soil resources and processes that occur in the park. A product of the Geologic Resources Inventory, the NPS Geodiversity Atlas delivers information in support of education, Geoconservation, and integrated management of living (biotic) and non-living (abiotic) components of the ecosystem.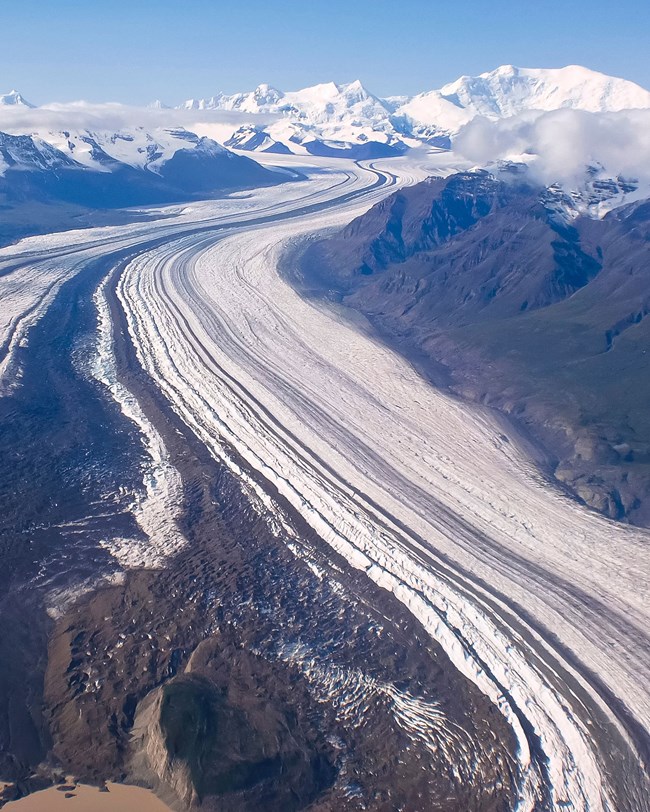 Geologic Features and Processes
[Site Under Development]

Wrangell-St. Elias National Park and Preserve is the nation's largest national park unit (13.2 million acres), and designated wilderness (9.6 million acres). The park and preserve extend over a vast region with diverse environments, representing some of the most outstanding examples of Alaskan natural and cultural resources. Extensive high mountain terrain, enormous glaciers and ice-fields, active thermal features, large canyons, extensive wildlife populations, and major historic mining features represent the significance of the park and preserve. Wrangell-St. Elias National Park and Preserve, Kluane National Park in Canada, Glacier Bay National Park and Preserve, and British Columbia's Tatshenshini-Alsek Park are, together, the world's largest designated World Heritage Site—an area encompassing 28 million acres.

Geologically, the Wrangell-St. Elias National Preserve is significant because it contains:
the largest assemblage of glaciers and greatest collection of peaks over 16,000 feet in the National Park System. The Nabesna Glacier is the world's longest interior valley glacier (over 75 miles long), the Malaspina Glacier is North America's largest piedmont glacier (nearly 40 miles across), and the Hubbard Glacier is the longest tidewater glacier in Alaska (over 76 miles long with an open calving face covering over 6 miles),
The Bagley Icefield—the largest, subpolar icefield in North America,
Chitistone and Nizina Canyons which display many of the diverse geological features and processes of eastern Alaska in a relatively small area,
Wrangell Volcanic Field which contains active Mt. Wrangell, one of the largest andesitic volcanoes in the world,
active thermal features such as mud volcanoes and thermal springs, and
major historic mining features – Kennecott Copper deposits among others.
The
Geologic Resources Inventory
produces digital geologic maps and reports for more than 270
natural resource parks
. The products listed below are currently available for this park, check back often for updates as many maps, reports, and posters are still in progress.
Scoping summaries are records of scoping meetings where NPS staff and local geologists determined the park's geologic mapping plan and what content should be included in the report.
Digital geologic maps include files for viewing in GIS software, a guide to using the data, and a document with ancillary map information. Newer products also include data viewable in Google Earth and online map services.
Reports use the maps to discuss the park's setting and significance, notable geologic features and processes, geologic resource management issues, and geologic history.
Posters are a static view of the GIS data in PDF format. Newer posters include aerial imagery or shaded relief and other park information. They are also included with the reports.
Projects list basic information about the program and all products available for a park.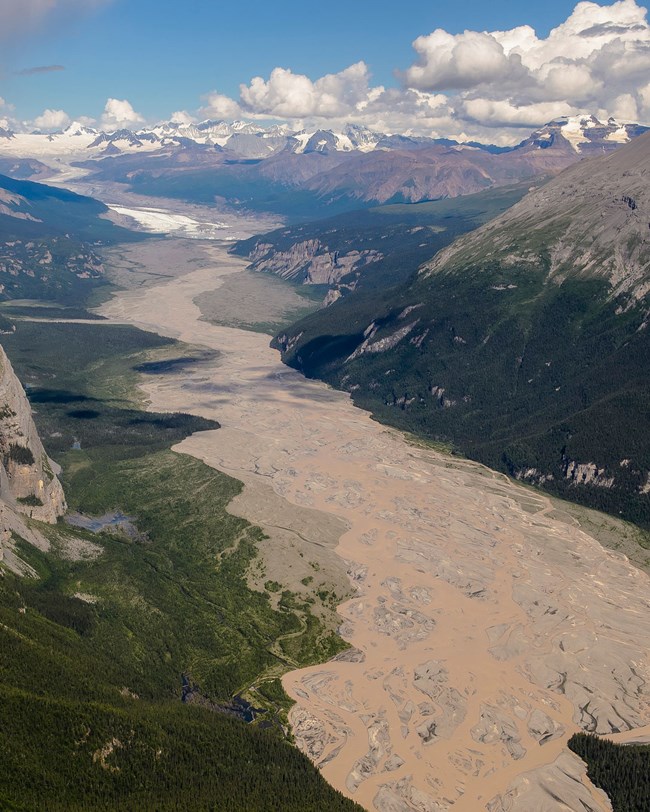 Related Links
Related Articles
Wrangell-St. Elias National Park
National Park Service Geodiversity Atlas
The servicewide Geodiversity Atlas provides information on geoheritage and geodiversity resources and values within the National Park System. This information supports science-based geoconservation and interpretation in the NPS, as well as STEM education in schools, museums, and field camps. The NPS Geologic Resources Division and many parks work with National and International geoconservation communities to ensure that NPS abiotic resources are managed using the highest standards and best practices available.

For more information on the NPS Geodiversity Atlas, contact us.