Frequently Asked Questions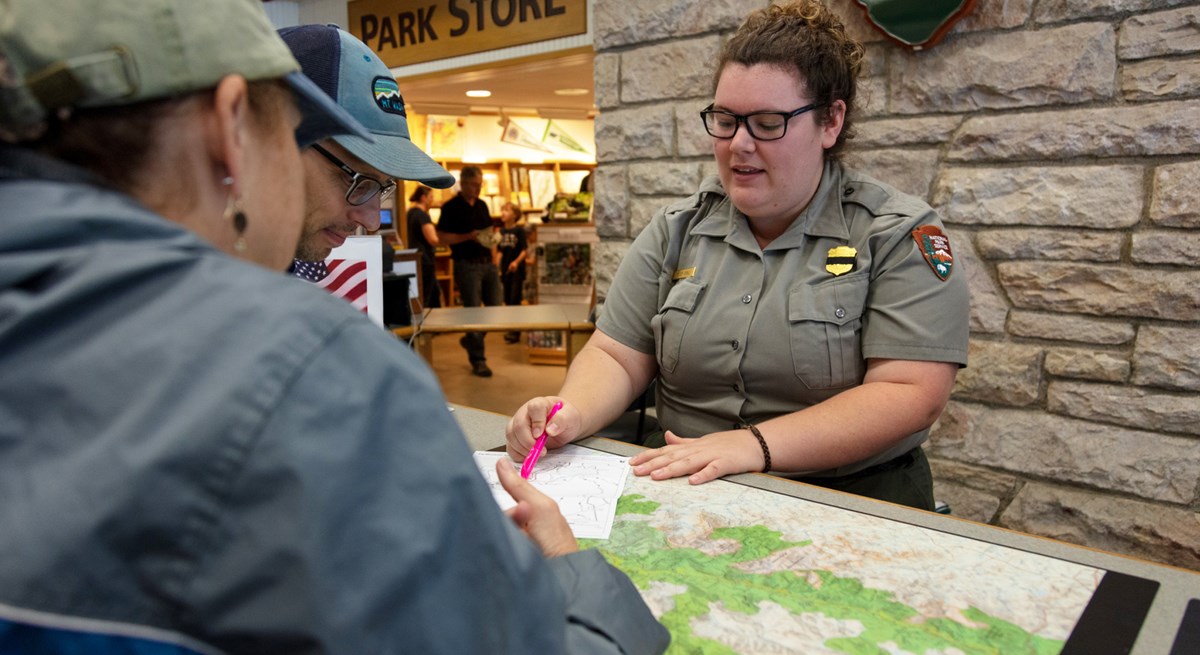 Eating & Sleeping
There are several dining facilities in the park, from sit down restaurants to grab'n go food options. These are all run by Delaware North, our concessioner. Wayside is a local term that you may see used for rest-stops with facilities.
There are several different lodging facilities available in Shenandoah National Park, all run by Delaware North, our concessioner.
Car camping is not allowed along the road, in overlooks, or in picnic grounds. You may park overnight in Shenandoah while camping in the Park's backcountry, however. Your backcountry itinerary dictates where you will park. You may park at trailheads where parking is provided, and at entrance stations, if space permits. Visitor Centers, picnic areas, waysides, and overlooks also have parking space. Be sure you are not blocking Skyline Drive, administrative/fire roads, or overlooks.
Transportation
The maximum speed limit throughout the park is 35 miles per hour. Speed limits are reduced in developed areas such as campgrounds and picnic grounds. With over 75 scenic overlooks along the way, most people need at least 3-4 hours to simply drive through Shenandoah.
Gas is available at Big Meadows Wayside (mile 51), but it is always a good idea to enter the park with a full tank as the gas pumps can be unreliable, especially in the winter.
There are no authorized shuttle providers in Shenandoah National Park. You will need to make your own arrangements for transportation to, from, and within the park.
Cycling is permitted along Skyline Drive and on paved areas in the park. Rroad and mountain bikes are not permitted on trails, unpaved roads, or in grassy areas. Be very careful if you decide to bike on Skyline Drive. Drivers are often paying more attention to the scenery than to the roadway. Dense fog is possible any day of the year at any time of the day, and cyclists must have headlights and taillights during foggy conditions. Be prepared for steep uphill climbs and unforgiving road shoulders lined by rock walls.
Motor homes, RVs, camping trailers, and horse trailers are welcome in Shenandoah National Park, but be prepared to shift into low gear. Be sure you will clear Marys Rock Tunnel (mile 32.2), with a maximum clearance of 12'8". This is the measured clearance for both lanes of the road. You can visit Shenandoah without traveling through the tunnel by only visiting the northern or southern section of the park.
Outdoor Activities
Permits are not required for day hiking, however, they are required for backcountry camping. Backcountry campers should be self-reliant and review camping regulations before self-registering for their backcountry permits, which can be done online, or at a number of kiosks in the park. Kiosks are located at: entrance stations, Loft Mountain Wayside, North and South entry points of the Appalachian Trail, and the Old Rag Trailhead parking area.
Shenandoah offers over 500 miles of hiking trails, including 101 miles of the Appalachian Trail. Trails range from short, easy walks to long, rugged rock scrambles.
In-person ranger programs are typically offered in the spring, summer, and fall. Ranger-guided programs give visitors the opportunity to explore the wonders of Shenandoah with a Park Ranger. Discover stories of Shenandoah's past, take a walk through a unique mountain meadow, or learn about the animals and plants that thrive here. If you can't make it to an in-person program, we also have virtual programs available online!
There are a number of waterfalls in the park, although none are visible from Skyline Drive and you must hike in order to see them.
There are no swimming pools or lakes in Shenandoah National Park. Swimming is allowed in all park streams, but most of them are shallow and rocky. Remember that these mountaintop streams can be extremely cold, even during the summer. Hiking is required for most streams that are deep enough for wading or swimming. Never climb on, or around, waterfalls—the rocks are extremely slippery!
All park streams are open to catch-and-release fishing. Additionally, some designated streams are open to harvest. Special regulations are in place, and a Virginia state fishing license is required. Some hiking is required to reach fishing streams.
Shenandoah National Park has no navigable waters. Many people spend part of their trip outside of the park on the Shenandoah River to get their water fix. There are a number of private outfitters that rent equipment and operate guided trips outside of the park.
Delaware North, the park concessioner, typically offers guided trail rides from Skyland. If you'd like to bring your own horse, Shenandoah offers over 180 miles of horse trails. Special horse use regulations are in place for horse use your safety and to help protect park resources. 
Maybe. In order to be legal for use in Shenandoah, twig burning stoves must be self-contained and designed for backpacking use. This means that the stove must be small enough (usually ~6 cu. in. or less) to be packed and carried by an individual as part of a backpacking trip, and must burn short twigs no larger than the diameter of a common pencil. Twigs must be burned completely to ash, which must also be quenched with water to ensure fire is completely out before scattering ashes. Larger portable stoves and grills intended for group-use or heating purposes as well as cooking remain prohibited in the park's backcountry.


Last updated: July 9, 2021