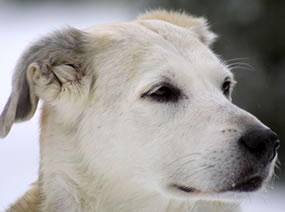 Shenandoah National Park is one of only a few national parks that allow pets on trails. The regulations that cover pets and their owners have been carefully developed to allow you to share your park experience with your pet while still protecting the native animals and other park resources, as well as other visitors. If you choose to bring your pet to Shenandoah you must be prepared to follow the regulations.
Remember that you are taking your pet into a different environment and you are responsible for your pet. Do you have enough water for yourself and your pet? Does your pet have the endurance (and paw pads!) to hike the trail you have chosen? What will your pet do if you encounter a bear or a snake? Are you prepared for the unexpected? Have you considered your pet in your preparations? Nearly every summer weekend we have numerous carry-outs when hikers are injured or become ill. It takes all our staff to keep our visitors and the park safe. If your pet becomes disabled on the trail, what will you do?
In addition to considering your pet's well-being, please be aware of the following pet-related policies and regulations.
Your pet must be on a leash no longer than 6 feet at all times.
Pets are allowed in campgrounds and pet-friendly lodging is available.
Pets are allowed, if leashed, on most trails.
Pets are NOT allowed on Ranger Programs
Pets are NOT allowed on the following trails
Fox Hollow Trail (mile 4.6)
Traces Trail (mile 22.02)
Stony Man Trail (mile 41.7)
Limberlost Trail (milepost 43)
Old Rag Ridge Trail
Ragged Run Trail
Old Rag Saddle Trail (above Old Rag Shelter)
Dark Hollow Falls Trail (mile 50.7)
Story of the Forest Trail (milepost 51)
Bearfence Mountain Trail (mile 56.4)
Frazier Discovery Trail (mile 79.5)
This list totals fewer than 20 miles of the 500 miles of trails in the Shenandoah National Park.