Wildflowers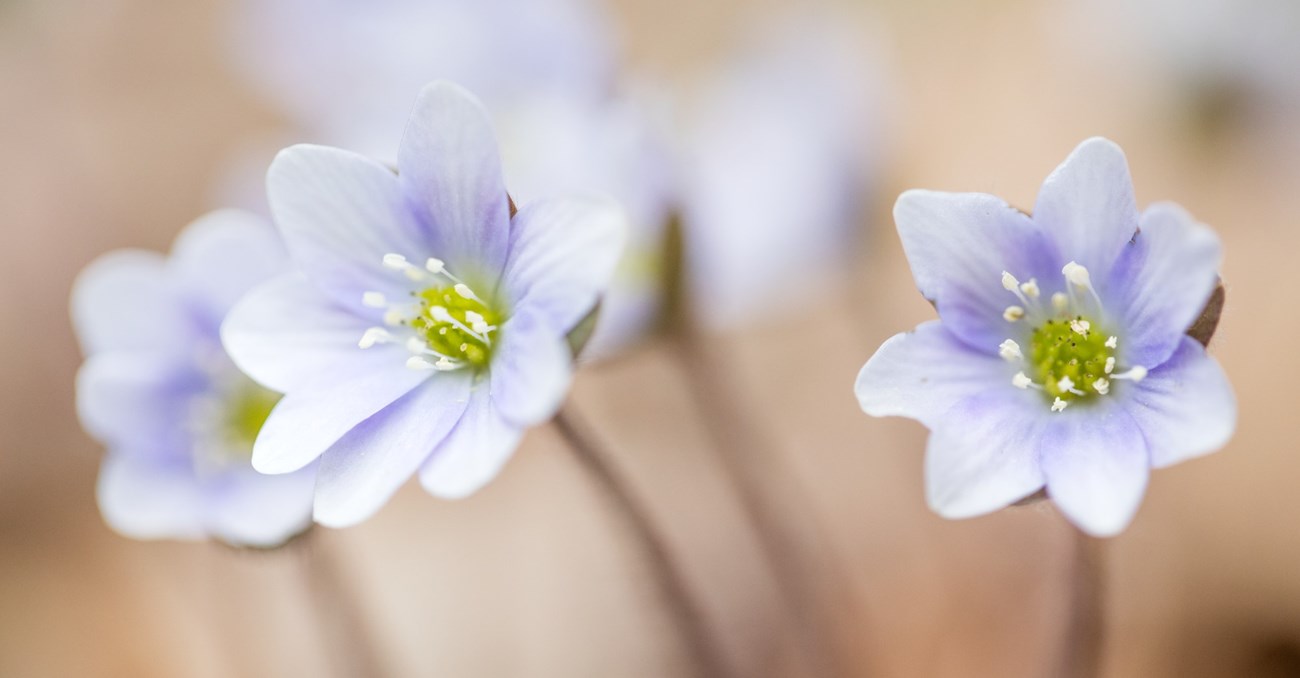 Wildflowers abound in Shenandoah National Park, providing a beautiful and varied display throughout the growing season. The display begins in early Spring (late March) as the hepatica (Anemone americana), and bloodroot (Sanguinaria canadensis) push their way through the forest leaf litter. As the days continue to warm, purple and yellow violets flower (Viola spp.), and the large-flowered trillium (Trillium grandiflorum), pink lady's slippers (Cypripedium acaule), and wild geraniums (Geranium maculatum) appear within the forest.
In spring and summer, the small blue and yellow flowers of bluets or Quaker ladies (Houstonia caerulea) line many trails. May is the time for pink azaleas (Rhododendron spp.) to bloom in the forest and along Skyline Drive, followed by the white flowers of mountain laurel (Kalmia latifolia) in June. Summer is the time for flowers such as columbine (Aquilegia canadensis), milkweed (Asclepias spp), nodding onion (Allium cernuum), ox eye daisy (Leucanthemum vulgare), and turk's cap lily (Lilium superbum) to bloom. Also in summer, look for the yellow and orange flowers of touch-me-nots (Impatiens spp.) along streams and near springs, and countless spiked blooms of black cohosh (Actaea racemosa) rising above the forest floor. The Park's growing season concludes with a strong display of goldenrods ( Solidago spp.), asters (Symphyotrichum spp.), and wild sunflowers (Helianthus spp.) into the fall.
Wildflowers comprise 862 species, or greater than half of the 1406 vascular plant species found in Shenandoah National park. Almost 20% of these species are in the aster (Asteraceae) family. The next most abundantly represented wildflower plant families are the pea (Fabaceae), lily (Lilaceae), mint (Lamiaceae) and mustard (Brassicaceae) families. The rich diversity of wildflowers in the park is particularly evident in spring at the lower elevations along streams such as South River, Hughes River, Rose River, and Mill Prong. Later in the season, the banks of Skyline Drive and the Big Meadows area are great places to see summer and fall wildflowers.
View the wildflower calendar for a list of more frequently seen wildflowers and when they bloom, or view the complete species list of wildflowers.
NPSpecies Lists
NPSpecies is a consolidated database where you can find the latest information on any species from any National Park Service unit. This resource lets you search for species information on specific parks and allows you to create your own itemized species lists.

How Does it Work?
Use the dropdown menus below to select the species category that you'd like to view. You can choose to get a checklist or to get the full list, which includes more information about each species. Once you make your selections, click on the view PDF button. This will generate your customized report. From here, you can click on the large Print button at the top of the document to print the report, or save the report by clicking on the blue-and-white floppy disk symbol to save the report.
Select a Park:
Select a Species Category (optional):
Search results will be displayed here.

Visit NPSpecies for more comprehensive information and advanced search capability. Have a suggestion or comment on this list? Let us know.
Related Information

Gupton, O.W. and F.C.Swope. 1979. Wildflowers of the Shenandoah Valley and Blue Ridge Mountains. University of Virginia Press, Charlottesville, Virginia.
Newcomb, L.1977. Newcomb's Wildflower Guide. Little, Brown, and Company, Boston, Massachusetts.
The Virginia Native Plant Society

Listing of this website does not and is not intended to imply endorsement by the National Park Service of commercial services or products associated with the site.


Last updated: January 18, 2023