Bicycling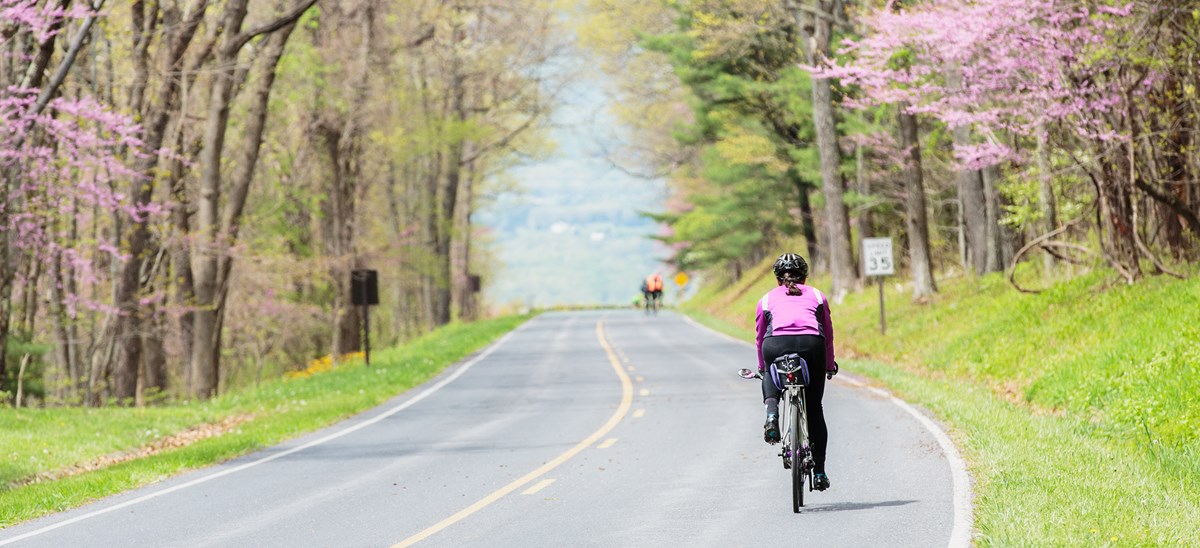 Bicycling is permitted along Skyline Drive and on paved areas in the park. Bicycling (road and mountain bikes) is not permitted on trails, unpaved roads or in grassy areas.* Because Skyline Drive is a two-lane road with steep hills and numerous blind curves, cyclists are urged to use extreme caution.

Visitors should be prepared to operate their bicycles during periods of low visibility, or while traveling through a tunnel, or between sunset and sunrise, by exhibiting on the operator or bicycle a white light or reflector that is visible from a distance of at least 500 feet to the front and with a red light or reflector visible from at least 200 feet to the rear. During periods of fog, reflectors will not provide necessary safety for bicyclists. Lights on both the front and rear of the bicycle are required. Mountain areas can experience dramatically different weather than what is being experienced in the lowlands, so be prepared!

Donations were received by the Shenandoah National Bicycle Coalition and Planet Bike of 150 lights to be given to visitors at the entrances for safety of the bicyclists arriving without a rear light. Lights are supposed to be dropped off as the visitors exit.

*Bicycling from Skyline Drive is permitted on Rapidan Fire Road for approximately one mile. At the end of this mile, there is a sign indicating no bicycles are permitted beyond that point.

Several commercial businesses are permitted to offer guided bicycle trips in Shenandoah National Park.


Last updated: June 20, 2018