Biking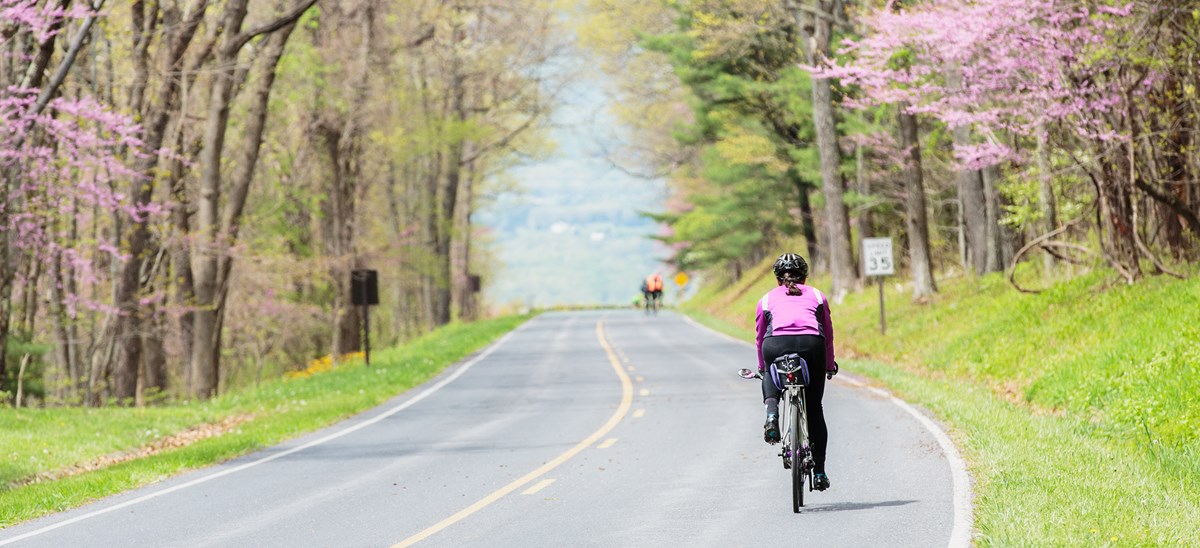 Where Bikes Are Allowed
Mountain bikes, road bikes, and e-bikes are permitted along Skyline Drive and on all paved areas in Shenandoah National Park. Biking is also permitted on Rapidan Fire Road, a gravel road in the Big Meadows area, for approximately one mile, where a sign will indicate the turnaround point.
Where Bikes Are Not Allowed
Biking is not permitted on trails, grassy areas, or unpaved roads, with the exception of Rapidan Fire Road (mentioned above).
Biking Regulations
Bicyclists should review Virginia laws pertaining to bike lights, as well as Virginia laws about bike brakes. These regulations are also applicable in Shenandoah National Park.

Skyline Drive is a two-lane road with steep hills, numerous blind curves, and frequent heavy fog. Cyclists are urged to be aware of wildlife and heavy traffic, particularly in the fall. Please use extreme caution and observe the following tips:
Ride single file at all times.

Move to the right side of the lane as safety permits to allow motorists to pass.

When several vehicles are behind you, pull over to allow them to pass.

When in a group, adjust spacing so passing vehicles have room to return to their lane.

Be visible and ride predictably.
Guided Bike Tours
Several commercial business offer guided bike tours in Shenandoah National Park.


Last updated: March 22, 2021