Bicycling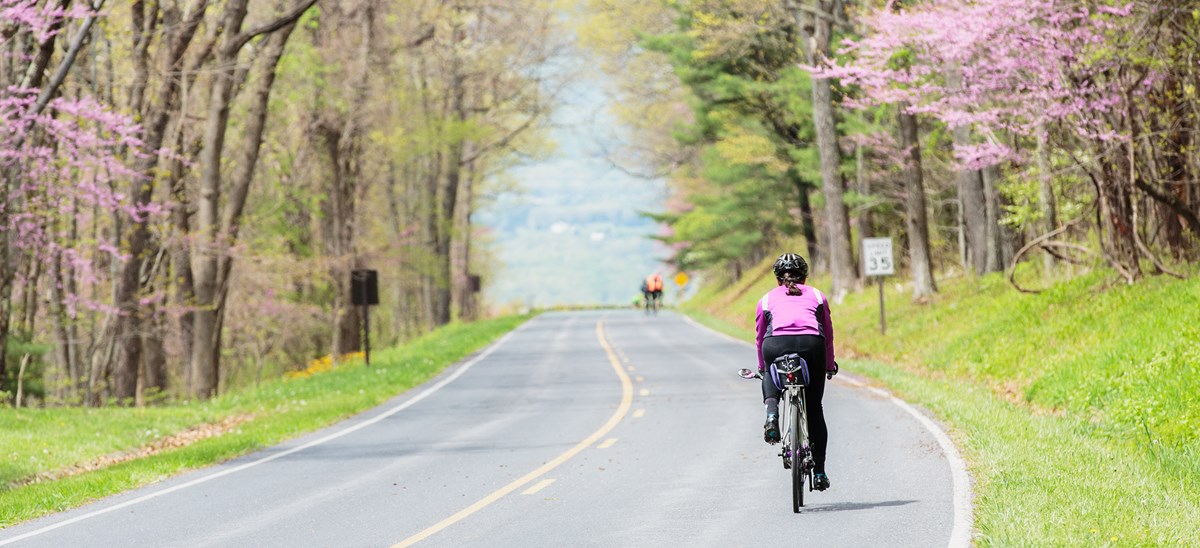 Bicycling, including e-bikes is permitted along Skyline Drive and on paved areas in the park. E-bikers please read regulations specific to e-bikes. And read more information about new NPS policies regarding e-bikes!

Bicycling (road and mountain bikes) is not permitted on trails, unpaved roads or in grassy areas with one exception: Bicycling from Skyline Drive is permitted on Rapidan Fire Road for approximately one mile. At the end of this mile, there is a sign indicating no bicycles are permitted beyond that point.

Bicyclists should review Virginia laws pertaining to bicyling here and here. These regulations are also applicable in Shenandoah National Park.

The following regulations are of particular note due to conditions along Skyline Drive:
"Every bicycle ridden between sunset and sunrise must have at least one white headlamp with the light being visible at least 600 feet to the front. The bicycle must have a red reflector on the rear visible at least 600 feet to the rear. On roads posted with speed limit of 35 mph or greater, the bicyclist must additionally be equipped with at least one red taillight visible from 600 feet to the rear."

Skyline Drive is a two-lane road with steep hills, numerous blind curves, and frequent heavy fog. Cyclists are urged to be aware of wildlife and heavy traffic, particulary in the fall. Cyclists are urged to use extreme caution and observe the following tips:
Ride single file at all times.
Move to the right side of the lane as safety permits to allow motorists to pass.
When several vehicles are behind you, pull over to allow them to pass.
When in a group, adjust spacing so passing vehicles have room to return to their lane.
Be visible and ride predictably.
Several commercial businesses are permitted to offer guided bicycle trips in Shenandoah National Park.


Last updated: October 21, 2020