Fall in Shenandoah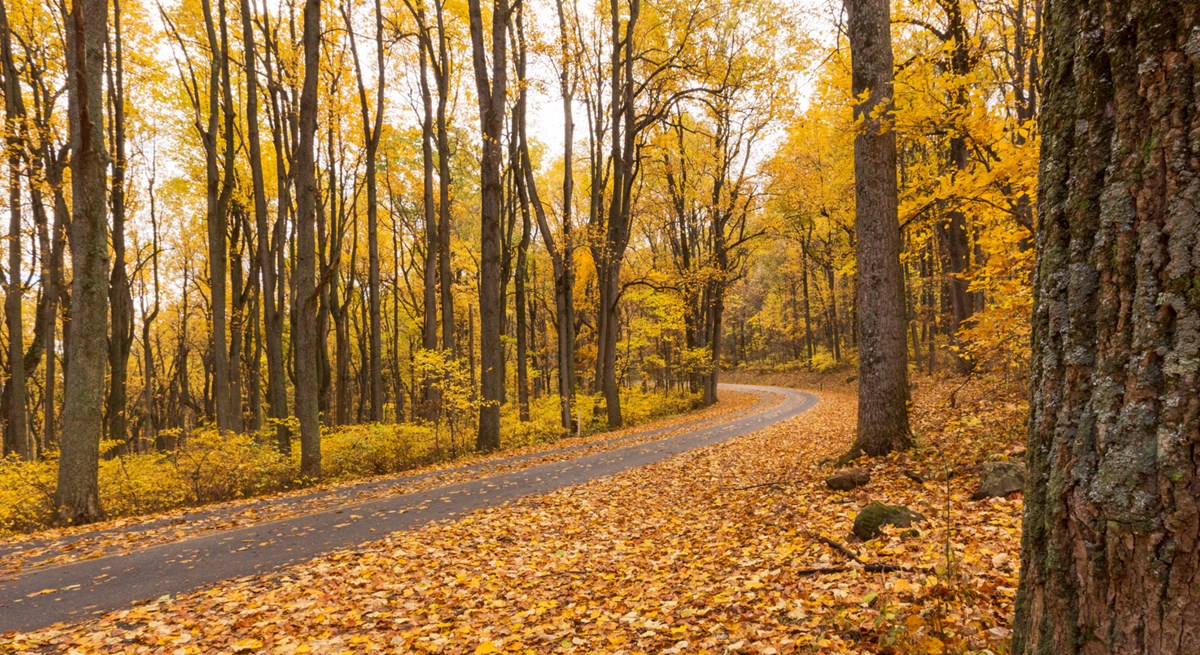 Learn and Explore
The typical fall season in Shenandoah National Park encompasses September and October, with average daytime temperatures ranging from 49°F to 60°F. Similar to spring, however, temperatures can swing drastically from colder nights to warmer days, so it's important to check the weather forecast before coming to the Park.
Fall weekends bring two things: gorgeous fall foliage and large crowds. As the weather begins to cool and the trees exchange their leaves of green for reds, oranges, and yellows, visitors come from all over to experience all that Shenandoah National Park has to offer. If you're planning on visiting during this busy time, however, there are few things that you need to plan for in order to get the most out of your fall trip:
Avoid the Crowds
At the trailhead: fall is typically our busiest time of year. For the best chance of avoiding crowded trails and full parking lots, try to visit Shenandoah during the week. If a parking area is full, it's time to move on to another trail. Use this busy time of year to look for the hidden gems that are less traveled!
At entrance stations: the two most northern entrances, Front Royal and Thornton Gap, are the busiest and have the longest waits. Try a nice circuit trip south through the lowlands on Route 29 to the east or on Route 340 to the west to Swift Run (Route 33) or Rockfish (Route 64) entrance stations, and then return via the Skyline Drive.
At campgrounds: all of our campgrounds book quickly on fall weekends, although there are some first-come, first-served sites available. You cannot reserve a first-come, first-served site by calling the Park directly; you must be at the campground in person. These sites fill quickly — usually by Thursday evening.
Fall Color
Wondering what's up with the color in Shenandoah? We've devised several ways to keep you posted, but remember: the Park is over 100 miles long and spans a wide elevation range. Fall color conditions can vary dramatically from area to area, and weather affects the color from hour-to-hour. Because of this, it's impossible to predict a peak time for fall color. Heres what we're doing to keep you up-to-date on current leaf conditions in the Park:
Every Thursday: photos will be posted on our social media (Instagram and Facebook) from three different photo points throughout the Park. We'll ask other visitors to post their photos so that you can see what others are seeing as well. You can also view photos from various points in the Park in our photo album below.
Every Thursday (2 PM EST): we'll premiere our Fall Broadcast. This video update will be on our website, as well as on Facebook and YouTube.
Every day: check out our fall color webcam to see what one mountain peak in Shenandoah looks like in real time.
Every day: upload your photos to our Fall 2021 Flickr Group. Include the location and date of your photos for a chance to be featured in our weekly broadcast!
You may also want to check out the Smoky Mountains fall color prediction map, or see fall photos from past years in Shenandoah.
Visit our keyboard shortcuts docs for details
Duration:

10 minutes, 10 seconds
The leaves are hanging on this year! Stick around for a final peak check. We'll hang around, too! It's time to say goodbye to fall broadcasts, but winter is coming...more broadcasts on the way!
The leaves are still here and so are we! Plus, what's better on a chilly fall day than a cup of soup? Next week, the hot topic will be even colder!

Duration:

8 minutes, 7 seconds
Color, and pumpkins, and rangers -- oh my! Do you have what it takes to survive Shenandoah's wilderness? Allow Ranger Kevin to step in and prepare the way.

Duration:

8 minutes, 53 seconds
This week's broadcast will blow you away! Plus, we asked park visitors when they think peak fall color will be. What's your best guess?

Duration:

9 minutes, 32 seconds
One word to describe this week: FOG. We're seeing more color, but the best is yet to come.

Duration:

9 minutes, 36 seconds
Sometimes, the best view is up! What does that mean? Find out in this week's video!

Duration:

10 minutes, 22 seconds
We woke up before September ended! It's week 3 and there's more color, more tips, and more photos -- plus, a timelapse project that celebrates one year today!

Duration:

7 minutes, 46 seconds
It's week two! And, these two Rangers are ready for fall! This week, we spoke to Ranger Jonathan about the fall equinox.

Duration:

11 minutes, 30 seconds
It's that time of year again, and our fall broadcast is back! Every week we'll be taking a look at what's happening in the Park as well as tips for visiting. This week, we spoke with our park botanist to get her best guess about when peak fall color will be.

Duration:

9 minutes, 47 seconds
Last updated: November 30, 2021