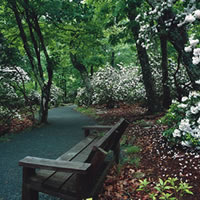 Most facilities and services in the park are accessible or accessible with assistance.
Restrooms and Buildings
Most are accessible or accessible with assistance.
Lodging
Accessible overnight lodging is available at Lewis Mountain, Skyland Resort, and Big Meadows Lodge. Click here for more information about accommodations.
Picnic Grounds and Campgrounds
Accessible sites are available at all park picnic grounds and campgrounds. Accessible shower and laundry facilities are available at Big Meadows, Lewis Mountain, and Loft Mountain campgrounds. Restrooms at picnic grounds are accessible or accessible with assistance.
Ranger Programs
Many of Shenandoah's ranger-led programs are accessible, including the van tour to President Herbert Hoover's historic summer retreat, Rapidan Camp. Click here for a listing.
Limberlost Trail
Limberlost Trail (milepost 43) is a circuit hike of 1.3 miles. It passes through forest and a stand of mountain laurel--stunningly beautiful when in blooms in June--and across a boardwalk and bridge.
Limberlost Trail is now fully accessible. Since 1996, several organizations have donated labor, equipment, supplies, and funding to help Shenandoah staff make the trail accessible. Recently, Park staff and volunteers adjusted the grade and added benches and over 20 resting areas.
Accessibility Information for Limberlost:
Length: 2338.3 yards/2138.1 meters
Surface Type: primarily crushed greenstone
Typical Tread Width: 5 feet/1.5 meters
Minimum Tread Width: 2.7 feet/.8 meters
Typical Running Slope: 3.5%
Maximum Running Slope: 10.3%
Typical Cross Slope: 1.6%
Maximum Cross Slope 5.0%