Campgrounds
Camping in Shenandoah can be an amazing experience with the right preparation. Learn about staying in one of our campgrounds here. If you would like to experience solitude and are prepared for backpacking,
read about backcountry camping
.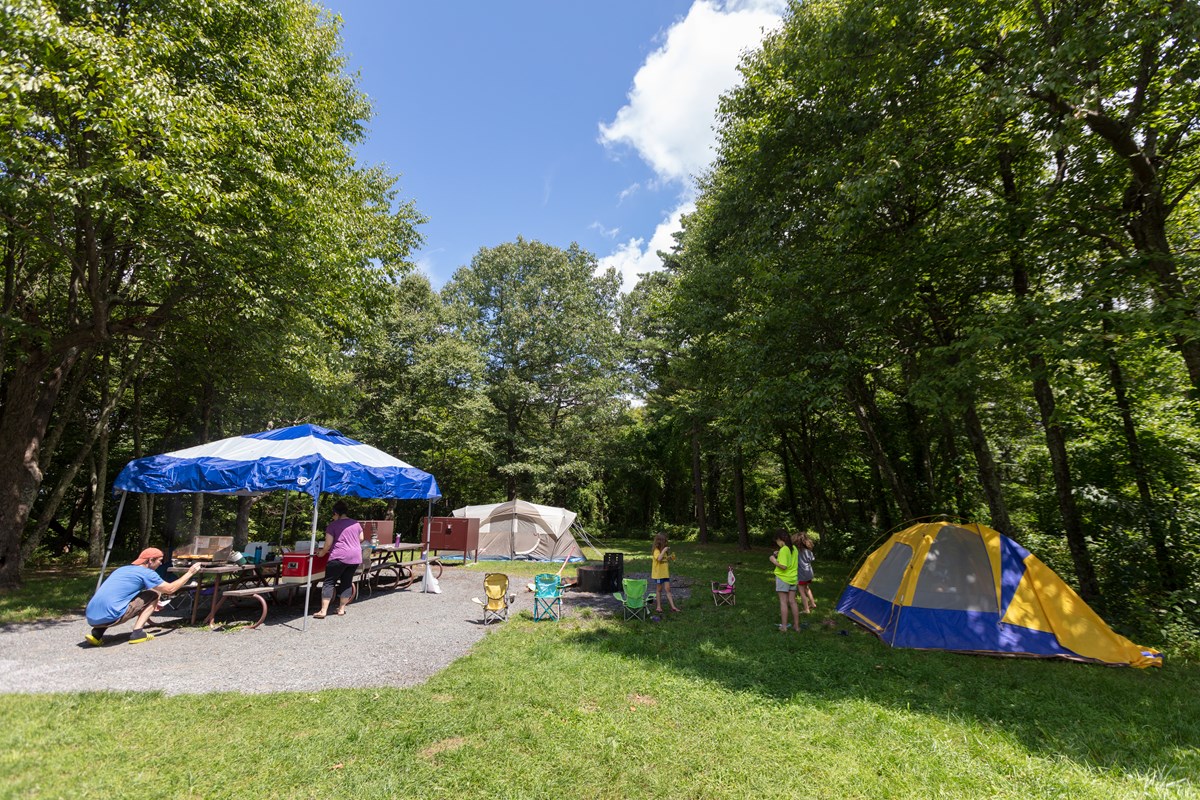 Planning Your Camping Adventure
Seasons: Campgrounds in Shenandoah National Park are seasonal. Campgrounds will open beginning in spring, usually late March with Big Meadows opening first, followed by Lewis Mountain in April, and Mathews Arm and Dundo in May. Campgrounds begin closing in fall. These dates are subject to change. Check the operating hours and seasons page for current opening and closing dates.
Reservations: In early spring, Big Meadows, Mathews Arm, and Loft operate on a first-come, first-served basis only. They switch to a combination of reserve-able sites and first-come, first-served sites in early May. Reservations are highly recommended on weekends and holidays and may be made up to six months ahead of your date of arrival. You must be present at the campground to claim a first-come, first-served site. Lewis Mountain is first-come, first served only. Reservations may be made up to six months ahead. To make reservations go to Recreation.gov or call Recreation.gov at (877) 444-6777.
RV Information: Mathews Arm, Big Meadows and Loft Mountain campgrounds all have pull-through and deep back-in sites which can handle most RVs and a tow vehicle. Although

we do not have electric or water hookups,

the campgrounds do have potable water and all but Lewis have dump stations.
Campground Regulations
Familiarize yourself with the rules and regulations listed on the downloadable maps below as well as the rules listed here:
Food storage: This is bear country! Deer, raccoons, and skunks are also year-round residents. Use food storage boxes where provided. Keep food, garbage, equipment used to prepare or store food, and all scented items in a locked vehicle when not in use. Improperly stored food may be collected for your safety and that of Shenandoah's wildlife. It is illegal to approach, feed, frighten, or disturb wildlife. All resources such as wildflowers, plants, animals, and artifacts are protected by law in national parks.
Bears: We take food storage (see above) very seriously because once a bear begins to associate food with humans, problems arise. It is extremely important to keep human food away from bears. Our goal is to keep bears and people safe. When bears become too comfortable around people, they can become aggressive. In Shenandoah we have an active bear program. You may see our Rangers use non-lethal aversive tacatics to chase a bear out of a developed area. You may see and hear Rangers shouting at bears and chasing them from high-use areas. They may also use rubber slugs or clear paintballs shot from a gun. Be prepared for the associated noises. The intent is not to harm the bear, but to scare it from the area and restore its natural fear of people.
Campfires: Visitors can purchase certified firewood in the Park, or gather dead wood on the ground in the Park. Do not saw, cut, chop, or harvest any parts from a standing tree, dead or alive. Due to the threat from the Emerald Ash Borer, firewood from outside the Park shall be USDA certified and labeled. Build fires only in designated fire grates, and do not build rock rings or burn trash in the grate. Never leave fires or hot coals unattended and extinguish them completely before leaving.
Sanitation: Wash dishes at your campsite; not in restrooms, drinking fountains, or at water spigots. Strain dishwater to remove food particles and dispose strained water only in the restroom utility sinks. Dispose of food particles in trash bins, not in sink drains. Trailers and RVs must empty sewage and wastewate at dump stations. Water is a precious and limted resource, use it wisely. Please sort and place trash and recyclables in appropriate bins.
Campsites: Campsites are limited to 6 people (or 1 immediate family) per site. RV sites are limited to 1 RV (motorhome, pop-up, or 5th-wheel), 6 people, and 1 vehicle. Erect tents only on pads when provided. They must fit within established campsite and not negatively impact the surrounding area or resources. Park vehicles only on paved/graveled areas provided for your campsite. Walk-to sites are for tents only and require a 25-100 yard walk to your campsite. Please do not trench your site or put nails in trees. Campsites are equipped with picnic tables, fire grates, and parking areas. (See individual campgound maps for information about group sites.)
Quiet hours and generators: Each campground map lists quiet hours and generator hours.
Camping amenities: Shenandoah National Park operates the campgrounds. The official park concessioner operates campstores, laundry facilities, and showers. Quarters are required for showers and laundry machines. Check campgound map for amenities at each site.
Vehicles: All roads in the campgrounds have a 10-mph speed limit. Keep all vehicles, motorcycles, trailers, and bicycles on paved areas at all times. Skates, rollerblades, skateboards, scooters, and similar devices are prohibited.
Mathews Arm Campground
Fee: $15 per night

Details: Mathews Arm, at mile 22.1 of Skyline Drive, is the nearest campground for those entering the park from the north. It is next to a nature trail and the trail to Overall Run Falls, the tallest waterfall in the park. Elkwallow Wayside, with camping supplies and food service, is two miles away.
Mathews Arm regulations and campground map (230kb pdf)
Big Meadows Campground
Cost: $20 per night
Details: Located at mile 51.2 of Skyline Drive, Big Meadows Campground is near many of the major facilities and popular hiking trails in the park. Three waterfalls are within walking distance; the Meadow, with its abundant plant growth and wildlife, is close by.
Group sites are available and can be reserved up to one year in advance.
Generator use is limited to certain areas.
Big Meadows regulations and campground map
(348kb pdf)
Lewis Mountain Campground
Cost: $15 per night
Details: Lewis Mountain Campground is located off mile 57.5 of Skyline Drive and is the smallest campground in the park.
First-come, first-served only.
Generator use limited to certain areas.
Lewis Mountain regulations and campground map
(239kb pdf)
Loft Mountain Campground
Cost: $15 per night

Details: Located at mile 79.5 of Skyline Drive, Loft Mountain Campground is the largest campground in the park. The campground sits atop Big Flat Mountain with outstanding views to east and west. Two waterfalls and the trails into the Big Run Wilderness area are nearby.

Generator use is limited to certain areas.
Download Loft Mountain regulations and campground map (391kb pdf)
Last updated: June 24, 2020