CESI Monitoring Projects by Title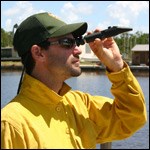 These projects allow land managers to evaluate the status of particular species and ecosystems and assess improvements over time. The status and trends information gained from monitoring is applied toward the development and analysis of restoration objectives.
Projects below can be sorted according to year, project title or principal investigator. Where available, click on project titles for more in-depth project information.
Project Title

2003

Analyzing the Impact of the
Interim Operational Plan

Trexler, J.

FIU

1997

Slater, G.

Ecostudies
Institute

2006

Baseline Hydrologic Data Collection Along the
I-75/State Road 29 Corridor in the
Big Cypress National Preserve

Debiak, E.

USGS

2004

Baselines for Monitoring Response of Oysters to Changes in Freshwater Inputs

Arnold, W.

USGS

2000

Bass, S.

NPS

1997

Cape Sable Seaside Sparrow Project

Pimm, Stuart

DUKE

2001

Contaminants Program Support of Sample Collection Activities

Rand, G.

FIU

1997

Cooperative Estuarine Water Quality
Monitoring Network

Jones, R.

FIU

2003

Crustacean Communities From Surface
Ground Water in the Rocky Glades

Jacobsen, R.

NPS

2004

Development of Comprehensive Fish and
Macroinvertebrate Monitoring Program,
Everglades National Park

Kline, J.

NPS

1999

Development of Monitoring Protocols for
Fish and Crayfish Populations in
Higher Elevation Marshes

Perry, S.

NPS

1998

Dispersal and Colonization of Hydrological Refuges by Aquatic Animals

Trexler, J.

FIU

2001

Distribution/Abundance/Demographic
Structure of the American Alligator in Relation
to Habitat/Water Levels/Salinity

Mazzotti, F.

UF

1997

Eagle/Osprey Monitoring

Bass, S.

NPS

2007

Everglades Vegetation Monitoring

Sadle, J.

NPS

2001

Expanded Monitoring of Taylor Slough Vegetation

Smith, C.

NPS

2003

Sobzcak, R.

NPS

2001

Wenkert, L.

SFWMD

1997

Fish and Invertebrate Communities of
Short Hydroperiod Wetlands in the Rocky Glades

Perry, S.

NPS

1999

Perry, S.

NPS

2004

Gulf Coast Hydrologic
Monitoring in Everglades

Kotun, K.

NPS

2006

Hydrologic Monitoring and Synthesis of Existing Hydrologic Data in the Florida Panther NWR

Sonenshine, R.

USGS

2004

Zucker, M.

USGS

2002

Implementation of Everglades Construction Project

Kadlec, R.

WMS

1999

Inventory of Tree Islands in WCA2 & 3

Heisler, L.

USFWS

1998

Land Characteristics from Remote Sensing

Jones, R.

USGS

2004

Sadle, J.

NPS

1997

Long-term Study of Fire Regimes in Pineland Associated Wetland Community Vegetation

Snyder, J.

USGS

2001

Serafy, J.

UM

2003

Mapping of Marl Prairie Vegetation from Remotely Sensed Data

Chan, C.

NPS

2004

Monitoring for Potential Water Quality Impacts
Along the Eastern Boundary of Everglades,
Including Taylor Slough

Childers, D.

FIU

1998

Monitoring Freshwater Fish &
Invertebrate Communities

Perry, S.

NPS

2003

Monitoring/Modeling/Assessment of Everglades Ecosystem R-EMAP Phase III

Kalla, P.

EPA

1999

Monitoring Midge Communities to Assess
Effects of Hydrologic Restoration

Perry, S.

NPS

2003

Clark, C.

NPS

1997

Pimm, S.

Duke

2003

Rare Plant Monitoring/Restoration
on Long Pine Key

Gann, G.

IRC

1999

Carlson, P.

USGS

2002

Services Related to Implementation of Everglades Construction Project

Walker, W.

2004

Shark/Taylor Slough
Hydrologic Monitoring

Kotun, K.

NPS

1997

Status, Distribution and Habitat
of the American Crocodile in Florida

Mazzotti, F.

UF

2010

Submerged Aquatic Vegetation and Physico-Chemical Monitoring in the Florida Bay Mangrove Zone for CERP Assessments and Targets Refinement

Frankovich, T.

FIU

2003

Synoptic Surveys of Salinity
in Florida/Whitewater Bays

Perry, B.

NPS

2000

Water Flows / Nutrient Fluxes in
the Southwest Coast

Leitz, C.

USGS

1997

Water Quality Evaluations

McPherson, B.

SFWMD

2000

Jones, R.

FIU

1997

Tepper, C.

STF

1999

Wildlife Monitoring Support

Bass, S.

NPS

1999

Wood Stork Nesting Surveys in Big Cypress

Jansen, D.

NPS
Last updated: June 24, 2016