CESI Monitoring Project 97-10
Water Quality Studies on the Big Cypress Seminole Indian Reservation
John C. Volin, William A. Dunson & Craig Tepper

Reducing concentrations of phosphorus in the waters of the Everglades remains a high priority for restoration efforts. Though this nutrient was historically present in limited quantities throughout the system, changes to water management and land use in the area have contributed to a significant increases in phosphorus levels. Higher nutrient levels can yield large-scale impacts to receiving communities downstream.
This CESI-funded investigation examined the long-term effectiveness of a stormwater treatment area (STA) constructed in 1994 on the Big Cypress Seminole Indian Reservation. Additionally, the study also examined the assimilation of phosphorus through canal flows in the Big Cypress region. The investigation also yielded surprising new information on the possible role of potassium as a limiting nutrient in Everglades ecosystems.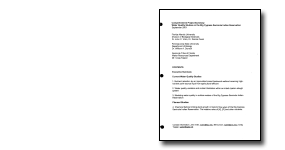 Final Report
(PDF, 2.5 MB)
Contact the principal investigator directly with questions about this study.
Last updated: April 14, 2015