CESI Monitoring Project 01-5
Mangrove Shoreline Fishes of Biscayne Bay, Florida
Joseph E. Serafy, Craig H. Faunce & Jerome J. Lorenz

Biscayne National Park protects a large length of mangrove shoreline that frames both a nationally-significant estuary and the northernmost reaches of the Florida coral reef tract. Many coastal mangrove communities elsewhere in south Florida have undergone intense modification and destruction. Even within the confines of the park, mangrove communities face degradation from upstream diversions of freshwater necessary to nourish these habitats.
Understanding how mangrove forests are used by marine life is crucial for ensuring the long-term health of the system. This CESI-funded investigation looks at fish communities within both mainland and barrier island mangrove habitats. The study casts light on the role of proximity, salinity and water depth in the ecological functioning of such areas.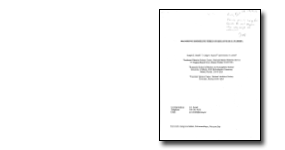 Final Report
(PDF, 950 KB)
Contact the principal investigator directly with questions about this study.
Mangrove, Shoreline, Fishes, Biscayne Bay, Fish, CESI, Critical Ecosystem Studies Initiative, Joseph Serafy, Craig Faunce, Jerome Lorenz
Last updated: April 14, 2015