CESI Monitoring Project 99-5
Continuous Light Monitoring in Florida Bay
Paul Carlson, Laura Yarbro, Brad Peterson & Jenny Davis

Several species of seagrasses inhabit the relatively shallow coastal waters of south Florida. Like their terrestrial brethren, these flowering plants require an abundance of sunlight to fuel photosynthesis. Thanks to their importance as both habitat and food, protecting seagrasses is of vital importance in preserving the overall health of life in nearshore waters.
As Everglades restoration moves forward, there is a need to evaluate how management actions will affect the availability of light in seagrass communities. This CESI-funded project funded four years of continuous light monitoring in Florida Bay. The results yield a dataset of importance to seagrass modeling, and provided insight into the effects of storm disturbances and algal blooms.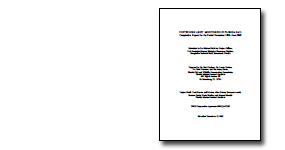 Final Report
(PDF, 100 KB)
Contact the principal investigator directly with questions about this study.
Florida Bay, Seagrass, light, monitoring, modeling, Everglades, National Park, CESI, Critical Ecosystem Studies Initiative,Paul Carlson, Laura Yarbro, Brad Peterson, Jenny Davis
Last updated: April 14, 2015