CESI Monitoring Project 06-2
Hydrologic Monitoring and Synthesis of Existing Hydrologic Data in the Florida Panther National Wildlife Refuge and Surrounding Areas
Ron Reese & Roy Sonenshein

The biologic resources of the Florida Panther National Wildlife Refuge and surrounding areas, such as the Big Cypress National Preserve, have been impacted over the years by changes in hydrology caused by the regional flood control system as well as highway and canal construction associated with urban development.
This 2-year, CESI-funded project installed a hydrologic monitoring network that collected and analyzed data to assess how surface and groundwater are affected by adjacent canals and highways. This analysis is particularly important in assessing the success of the ongoing Picayune Strand Restoration project on the area.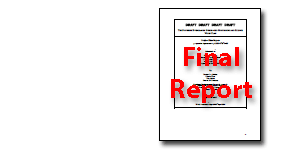 Final Report
(PDF, 800 KB)
Contact the principal investigator directly with questions about this study.
Hydrology, Data, Monitoring, Synthesis, Florida Panther, National Wildlife Refuge, Sonenshein, CESI, Critical Ecosystems Studies Initiative, USGS
Last updated: October 3, 2018